Whether it's for potty training, travelling, or moving houses, the most versatile collapsible dog crate will make your life easier with your pup! Collapsible dog crates are portable, easy to store and come with innovative designs that allow you to fold them flat when not in use. These items are also easy to carry, convenient, and lightweight.
Pet parents love the space-saving feature of collapsible cages, and it's a bonus if your pets are crate trained and love them too. Most of these items are made from durable, high-quality, and hygienic materials. There is a range of styles and features in these crates, which might be perfect for you and your pet's needs.
Here are some great options for you to find the best collapsible dog cage that suits your lifestyle.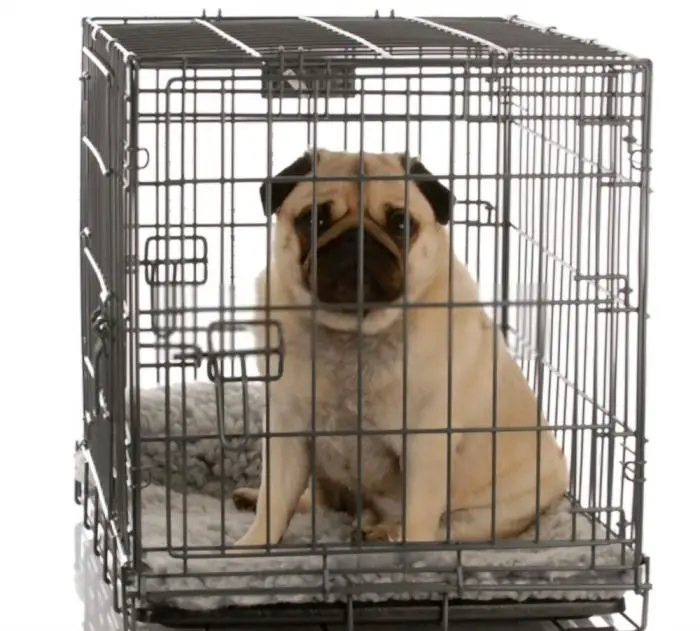 Best Collapsible Crates For Dogs
1. Midwest Life Stages Double-Door Folding Metal Dog Crate
This product is best described to be convenient, durable, and portable. Pet parents love this Midwest Life Stages Folding Metal Dog Crate because it's made of metal, so you can expect it to last for a long time. Also, it comes with a divider to ensure that your growing puppy will be accommodated nicely. Additionally, it has a slide-bolt latch safety that keeps it securely and tightly locked whenever your pet is in the crate. Other plus features include a dog tray for easy cleanup and a roller that keeps your floors safe from scratches. The Midwest Lifestages collapsible dog cages come in five sizes, from extra-small to extra-large, so that you can choose the most suitable size for your pet!
Pros:
Made of durable metal material
Portable, convenient and sturdy
Easy setup and no tools needed
Space-saving folds flat when not in use
Has a divider panel for your growing puppy
Features
Has rounded corners and rollers for safety
With pan stop to keep the plastic pan in place
Two heavy-duty latches per door
Convenient for travel or storage
Comes with 1-year Manufacturer's Warranty
2. Dogit 2 Door Wire Cage
There is so much rave about the Dogit 2 collapsible wire cage among pet parents. The product features a simple yet efficient design that you can rely on to keep your dog safe and secure. Its metal wireframes are coated with a strong epoxy and have rounded corners to prevent injuries. It has carry handles attached, two access doors, and two standard slide-bolt latches for safe confinement at home or during travels. Additionally, there is also a removable tray that is easy to slide out and wash. Dogit collapsible crates come in four sizes for you to find the most suitable one for your dog breed. The smallest one is 24x18x20 inches, while the biggest one measures 42x30x28. For most pet parents, this is probably the best overall portable dog crate in all aspects.
Pros:
Comes in four different sizes, from small to extra-large
Lightweight, portable, and easy to carry
Has to doors for easy access
Easy to assemble and fold for storage
Safe with rounded corners and no nasty sharp edges
Features:
Epoxy-coated metal wires
Access doors on each end
Made from durably and long-lasting material
Slide-bolt locks keep pets secure
Budget-friendly rates
3. EliteField 3-Door Folding Soft Dog Crate
One of the essential factors that dog owners look out for in folding or soft dog crates is size. If you travel, your soft crate should be spacious enough to accommodate your pet and still fit inside your vehicle. If heavy metal crates do not appeal to you, this product made from durable, high-quality, and hex-mesh fabric will be a great alternative. The EliteField 3-Door fulfils these needs and makes you and your pet happy. It features three access doors made with mesh window materials for ventilation. For some, this product is the best soft dog crates for travel because it is wider and higher than the other options. It is portable, durable, and convenient to use. Also, there is a machine washable free fleece and a free carrying bag that comes with it. However, one notable downside is that it lacks more security features. Thus, if your dog is a brilliant escape artist, then this is not the option for you.
Pros:
Portable and easy to carry
Quick, easy, and lightweight soft crate
Made from durable, high-quality fabric materials
Has steel tubes for support
Well-ventilated with mesh windows and three access doors
Features:
Available in different colors and sizes
With accessory pockets
Comes with a free fleece bed
Has hand-carry straps and padded shoulder straps
Ideal design for quick pet transport
4. MidWest iCrate Starter Kit Collapsible Dog Crate
If you are shopping for your very first dog, getting a starter kit might be an appealing choice for you. MidWest iCrate Starter Kit seems to have everything you will need for your new pet and more! No wonder many pet parents claim that this is by far the best portable dog crate starter kit in the market today. It comes in five sizes, from extra-small to extra-large, to accommodate various dog breeds. The crates have two doors for easy access, two slide-bolt latches on bigger models, and are made from the epoxy-coated metal wireframe. You also get a strong plastic tray at the bottom of the crate, a fitted fleece bed, and two snap feeding bowls. And finally, it comes with a crate cover that fits snugly on the cage to provide your pet with some privacy. Its front cover also rolls up nicely for easy access. All these come neatly packed into a single box for easy delivery, so measure up your needs and get the kit you need.
Pros:
Ideal starter kit for first-time dog owners
Convenient and user-friendly
Fully-equipped dog crate with accessories
Comes in five sizes for small to large dog breeds
Double-door with a slide-bolt lock to keep the dog secure
Features
Comes with a free fleece dog's bed and crate cover
Has two Snap'y Fit Food and Water bowl
An epoxy-coated metal wireframe made from heavy-duty material
With easy to clean, leak-proof plastic pan
Easy setup, and folds flat for storage
5. Diggs Revol Dog Crate
Diggs Revol portable crate has a perfect size and features if you have a smaller dogs breed. Pet owners love its quick and easy put up and storage. It is made from durable, high-quality aluminium, reinforced plastic, and steel mesh window wires. You will surely love that it is lightweight and very easy to carry. It comes with three-access doors – one at the front and two smaller ones at the top.
Additionally, this product has a sturdy tray that is easy to remove and clean out. Ideally, these travel crates are perfect for small dogs and puppies. If you have a large and relatively strong pet, it is the best choice for you.
Pros:
Travel friendly, easy to put up, and store
Pet-safe and with baby industry standards
Made of durable materials
Ideal for puppies and small dogs
Combination of functionality and convenience in a dog crate
Features:
Lightweight and easy to carry
Three access doors
Available in two sizes, small and medium
Comes with an adjustable puppy divider
Very attractive design
6. Midwest Ultima Pro Dog Crate
Large and medium-sized dogs can be a challenge to keep in a crate or travel with. You will need a heavy-duty, durable metal crate that can accommodate your big fur baby. Midwest Ultima Pro range of collapsible dog crates has several offers, including an extra-large 49×30.5×34.25 inches crate. Ideally, it is tough enough for dogs weighing 91 to 110 pounds and still have ample space for them to move around. This product also features two access doors at the front and side. And amazingly, despite its size and heavy-duty make, it is still a collapsible dog cage, so it's easy to store if you're not using it. The product also comes with a plastic pan that is easy to remove and clean up.
Pros:
Heavy-duty metal portable crate
Easy to put up and store when not used
Convenient double-door feature
Secured with slide-bolt lock
Professional Gauge Steel Construction
Features:
With easily adjustable divider panel
With carrying handle, roller feet, and plastic pan
Ideal for strong dogs and show dogs
Perfect fold and carry design
Comes with a 1-year Manufacturer Warranty
7. Pet Gear 3 Door Portable Soft Dog Crate
A Foldable Soft crate are also a favorite among pet parents because it is convenient and portable. An added feature that comes with a soft dog crate is that they have washable and removable nylon covers. This product from Pet Gear 3 is made of durable nylon material and other helpful features for any dog parent. It is spacious with several access doors for comfort and accessibility. Also, it comes with a waterproof interior mat and fleece pad that is machine washable to keep your dog comfortable! More so, the steel frames are sturdy, and it holds the 600 deniers nylon washable cover in place. It can comfortably accommodate canines up to 90 pounds! Most pet parents love the fact that it can be folded flat for easy portability, plus it has top and side storage pockets to keep treats and accessories.   This is one of the most durable soft crate you can find for indoor and outdoor use.
Pros:
Three access doors, including a large front door
Removable waterproof lining and fleece pad
Compact fold for portable storage and travel
Sturdy steel tube frames
Easy push-button folding mechanism
Features:
Spacious can accommodate dogs up to 90 pounds
Four-sided mesh panels for ventilation
With two storage pockets
Side zippered doors and carrying bag
Lightweight, portable and convenient
8. Carlson Pet Dog Crate for Small Breeds
If you have a small pup and you need something small, cozy, and secure, this portable dog crate from Carlson Pet Products is the best option for you. It is designed for smaller-sized pets. The makers recommend it for dogs 25 pounds and below. Fortunately, you'll love the matching small price tag! The crate is made from durable steel material and features a single-door design with a slide-bolt lock for security and safety. You'll also love its portability, convenience, and lightness, which makes it ideal for travel. It's easy to set up and fold flat for easy storage. When fully assembled, it only measures 24x18x19 inches. Thus, be sure to measure your pet before buying to ensure that you get the right foldable dog crate.
Pros:
Versatile, fold flat to store for travel
Portable and easy to use
Budget-friendly
Durable and cleans up nicely
Safe and secure for small pets
Features:
Sturdy all-metal crate
Single-door opening with multi-point lock for safety
With removable bottom tray for an easy cleanup
Fold-and-go system for portability
Best for small breeds up to 25 pounds
9. LuckUp Heavy Duty Strong Metal Dog Cage and Playpen
It might sound almost impossible to get a sturdy but collapsible heavy-duty dog crate if you have an energetic pet. Fortunately, there are now more robust crates such as this one from Luckup Pet Products. Made with a sturdy steel frame, this crate offers an escape-proof construction for your expert escape artists. Pet parents are amazed at how easy it is to assemble despite its huge size. It comes with eight screws and four wheels to complete the assembly and use it for your puppy. There are three access doors, one huge for entry or exit, a tiny door for feeding, and the top door for immediate access to your pet. And thanks to its swivelling castor wheels, you can move it around the house with ease. It is available in several sizes, but it's a travel kennel that works for medium sized dogs with plenty of room to spare.
Pros:
Heavy-duty steel construction
Easy to assemble
Comes with swivel wheels for moving around
Has three functional access doors
Reasonably priced quality dog crate
Features:
With removable catch trays
Hard-heavy duty frame
Includes hardware pack
Double door and locking caster design
Spacious even for large dogs
10. PetsFit Portable Pop Up Pet Cage
Do you often travel with your lovable puppy? Then you'd love this soft sided dog crate from PetsFit. For most pet parents, this is the perfect travel crate for transporting pets with minimal fuss! This soft dog crate is small and is suitable for dogs up to 25 pounds. It features three large mesh windows and roll-up shades for good ventilation. The cover is made with 600D waterproof Oxford nylon with polyester lining. Thus, you won't have to worry about damage or scratches. Compared with other models, it seems a little boxy, but it is still pretty to handle. Lastly, there are no straps, so you won't carry them while the dog is inside. But it comes with a band to keep it secure once folded.
Pros:
Durable and long-lasting
Steel frames are easy to set up and fold
Water-proof and scratch-proof soft-sided crate covers
Functional and convenient
Easy to clean and wash
Features:
Heavy-duty steel wireframe
Water-proof Oxford nylon cover with polyester lining
Heavy-duty zipper for pet safety
With removable and washable soft fleece pad
Three access doors and mesh windows
How to Choose the Best Dog Crate
Our canine pets come in all shapes and sizes. There are tiny chihuahuas, brilliant mid-size beagles, and huge huskies. Thus, it's only understandable that dog crates also come in various designs and sizes. Some popular choices are made of wire, metal, plastic and soft dog crate. Before you buy, you have to ensure that it is the right size for your puppy. The right dog crate for your dog will keep them comfortable, feeling safe, and secure.
However, when it comes to choosing the best dog crate, it is not just the size that matters. Dogs have different needs, and pet parents also have some requirements for a crate that will suit them. Some questions that are often raised when choosing a pet crate are:
Do you need a crate for your home?
Do you need it for quick transport or a vacation with your pet?
Will it fit in your car?
Is it easy to clean?
Is it portable and convenient?
Are there safety features in place?
Is it sturdy enough for your escape artist?
These and more are questions that need serious consideration when looking for the correct dog crate, whether it is made of metal or soft crates. Answering these questions will help you come up with the best features for your dog crate.
Factors to Consider When Choosing a Portable Dog Crates
Dog crates are not created equal. Some are made from strong and sturdy steel frames, while others are built as soft-sided crates. Each product has the potential to be the perfect choice for your pet. The key here is to zero in on the essential features that you and your pet need. To help you out, consider these things while doing your search.
Size – Size is an essential factor to consider when looking for a crate. It should be large and tall enough to accommodate your dog and make them comfortable. Your pet should be able to lie comfortably, turn around and stand without hitting its head on the top. In the same way, don't go for dog crates that are too big and spacious especially if you have a small dog. Your pet may become agitated or be tempted to "go" on one side of the crate.
Material – Typically, most foldable dog crates are constructed with heavy-duty and durable materials. But as a dog owner, you should also assess your dog's temperament and behavior to help you decide which type of crate will work for you. For instance, there are soft crates made from soft fabric that will suit sweet-tempered small dogs. On the other hand, most dogs that are heavy chewers may need something more sturdy and stable travel crate otherwise, and they might escape or harm themselves. Also, if you travel often, you need something that will not tear or get smashed up during transport.
Portability – One of the main reasons why a dog owner is interested in foldable dog crates is their portability. These products are lighter and more portable than their non-collapsible counterparts. Therefore, you should double-check the weight of the crate you plan to purchase. If portability is important to you, be sure that you are buying a travel crate that is easy to carry.
Ventilation – Dogs should never feel suffocated while inside a crate. Thankfully, various crate models provide enough openings, mesh windows, and access doors that enhance the flow of air and light. Soft kennel pet carrier are typically built with a metal frame and durable waterproof material.
Accessibility – Choose a dog crate that is enough for your pup and your need to access them. There are crates with openings at the longer side and the top portion for better accessibility. Check out doorways to see if it is secure and stable. Some doorways that open quickly can lead to unexpected opening and disassembling of the whole crate.
Versatility – Dog crates are versatile and multi-functional products. Pet parents can save up a lot of money by choosing the perfect crate that doubles as a dog carrier or car transport carrier. Some crates are even approved for airline travel crates so that you can take your pet with you on vacations. Consider products that are water-resistant and come with a carry strap or robust carrying handles to ensure a comfortable trip for you and your pet.
Should I Use a Metal or Plastic Dog Crate?
Metal wire crates are far heavier than plastic crates. Both of these materials allow easy setup and storage. Plastic crates offer more privacy for your dog because they have a limited view; thus, they are less distracted and feel more secure.
Are our soft-sided crates any good?
A soft-sided crate is perfect if you and your dog are used to travelling. It is also ideal for indoor and outdoor use if you have a dog that's not heavy on chewing. A well-trained pup will consider these crates to be a safe and comfortable place. So, choose one that is easy to assemble, clean, ventilated, and lightweight.
What are the best collapsible crates for dogs?
There is no single best collapsible crate for every dog or situation. When choosing a crate, always consider your dog and the situations for its use. Some pet owners look out for single or double door features, adjustable shoulder straps for easy carrying, or removable fleece pad. A metal crate might be best for short trips, and soft dog crates are better for air travel.
Conclusion
Shopping for pet gear is always an exciting experience. If you are searching for the best collapsible dog crate for your puppy, consider the ones we have on this list. The Midwest Life Stages Double Door Folding Metal Dog Crate tops the charts for most parents because it almost has all the features they are looking for. But if you are looking for a soft crate to travel with your pup, the Pet Gear 3 Door Portable Soft Dog Crate is the one to check out!
Just remember to think about your pup, what they need, or behavior before deciding to buy a crate. Things will be easier for you and your pet for a long time to come with the right pet cage.
MORE POST:
Last update on 2023-10-02 / Affiliate links / Images from Amazon Product Advertising API