Dog poop isn't just smelly and unpleasant. Left undisposed, it can actually be dangerous to humans and other dogs because it contains disease-causing bacteria and parasites.
In fact, according to the Centres of Disease Control and Prevention (CDC), dog poop can spread a whole host of diseases including E. coli, hookworm, campylobacter, tapeworm, roundworm, and giardia.
Studies have also shown that 20% of water pollution is caused by pet waste that hasn't been binned properly.
The future of dog walking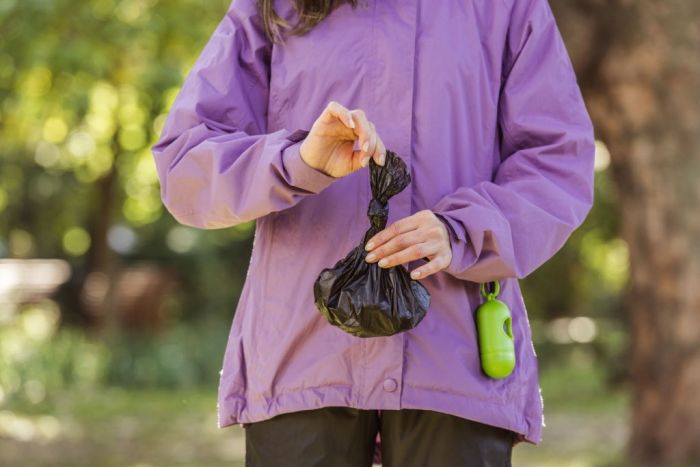 Given the associated health risks and potential impact on the environment, it's clear why picking up after your dog is so important. Of course, knowing this doesn't make poop scooping when out for a walk any more palatable!
Thankfully, these crazy new dog poo bag innovations are here to make managing your dog's bathroom habits easier and more hygienic. Read on to find out all about them.
Dog waste caddy
The days of carrying around warm, squishy bags full of poop are now over. Thanks to inventions like WALK STAR's Dog Waste Caddy, you can now store your dog's poop discreetly and conveniently without interrupting your walks.
Why do dog walkers need a dog waste caddy? For those that walk their pooches in parks or fields, you'll know that bins are often unavailable when you need to dispose of their poop. If your dog does his business early on in your walk, this can leave you carrying an awkward, smelly poop bag for much longer than you'd like to.
But with this caddy clipped conveniently to a lead, the problem is solved. Made from a collapsible silicone container with an airtight plastic lid, the caddy also expands to hold multiple full poop bags.
According to the WALK STAR website, this brand of caddy can even handle doodoo from even the biggest breeds of dogs, such as Great Danes.
It can carry:
Small breed: 3-5 poops
Medium breed: 2-3 poops
Large breed: 1 poop
Find out more about the WALK STAR Dog Waste Caddy and how to purchase them here.
Compostable poop bags
Okay, so these aren't the newest or craziest poop bag kids on the block. But compostable poop bags have helped revolutionize the dog walking industry by making clearing up dog poop much more eco-friendly.
Not to be confused with biodegradable dog poo bags, which are often made of plastic with microorganisms added to help them break down, compostable poo bags are made purely from plant-based starches. This means that, when composted in the right way, this type of poo bag completely biodegrades back to its natural elements in around 2 to 5 years.
Eco-pet brand BECO supplies bags that are as big and strong as leading plastic poop bags while being completely plant-based. Their compostable bags are made from corn starch, which can be safely composted at home.
The best way to compost dog poo is to use a dog-waste-only composting bin. You can make your own, or buy a commercial septic-tank-style unit, like this one from Doggy Dooley.
Just remember, dog waste compost should only be used on inedible plants.
Poop bag dispenser
Remembering treats, toys, as well as poop bags on every walk, can be tough for busy dog owners. That's not to mention the challenge of locating a poop bag then freeing it from the roll when your dog has done its business.
Thankfully, there are now poop bag dispensers, which come in the form of small bags or boxes.
These revolutionary new designs are meant to be clipped to any lead, strap, belt or bag, keeping your hands free for other doggy duties. They're also a handy way of reducing plastic waste by only delivering one bag at a time and only when needed.
Beco's poo bag dispenser is tough, durable and uses a versatile bungee system so it can attach easily to items of clothing or leads. It's also made from bamboo fibres, giving these dispensers the added bonus of eco-credentials.
Hands-free poop collector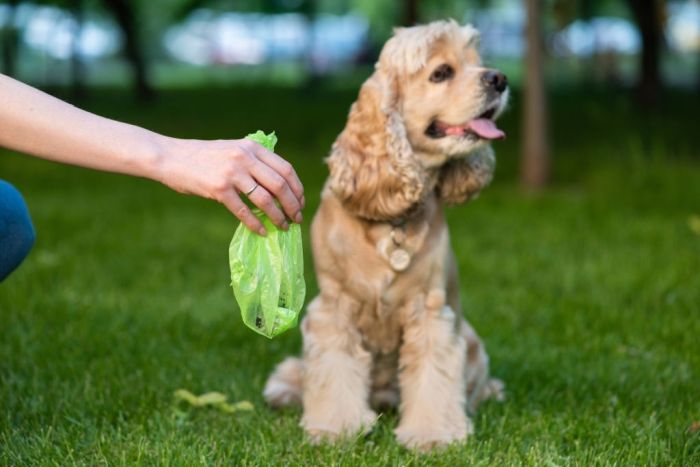 This last poo bag innovation is, without doubt, the craziest and most experimental on the list.
Called a Piqapoo, this Israeli invention consists of a soft clip with a durable collection bag beneath it that attaches to a dog's tail.
When your dog does its business, the poop falls directly into the bag. This should, its inventor's claims, result in "no mess or leakage".
Instead of having to pick up the poo with your hands, owners only need to press a button to release the used bag directly into the trash. All of this makes dog doody duty much quicker and more sanitary for owners and dog walkers.
Keen to get your hands on a Piquapoo? You're not the only one. Back in 2017, the team's crowdfunding campaign saw them raise a whopping 239% of their initial target.
Crazy dog poo bag innovations: the final verdict
No matter how much we love our dogs, picking up their poop will never be pleasant.
Thankfully, however, the crazy dog poo bag innovations we've mentioned here are certain to change the dog walking industry for the better.
Together, or individually, a dog waste caddy, a compostable poop bag and a poo bag dispenser are guaranteed to make the process more manageable, sanitary, and eco-friendly.
A Piquapoo, which allows for hand-free dog poop collection, might even change the life of dog owners and walkers forever.