Travelling with pets is one of the most exciting yet challenging experiences you'll have as a pet parent. You need to prepare a lot of paperwork, updating vaccines, and making sure that you have the proper carrier use. Air travel with pets is very different from taking them with you on a road trip. If you intend to travel with them soon, you will need an airline-approved pet carrier or crate that will keep them comfortable and safe throughout the flight.
There are no universal guidelines for an "airline-approved" pet carrier. However, the Federal Aviation Administration or FAA has said that carriers "must be small enough to fit underneath the seat without blocking any person's path to the main aisle of the airplane. Each airline also has specific requirements for pet crates. For instance, Delta Air requires carriers to be leak-proof and well-ventilated on three sides. American Airlines calls for water-repelling materials and carriers with mesh ventilation on at least two sides. Also, United Airlines is very specific about the dimensions of the crates they allow in the cabin. But generally, there is more leeway for soft-sided carriers among commercial flights because they compress to fit nicely under the seat. Still, always check the airline requirements for pet crates before buying to ensure that you can use them for your flight.
Check our selection of the best airline-approved travel crates for dogs!
Best Crates for Airline Travel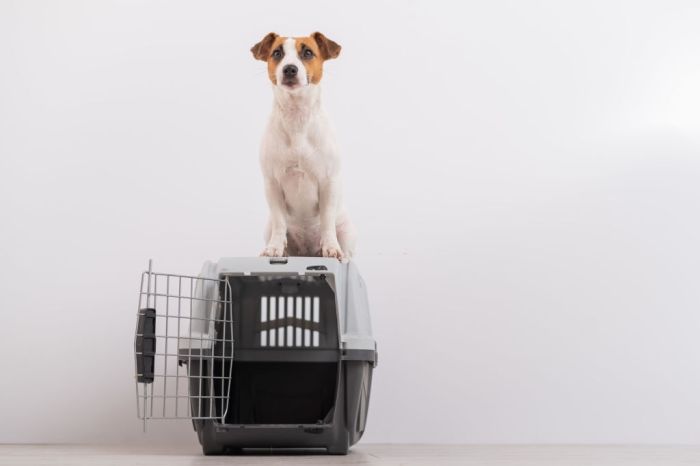 1. PetMate Sky Kennel
Petmate Sky Kennel t is considered a premium IATA-Compliant dog crate and is one of the most preferred air travel crates for dogs. It boasts of thousands of positive reviews from pet owners across the globe. The PetMate Sky Kennel comes in six sizes, and each one provides ample space for dogs to stand, turn around or lie down comfortably. It also has unique features that make it stand out from other similar products. Accordingly, 25% of the travel crate is made from durable recycled material. It has pre-drilled zip tie holes that keep kennel doors tightly shut. There is also a single metal door that is robust enough to keep your pet from pulling it inward.
The kennel is designed with air holes on four sides for maximum ventilation. There are handles or rims that comply with airline spacing requirements. You will also find two attachable water and food bowls on your Petmate package. Moreover, PetMate Sky Kennel safe lock has a vault-style locking system, a prominent enhanced confining feature of this crate and a wire kennel door So, if you want something close to an IATA-approved crate for your frequent travels, this is one of the best choices for you.
Features:
Four-way vault door
Heavy-duty construction
360-degree ventilation
Includes travel necessities such as stickers labels and feeding bowls
Airline adaptable features
Pros:
Extra security for travel
Extra strong steel wire and interlocking doors
Provides fresh air and visibility for pets
Convenient top handle
Meets most airline cargo specification
2. Sherpa Travel Original Deluxe Airline Approved Pet Carriers Crate
One of the most popular airline dog crate owners use when travelling with their dogs is this fantastic product from Sherpa. Various airlines have already collaborated with this brand for official travel bag products. Their pet crate and carrier line offer plenty of features for easy jet-setting adventures with your pet. It has mesh ventilation panels, a spring wireframe so you can compress it under the seats, and a removable and washable liner. It also comes with a shoulder strap, carrying handles, as well as a strap to attach to your luggage.
Depending on the size of your pet, you can choose from three different carrier sizes. So, it's best to measure up before buying. Pet parents find its squishiness advantageous, especially when you need to push it into space and how you can effortlessly carry small dogs around.
Features:
Mesh windows for ventilation
Top and Side entry with locking zippers
Non-slip, padded and adjustable carrying strap and luggage straps
Machine washable
Removable, faux lambskin liner
Pros:
Follows Airline-approved pet carriers
Comfortable and stylish design for travelling
Patented spring wireframe
Available in three sizes
Medium size first pets up to 16 pounds
3. Suncast Deluxe Pet Carrier
Another AITA compliant travel crate that is popular among pet owners is the Suncast Deluxe Pet Carrier. It is a portable dog travel carrier of decent value, and it is specifically created for flights. It has careful features that meet various airline standards. It is made robust and promises durability and superior performance. This crate uses resin and wire construction; thus, it is pretty strong for its affordable price.
You'd be happy to know that it also comes with a water and food tray which attaches to the door, so it's easy to feed your pet while travelling. It has vented sides and easy access storage compartments to ensure your dog's convenience and proper air circulation. Suncast Deluxe also allows you to personalize your carrier as it includes letters in the crate and live animal stickers. Ideally, this crate can accommodate pets up to 17.5 inches tall. It works best for car or air travel and is considered one of the most comfortable crates to use with your little dog.
Features:
Comfortable carrying handle
Easy access storage compartments
Designed for travel
Robust, sturdy and durable resin and wire material
Well ventilated and comfortable for pets
Pros:
Accommodates pets up to 17.5 inches tall
Secure and functional
Easy to clean
Designed to meet US Airline Standards
Convenient and easy to use
4. Sleepypod Air Pet Carrier
If you prefer to travel with your pet inside the cabin, you have to find a carrier that will keep them safe, secure and comfortable. The Sleepypod Travel Pet Carrier is CPS certified airline approved pet carriers that are very popular among long-haul fliers with anxious pets. This product has a dark fabric interior and a privacy shield that offers a cave-like feel. It keeps their dog calm throughout the flight and while waiting in busy airports.
The Sleepypod compresses six inches shorter to fit under airplane seats. When not in use, it folds up flat. Sleepypod Air provides an innovative solution with its size, versatility and flexibility. This pet carrier adheres to various airline restrictions and strict safety standards while ensuring that high-quality materials and make. It comes with a padded shoulder strap, carrying strap, and strap attached to your luggage.
Features:
Mobile pet bed, carrier and car set in one
Padded shoulder straps, carrying strap and seat belt straps
Ultra-plush bedding
Top and ends open for access
Large zipper pockets
Pros:
Suitable for pets up to 17.5 pounds
Flexible and versatile size
Luggage grade nylon outside and plush polyester inside
Machine washable
Folds flat for storage
5. Iris Deluxe Pet Travel Carrier
Looking for a value for money pet crate that is also IATA compliant for your next travel? The IRIS Deluxe Pet Crate has three sizes, and all of them are designed to comply with the demands and requirements of long flights. It has plenty of holes for maximum ventilation. This airline approved crate comes with a water and food dish attached to the door. You can also use a padlock on this crate for additional safety. IRIS Deluxe is perfect for toy dog breeds such as the Yorkie, Chihuahua and others. It offers hassle-free transport and storage for your pet. They can stand, move, turn around and lie down comfortably inside this travel crate.
Moreover, it has plenty of bolts and nuts to keep the top and bottom parts secure. Thus, pets are guaranteed to be safe and comfortable. This pet carrier is an excellent choice for calmer and smaller dogs. If you don't travel often, this product is a good value for money with exceptional durability.
Features:
Access door opens from either size
One-hand latch operation
With removable food and water tray
Folding carry handle for easy transport and travel
Has ample ventilation
Pros:
Affordable IATA compliant pet crate
Fits toy breeds comfortably
Made from durable plastic material
It comes in three sizes
Weight capacity is 44 lbs
6. Aspen Pet Porter Travel Kennel
Aspen dog crates are another top choice for pet owners looking for a portable dog kennel that can be used for long-haul flights. There are several sizing choices, so you have something for your pet, no matter how small or big they are. This pet porter travel kennel is light enough to move while you are still in the airport. But it is durable, stable and sturdy to keep your pet safely tucked during flight.
It is ventilated on three sides, which complies with the IATA guidelines. This product meets most specifications set by various airlines for pet, but it is still best to check with your airline. Among airline-approved travel crates, Aspen Pet Porter is one of the best choices for a reasonable price.
Features:
Sizes available to accommodate small to medium dogs upto 50 lbs
Easy open latch
Secure and durable wire door opening
Heavy Duty plastic shell
Metal bolts and screws
Pros:
Ventilated on three sides
Durable and stable for air and car travel
Easy assembly and lightweight
IATA guidelines compliant
Designed for comfort and natural denning instinct
7. PetAmi Deluxe Pet Carrier Crate
The PetAmi Deluxe Pet Carrier is not precisely a crate, but it is a popular travelling pet carriers that owners love to use. It is a product that appeals to those who prefer to carry furry friends on the back while scouring through the airport. It received a whopping five-star rating from thousands of users who rave about how easier it is to travel using this backpack than the traditional crates.
It is an airline approved carrier for airline travels. This pet carrier has three compartments for keeping treats or water bottles, and it has a chest and waist strap that provides additional stability. It is ideal for puppies or tiny dogs weighing up to 18 pounds. It has a tapered design and comes in 12 stylish colors, so you'd feel good carrying it on your back while your pet comfortably looks around. It is rated as one of the best pet carriers for travels with pets.
Features:
Well-ventilated wire mesh for optimal airflow
Cozy sherpa lining
Zip up mesh window and headroom for visibility
Two-way entry for accessibility
It comes with waist and chest straps for support and stability.
Pros:
Design for comfort and convenience
Equipped with a reinforced structure to prevent from collapsing
It fits small dogs and puppies comfortably
Side pouches and pockets provide storage
Available in 12 stylish colors
What is an IATA-Compliant Dog Crate?
Pet owners who plan to travel via air with their pets must understand the guidelines of the International Air Transport Association (IATA). Unlike regular dog crates, IATA-compliant dog carriers are designed explicitly with features imposed by the association for short or long-haul flights. It is good to remember that IATA does to approve or endorse any dog crate brands in particular.
Pet crate makers only ensure that all the requirements and considerations are followed for the safety and comfort of pets throughout the flight. Pet owners also have the option to travel with their pets in-cabin or via live cargo area. Crates not in the cabin will be attended to by the airline crew for the duration of the flight.
Generally, airlines around the world also have their guidelines on the allowances of pet crates and carriers. Thus, regardless of your pet's breed or size, you should first check with your airlines to know what is allowed and which is not. Most commercial airlines follow IATA-compliant dog crates for maximum safety and security of pets while travelling.
Many crate makers have also added features to ensure that they are compliant with the rules and guidelines set by the IATA. There are also products endorsed by airlines, but you should always check the product's quality, features, and size before buying.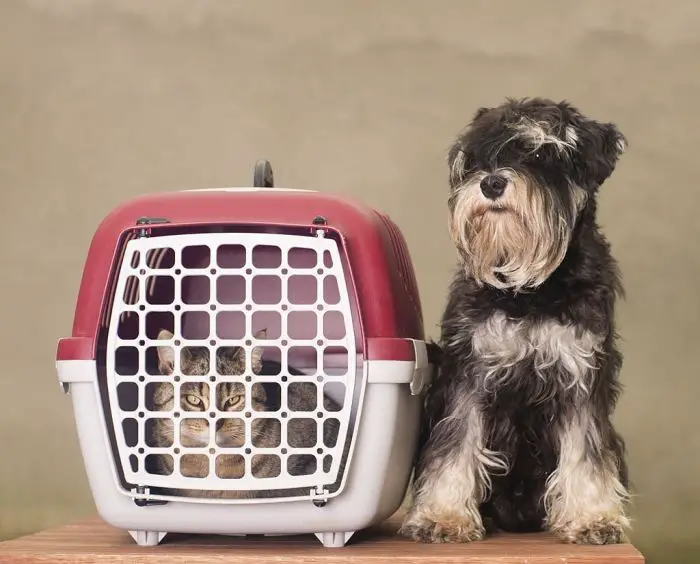 Features to Look For in Choosing An Airline Approved Travel Dog Crates
Travel crates for dogs are built to remain stable during take-off, flight and landing. It should have maximum ventilation, visibility and others. Pet parents who have flown with their dogs know the stresses that come with the trip. Some pets become anxious when travelling too.
On the other hand, many airlines are more lenient than the requirements of the IATA. So, check with your airlines whether or not they have additional requirements for sky kennel. Typically, International flights are more restrictive than regional flights.
Here are some crate specifications that a dog kennel should follow to ensure that it is compliant with the specifications of the IATA.
Size – IATA demands that a pet crate should be tall enough so that the dog's ears will not touch the top of the kennel while standing. As a rule, the crate's length should be the pet's length plus half of their leg. It should have ample space in the front and back. Pet should turn around, stand, or lie down without difficulty or seeking help from a crew member. This rule applies to most airlines travelling internationally and domestically.
Metal Nuts and Bolts – IATA requires that airline pet crates should have metal nuts and bolts. Metal ensures safety, strength and durability; thus, your pet will stay secured in case of strong turbulence. Most airlines also allow crates with metal bolts covered in plastic caps. Likewise, almost all airlines demand a single whole metal piece instead of plastic folds. A metal door will be impossible for dogs to pull or collapse, plus it provides better ventilation.
Food and Water Bowls – During long travels, your pet dog is bound to get hungry and thirsty. Thus, airplane crates should have a separate bowl for food and water to ensure that the crew will have your dog fed. It should be made of stainless steel and is attachable to the crate door. It will be easier for the airline crew to access the dishes and feed your pet without opening the crate.
Feeding Instructions – Ideally, dog owners should also put down a feeding instructions along with their pet's food bag. The airline crew will feed your dog during the flight, so they should know your dog's food habits, allergies or intolerances. It is best to have dry dog food during travels. If your pet has specific problems, consult with your vet for medication to make the journey easier for them.
Pet Identification and Documents – Dog owners should also attach their pet identification and documents on the top of their crate. It should have the dog's name, owner's contact information, flight number, destination, contact and address at the final destination. All this information will be helpful in case you lose your pet during your trip. Some carriers have live animal stickers on top and separate food storage.
Ventilation – according to IATA guidelines, dog crates should have air holes on all four sides of the crate for maximum ventilation. A plane's hold can be stuffy and dark. Thus, dog crates to be placed here should be secure, ventilated and comfortable for your pet. On the other hand, carriers must have holes at least two vents or mesh panels. If you are using a crate, make sure that it offers optimal airflow, to keep your dog safe.
Crate Lining – Per IATA, dog carriers should also have a lining and absorbent papers. The cushion lining is meant to protect your pet from injuries in case of accidents during travel. It will also serve as pee pads, especially if journeys are stressful for dogs. A dog crate that is comfortable and abides by the guidelines set for their safety will help keep the trip trouble-free for both owners and pets.
Dog Crate Features to Avoid For Air Travels
Crates used for the home or regular trips to the vet have helpful features for owners and are comfortable for the pets. However, it might not be enough or allowed for air travel. Here are some of the features you should avoid when choosing a dog crate for your next trip.
Top Door Opening – dog kennels with a top door or opening are not permitted for air travel. Plastic doors are prohibited for pet safety.
Plastic Front Door and Plastic Latches – IATA official international guidelines specifically call for metal kennel door, bolts, and plastic nuts. If you intend to travel with your dog, do not buy crates with plastic doors or latches. It should be secured with metal hardware to ensure that it is sturdy and durable.
Wheels or Detachable Wheels – According to IATA guidelines, pet crates for air travel can have detachable wheels. When choosing a product, avoid those with regular wheels. Crates with detachable wheels will stay stable when the wheels are removed during safekeeping in the plane's hold. If the crate has no detachable wheels, it should have no wheels at all. Wheeled kennels may end up rolling around during flight and make your pet sick.
Soft Crates – for air travels where your pet will be kept in the plane's hold, crates made from fabric and smooth material are not allowed. Airline regulations are often more lenient for in-cabin pet travel. IATA specifically calls for stable, sturdy and high-quality material for better security and safety for your pets during the flight. If you are not taking your small dog for a cabin trip, best to choose a crate that complies with all the guidelines applicable to international travel with small dogs.
Airline Travel Tips for Traveling With Your Dog
Flying with your furry friend for the first time? It is all but natural to feel scared about flying with your dog, but there are also millions of animals that travel with their owners via air. You have to deal with the reservation, required documents and the preparations. Part of your safe and comfortable air travel experience will be up to you. So research your airline's guidelines on flying with dogs, and check out these tips to help you prepare for a stress-free trip!
Consult Your Vet
Before flying with your pet, make sure to set an appointment with your veterinarian. Your pet must be in good health to fly. They should provide veterinary advice before you arrange your trip. You may seek another appointment closer to your departure date. You may need documentation such as your pet's health certificate, which your veterinarian issues ten days before your flight.
Be Sure Your Pet Breed is Not Restricted to Fly
Brachycephalic or "snub nosed dogs" like Bulldogs, Boxers and Boston Terriers may not be allowed to fly and are restricted by most airlines. They may allow cabin flights with your short-nosed pets, but your arrangements should comply with the size and weight guidelines. Thus, check with your airline before making reservations.
Get Your Pet Used to the Kennel
Suppose you plan to travel with your dog and purchase an airline-approved dog crate well in advance. Start getting your pet used to being in the kennel by simple crate training methods to keep your dog inside for a long period. They should associate it positively to think of it as a comfortable and safe place to stay. Create a relaxing ambiance for them, such as feeding them in the crate, putting in some toys and letting them sleep inside. Many airlines will also use cable ties to sure your travel kennels for flights. Make sure that the crew does this properly before your flight.
Avoid Pet Sedatives
Drugs or sedatives are not recommended for pets during air travel because they can interfere with their ability to control body heat during flight. If you are worried that your dogs may feel anxious, consider using calming drops or a vest designed to keep them calm.
Keep Pet Documents Ready
Different airlines have their own set of requirements or guidelines for pets flying in-cabin or in cargo, especially for international travel. Make sure to keep your pet's health documents ready so that you can quickly provide them when the staff asks for them.
Use Pet Relief Areas Before Flight
You may now find pet relief areas in major airports around the world. Before boarding, check out the closest place for your pet to take potty breaks. You may also try mapping out your layover destination for this purpose. If you cannot find one, have a puppy pad ready when your pet wants to go outside the relief area.
Have a Chew Toy for Take-Off or Landing
Pets feel the exact change in pressure during take-off and landing. If travelling with your pet inside the cabin, offer them a chew toy or hard treats to help them manage the discomfort in their ears. If your dog is kept in the hold, be sure to put a chew toy for them to use during this period.
Airlines That Allow Dog Air Travel
Choosing a pet-friendly airline is one of the factors that can make your trip with your pet a hassle-free journey. If you are travelling internationally, here's a list of airlines with well-defined guidelines for air travel with your pup.
Other major airlines that allow pet air travel are American Airlines, Alaska Airlines, Virgin Atlantic, and Delta Airlines. On the other hand, US Airway, Southwest and JetBlue only allow in-cabin pet travel.
The Takeaway
Pet travel is not always easy for a pet parent. There are plenty of things to prepare and challenges to face before, during and after the trip. Make sure that you have one less thing to worry about by choosing a high-quality, reliable and IATA-compliant pet kennel to use with your pet. Our top pick for the best airline-approved dog crate is the PetMate Sky Kennel which is also available in several sizes to accommodate up to medium-sized breeds safely and comfortably. We also have a few options of in-cabin carriers for toy dog breeds. If you are planning a trip with your pet and it involves air travel, be sure to choose one of these products to give your pet a hassle-free travel experience.
MORE POST
Last update on 2023-10-02 / Affiliate links / Images from Amazon Product Advertising API