Are your puppies getting into places where they shouldn't be? Maybe you want to block off rooms or the staircase from your pets so you will not worry about their safety when you are not looking? Whatever reasons you might have, pet gates are a must-have for pet owners. But what are the best expandable dog gates, and how do they work?
Pet gates are fence-like contraptions that you use to barricade rooms, hallways, or staircases to set boundaries for your pets. These units come in all shapes, sizes, and designs. When shopping for expandable gates for your pooch, you have to consider its overall construction, material quality, and ease of installation. And because it can be overwhelming to choose one from thousands of products online, we've scoured reviews to help you out. Read on for the top-picks and well-loved as recommended by fellow pet parents!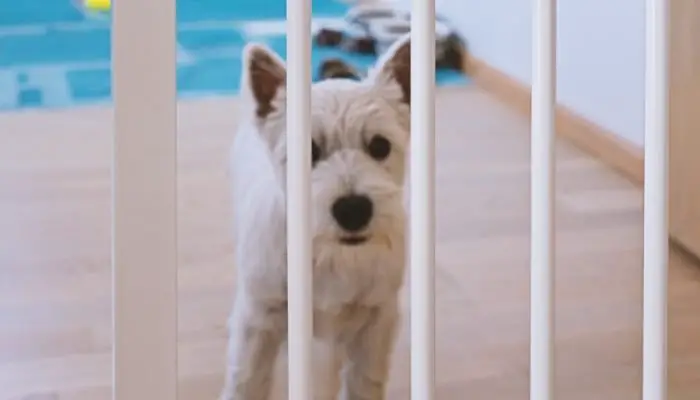 Our Top Picks For Best Expandable Dog Gates
1. Richell Wood Freestanding Expandable Dog Gate
This freestanding expandable dog gate is portable and can quickly move when needed. It has stable side panels, which are made ergonomic and space-saving. Pet parents love its classy yet functional design from wood and metal materials. It expands from 39.8 inches to 71.3 inches, and its one-screw additional feature prevents unintentional size change. One of the best things about this product is it requires no installation. You may simply step over it or slide it in or out of the way when needed. This unit is one of the most-reviewed pet gates and is recommended, especially if you have curious canines.
2. Carlson Pet Product Lil' Tuffy Expandable Gate with Pet Door
If you have a little fur baby, this pet gate from Carlson is an adorable choice for you. At only 18-inches tall, you can easily step over it while it keeps your pooch and little kids out of the way. It also has a small door to allow access to small pets, so you don't need to remove the barrier for them. The Lil Tuffy is pressure mounted and can extend from 26-inches up to 42 inches wide spaces. We love its white minimalistic design and the rubber bumpers to keep floors and walls scratch-free. Likewise, it has an easy to operate locking mechanism that is tough for kids to crack. But what makes this unit a top-rated steal is the simple design and amazingly friendly price!
3. North States Deluxe Expandale Decor Gate For Dogs
The North States has several pet gates that you can consider for your needs. Their Deluxe Decor Gate is like a small fence that you can use to barricade extra-wide spaces of up to six feet wide. It features a double locking mechanism which can be operated single-handedly. Amongst wide pet gate models, this is a quick favorite among pet parents for its extra-wide doorway, convenient hold-open design, self-closing latch, and easy-use latch to open the full gate in either direction. If you want a pet gate from a time-tested brand, this unit is the perfect choice for you.
4. Total Win Expandale Freestanding Expandable Dog Gate
The Total Win Freestanding expandable gate for dogs is a sure winner if you're looking for a simple yet effective barricade. What we love about this is that it arrives ready to use! You won't be harassed, trying to figure out its assembly or worry about scratching your walls. It is an ideal dog gate for safely containing small to medium fur babies. It is folding, expandable and comes with 360-degree rotatable hinges for various configurations and secure storage. It is the perfect gift for any pet lover you know!
5. UniPaws Freestanding Expandable Wooden Dog Gate
This freestanding wooden expandable dog gate from Unipaws comes without any need for assembly or installation. You don't have to worry about ruining your walls or scratching the floor. It is flexible with a dual-sided folding system and a secure storage system. It extends up to 80 inches wide to barricade wider hallways, stairways, and doorways. It doubles as a pet divider too! For a hassle-free and customizable freestanding unit, this Unipaws pet barricade is an excellent pick!
6. Regalo 192-Inch Super Wide Adjustable Baby & Pet Gate
Pet parents who are struggling to find a super wide and large expandable dog gate had their prayers answered with this 192-inch adjustable baby and pet barricade. It is primarily intended to safeguard kids, but its use also applies to pets! This eight-panel unit effectively blocks off large and unusual spaces, and it doubles as a playpen or mounts too. When fully extended, it spans 16 feet wide. It can be permanently fixed on any area around the home, plus, it comes with an extra-wide walkthrough gate for your convenience.
7. Arf Pets Freestanding Wood Expandable Gate for Dogs
Do you want something more stable and heavy-duty? Arf Pets freestanding pet gate is made of heavy-duty wood panels with rubber feet to protect your floors. It is not just a convenient barricade to keep your pets and kids from accessing off-limit areas; it also guarantees you peace of mind. It's stable and won't tip even with the most energetic pooch. This expandable pet gate can be customized to suit your needs. These multiple paneled units are the top pick for a functional, heavy-duty pet gate.
8. Pawland Expandable Wooden Pet Gate
Another excellent option for those looking for a hassle-free and durable large expandable dog gate is this wooden gate from Pawland. This wooden pet gate can also be turned into a fence, a divider, or a playpen for your pooches. It has stylish wood and metal design to suit any home decor. Your floors will be free from scratches as it has rubber feet and does not need any installation. Want something you can use anywhere? This unit should do the trick!
9. MidWest Homes for Pets Steel Pet Gate
If you are looking for a durable pet gate that goes well with your overall home design, the MidWest Homes Steel Pet Gate is an ideal choice for you. It has the perfect height as it is taller than average pet gates. This steel pet gate can be pressure mounted or hardware mounted with mounting cups. It is made heavy-duty, extremely durable, and chew-proof for extra nippy pups. The gates mount securely to the walls without leaving scratches thanks to the pressure mounts. Likewise, it comes with additional extensions so you can widen it as needed.
Expandable Dog Gate FAQS & Buying Guide
More pet parents today are starting to appreciate the benefits of pet gates for home. If you also worry about your pet's safety and think that these contraptions can help you, then we're glad to be of help. We also have more tips so you'll come to the right decision.
Things To Consider When Choosing an Expandable Dog Gate
Though challenging, choosing a dog gate can be fun too. For you to zero in on the best one for your needs, here are some things to consider –
Size of Your Pooch – if you have a large dog breed, you will need taller and sturdier barricades. You're putting up these units to discourage them from jumping or climbing over it. So take note of your dog's height and pick a taller model.
Placement and Purpose – before you buy anything, make sure to measure the area where it is going to be placed. If you are going to divide a large room, choose the extra wide fence. If you need something flexible or versatile, find one that is multi-purpose.
Installation – you have the option to choose whether to mount fixtures or go for freestanding types that need no installation.

Material Used – there are two primary materials used for these units – wood and metal. Both have their pros and cons, but you may also opt for barricades with both metal and wood construction.

Security and Stability – if you are after security and stability, check out its locking mechanism and whether it is easy to tip over when pets become extra energetic.
Different Types of Expandable Pet Gates
There are several types of pet gates available for homes and apartments. After considering the factors that you need, you might want to look at the models that are suitable for you.
Freestanding
These barricades are vertically-standing panels and do not require installation. It works the same way as the barricades on the streets. It stands freely thanks to perpendicularly oriented feet extension.
Hinged and Foldable
This type is like the freestanding unit, but it usually has three or more panels that are hinged and can be folded. These types are multi-functional, but they are easily movable.
Wall-mounted
These types require the installation of hardware that needs to be securely bolted on the wall. The panels will be mounted on both ends of this hardware. It is the most secure type of expandable barrier for dogs and because it is immovable.
Pressure-mounted
These are slightly similar to the wall-mounted type, but it requires no drilling or actual mounting. It features rubberized extensions that are pressed on opposite sides of the wall to create pressure.
Walk-through
These types can be any type of expandable dog gate with a door feature. It has an entrance that is typically placed in the center of the barricade.
Where Should You Install Your Pet Gate?
Before you came to this site, you might already have a spot in mind as to where you will put your barricade. Generally, these contraptions should be placed anywhere that is dangerous for your pooch. Common areas include kitchens, stairways, and rooms with fragile items. Thus, choose a gate made for such areas. Many pressure-mounted types are not suitable for stairs, and others may scratch hardwood floors.
What's The Best Type Of Lock For Your Pet Gate?
Choose a pet fence that features a quick open system for humans but is tough enough to withstand pets' pushing. The best expandable pet gates usually have a one-touch release handle and automatically close and lock after walking through.
Pet-proofing your home is made more manageable with these expandable dog gate for the house. Choosing to have these units instead of a crate gives them more freedom to move around. But of course, you should seriously consider the safety and stability of your barricades to keep you worry-free at all times. 
The Regalo 192-Inch Super Wide Adjustable Baby Gate is an excellent choice if you want a multi-purpose and extra-wide barrier for your home. If you have a little fur buddy, the Carlson Pet Product Lil' Tuffy Expandable Gate with Pet Door is the ideal pick for you. And that's just about it for us, how about you? Do you have any suggestions for the best expandable dog gates? Share with us your thoughts on the comment box!