Glum-faced and tough-looking, but sweet, comical, and entertaining – these qualities have endeared French Bulldogs to pet lovers around the world. Their unique physical features, such as their bat ears, bow-leggedness, and small yet densely compact bodies, are very popular among city-dwellers.
These dogs are small, belonging to the toy lapdog family. They have a short, easy to groom coat and require moderate physical activities. Frenchies perfectly fit into any condo, home, or apartment living. Apart from being quite belligerent to other canines, they probably are the best choice for city living.
Overview
The French Bulldog resembles a Bulldog in a miniature form. They have a wrinkled face, extremely short nose on a head that is large and square. They are more lively than you might have thought from their chunky physique. The puppies are exceptionally playful and are very passionate about ball chasing. However, adults are more dignified couch potatoes but are still excited to go for walks when the weather is light.
Frenchies are very charming. They are friendly with everyone, but some are reserved. They may bark to announce visitors but are quiet most of the time. Additionally, these adorable little fellows are also peaceful with other pets. On the other hand, males may bicker with fellow males.
They are also very stubborn, and newbie dog owners may find it hard to train. With persistent training, use of food as motivation, Frenchies usually respond well and remember what they learn. You have to be extra patient and put more effort into house training these little pups. They also snore, which is like a significant issue for some. However, it can get alarming when you start heating those dramatic sounds that come from such a small body.
French Bulldog puppies are ideally rehomed when they are nine or ten weeks old. They have to spend an optimal amount of time with their moms and littermates so they won't grow to become little tyrants. Eventually, it is the best starter for them to learn how to behave towards people and other canines.
Schedule walks and outdoor playtime for 15 to 20 minutes during cool mornings and evenings. They are sensitive to heat and are prone to heatstroke. If you're after a jogging and hiking companion, a Frenchie is not the pooch for you.
If you are interested in getting your very own Frenchie, you have to do some research about their unique features and characteristics. These dogs are best suited for pet parents who are home most of the day. If you think you're a good match for Frenchie, then be ready for the most exciting experience of being a pet parent!
French Bulldog Origins
The French Bulldogs or the "Bouldogge Francais" actually originated from the city of Nottingham in England. They were popular pets of the lace workers and kept them in company to rid their workroom of rats and vermins.
Soon after the industrial revolution, many lacemakers moved to France, where their skills are in demand. They took with them their beloved "toy" bulldogs, which became equally popular with French shopkeepers. During this period, these canines were eventually called French Bulldogs – an adoptive name of their new country.
The dogs became even more popular in the late 19th and early 20th centuries. They were the preferred pooches of the Paris Boheme class. They were with ladies of the night, writers, artists, and wealthy Americans touring France. Toulouse Lautrec, a French impressionist, even featured a Frenchie in his painting "Le Marchand des Marrons."
In the past decades, this breed rapidly became a favored pooch. It currently ranks 21st on breeds registered by the American Kennel Club, a clear testament to its qualities as an excellent companion.
French Bulldog Personality
Despite their stubbornness and the tendency to become little tyrants, French Bulldogs are generally an intelligent breed. Pet parents will be pleasantly surprised by their intuition and on how they quickly adapt to their environment. A Frenchie personality varies from a range of calm attentiveness to highly energetic adventurers.
Similar to humans, a canine's personality is influenced by their genetics and environment. Although we can draw patterns of their characters and make a generalization, each dog will be unique. For instance, their upbringing, parent's personality and temperament, breeding, and the training they have as pups will shape up their attitude in adulthood. Their developmental years are essential as it is where their personalities are rooted and shaped up as they grow into adulthood.
These adorable canines are generally active little apartment companions. They are amongst American Kennel Club's most popular dog breeds. These dogs have bat ears, an overtly-cute but squashed face, and they make strong rapport with their owners. Moreover, they are well-loved because they can fit into almost all types of living environments, need a little exercise, and are not avid barkers like other small breeds.
French Bulldog puppies are extra energetic. They can be quite a handful and they can get into constant trouble. Frenchie bulldog pups will chew on your toys and play it rough. But don't worry, this zealous enthusiasm will wane as they grow up.
Adult Frenchie dogs lose a bit of their animated energy, but they remain socially active. They'd love to bounce up and sit on your lap, play with other friendly pets, and exude their love for love. In most cases, adult Frenchie dogs keep their mischievous streak and will play around to be the center of attention. When trained well, they become lofty adults, active lovers, emphatic companions.
Among small dog breeds, the Frenchie personality is probably the best there is. If they do not undergo proper upbringing, they can be quite aggressive, barky, and reclusive. On the other hand, if raised well, you'll not want more than this fun-loving, adorable, charismatic, and well-mannered pooch.
French Bulldog Temperament
All in all, these dogs are friendly and well-tempered canines with a stubborn streak. They are naturally charming and are not ill-tempered. These canines usually develop separation anxiety due to their love for their owners. As with their personality, French Bulldog temperament is significantly influenced by their upbringing, breeding, and genes.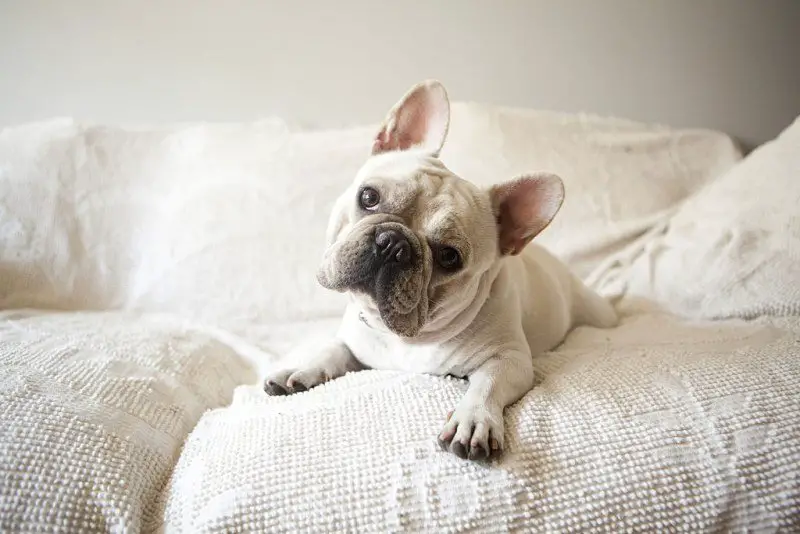 Here's what you should know:
These dogs are somewhat docile and are easy to train. These dogs may have short attention spans, but the majority of them can learn quickly and are capable of remaining calm during their puppy years.
French Bulldogs are not aggressive, but they tend to nip. They would pour out their affection rather than hold any reservations. This trait makes them good with children. And though they always seek validation, they are not obsessive in any way.
Aside from these wonderful traits, you should also know some of their negative temperaments.
For instance, most French Bulldogs crave affection to a fault. Despite being an excellently adaptable companion pet, they can become depressed and anxious when left alone for long periods.
Though they are confident canines, they can become dependent on their owner's presence. And because of this, they are not a good fit for owners who are always away from home.
More so, Frenchie dogs can become destructive pets without proper guidance. Though small in size, they are rough players and will chew through your stuff, dig around when the surrounding permits, and play tug-of-war with inanimate things.
Though they are the loftiest and confident lazy balls you'll ever know, you should never leave them on their own for long periods. They might get bored or experience extreme separation anxiety, which can lead to destructive behaviors.
Their biggest temperament issue is stubbornness. French Bulldog becomes even more stubborn as they age, and this should be appropriately addressed before it becomes a significant problem. Additionally, they can be too willful and refuse to follow the rules and become aggressive. If not managed early, they can behave poorly, and it manifests in their traits.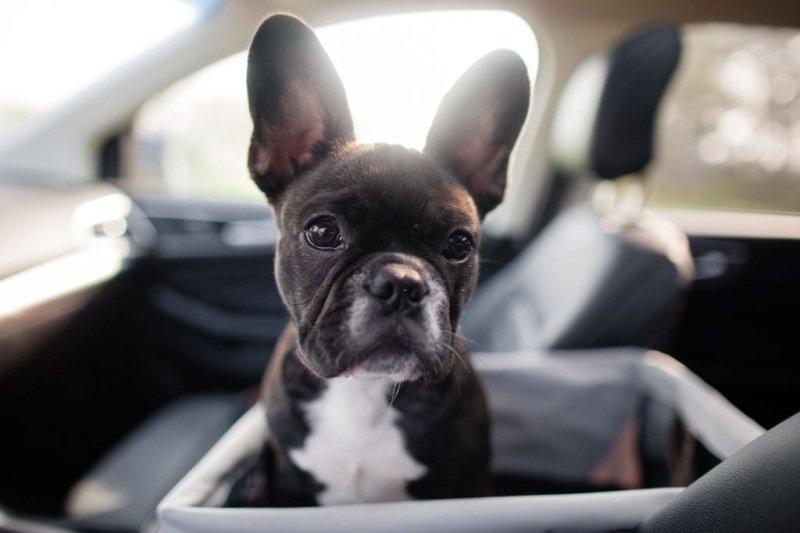 RELATED POST: 300 Best Names For French Bulldogs
Frenchie Bulldog Health Issues
While not all Frenchie dogs will get any of these illnesses, potential pet parents need to be aware of its possibilities. French Bulldogs have unique physical features that make them prone to specific health problems.
Consequently, knowing the early signs will help you handle the situation and prevent them from getting worse.
Joint Problems – One of the most common health concerns that French Bulldog owners must monitor is hip and joint issues. This breed is predisposed to hip dysplasia. It happens when the joint ball becomes dislodged from the socket, and this causes lameness, discomfort, and pain. This condition often occurs in older Frenchies, but pet owners can help prevent this from happening. In most cases, hip dysplasia is a result of an injury due to jumping on and off elevated areas. Ideally, you can prepare a set of stairs for your pooch to access the couch or your bed to prevent strain or injury on its hips.
Breathing Problems – As brachycephalic dogs, they are prone to develop breathing issues. Brachycephalic refers to their "flat-faced" appearance, soft palate and their short snout. Because of this facial feature, they are often plagued with breathing problems ranging from mild cases of snorting to more severe conditions such as brachycephalic respiratory syndrome. It can cause gagging, wheezing, vomiting, or death in some dogs. As a fur parent, you should be aware that overexertion in Frenchies is dangerous and can cause them breathing difficulties. Therefore, it is best to limit the amount of physical exercise and allow them to rest after playing vigorously.
Allergies- Canines can have food and environmental allergies, and French Bulldogs are prone to various allergic conditions. For instance, these dogs have sensitive skin and can develop a rash when exposed to allergens such as grass, pollen, and harsh chemicals from pet grooming products or detergent. The best way for you to avoid this is to limit their exposure and avoid using products that may cause allergies. More so, some pooch may be allergic to wheat, grains, or chicken in kibbles. Watch out for manifestation of food allergies such as rash, diarrhea, and vomiting. Furthermore, take them off the food as soon as you see these signs.
Patellar Luxation – It is a common health problem in small dog breeds. It happens when the patella is not lined up correctly and slips in and out. Canines with this condition have an abnormal gait and are lame. It is a congenital disease, but the luxation becomes evident when they become adults. Mild cases of patellar luxation can cause temporary lameness, but it can be corrected manually. More so, severe misalignment can lead to canine arthritis, and often, it will need surgical repair.
Ear Infections – Frenchie Bulldogs have unique, big ears. And while they look adorable, they are always open and exposed to dirt. However, when left uncleaned, infections can develop from unwanted build-up in dirt and grime in their ear canal. Infections can lead to inflammation and potential deafness in severe cases. Apart from regular ear cleaning, you should also ensure to keep unwanted moisture away from their ears during bath time. In case of an ear infection, consult with your veterinarian for care and treatment.
Additionally, if you are planning to purchase a bulldog French bulldog, ask the breeder for health clearances of the puppy's parents. These clearances will guarantee that the parents are tested and cleared for a specific condition. For instance, the Orthopedic Foundation for Animals issues clearances for hip dysplasia, hypothyroidism, and others, while Canine Eye Registry Foundations certifies normal eye conditions.
RELATED POST: Interesting Facts About Blue French Bulldogs
Caring for a French Bulldog
The French Bulldog breed is relatively easy to care for. For instance, these canines do not need a lot of physical activity. And though younger pups are rambunctious, they have low energy levels as they grow into adulthood. Short walks, playtime, and a bit of daily exercise will help keep them in a healthy weight. They like playing around and doing various activities, but they do not need long periods of exercise. Additionally, limit your walks and activities to cool mornings and evenings as this breed is prone to heat exhaustion.
This breed is highly intelligent and eager to please; however, they are also pigheaded. These dogs can be a challenge to train, thus, you have to be extra patient and try out techniques that will work for them. Of course, you can try to involve games and prizes to pique their interest to learn.
Ideally, crate training is a must for these puppies even if you plan to give them free rein of the home when they become adults. No matter what breed, French Bulldog puppies can get into things they shouldn't, explore and chew on stuff that can harm them. Thus, crate training is a must while your pooch is still in its puppy stages.
RELATED: French Bulldog vs Boston Terrier
Feeding Tips
The recommended daily amount of food to give these tiny bulldogs is 1 to 1.5 cups of high-quality dry food per day, split into two meals.
Keep in mind that the amount of food your adult canine can eat will depend on its age, size, metabolism, build, and activity level. Each dog is different and has varied needs. Thus, active pooches will need more food than couch potatoes. Similarly, the quality of food you give also makes a difference. So, choose high-quality products to ensure that you nourish your pets more.
Coat Colors
A Frenchie dog has a short, smooth, fine, and shiny coat. Likewise, their skin is wrinkled and loose. You will notice that their head and shoulders have a soft texture.
Similarly, this dog breed comes in a variety of colors. They can be cream, fawn, or shades or brindle. You can also find them patterned with streaks and specks of dark and light markings such as combinations of black and tiger brindle or white and brindle. In addition, they can be any color except for solid black, black with tan or white, mouse color, or liver. Don't set your heart on finding a particular color and avoid breeders who say there are rare colors that are worth your money.
Grooming
It is relatively easy to take care of and groom a French Bully. This breed is average shedders, and need occasional brushing to keep their coat healthy. Ideally, grooming these little canines should start at a young age for them to get used to being touched and cleaned.
When grooming your pet, check their skin for scabs, bare spots, lesions, flakiness, roughness, or any signs of infections. Always check their eyes, ears, and mouth for bad smell or discharge. Doing this will address any problems before they develop into something worse.
To clean their ears, use a damp, warm cloth and a cotton swab to clean the edges of the canal. Never stick the swab into the ears. Then apply mineral or baby oil if the outer ears and nose are dry.
These dogs also need regular nail trimming as they do not wear their nails down naturally. It will help prevent tearing and splitting, which is painful for dogs. And finally, keep their facial wrinkles clean and dry to prevent any infections. Make sure to dry the skin folds thoroughly after bathing your pooch. And in case you are uncomfortable with grooming, you can always take your pet to a professional groomer.
RELATED: List of Popular Frenchie Colors
Rescue Groups
When taking a dog into your care, it is crucial to know and understand the responsibilities of owning one. Otherwise, these dogs end up in rescue groups in need of fostering or adoption. If you are interested in adopting a French Bully, you can check out several rescue groups such as the French Bulldog Connection Rescue.
Breed Organization
Being a well-loved breed, there are many legitimate breed clubs, associations, and organizations for the French Bulldog. If you need more information about them or you'd like to connect with fellow pet parents, you can check them out.
FAQs About the French Bulldog
Here are a few more questions about our adorable Frenchies for interested pet parents.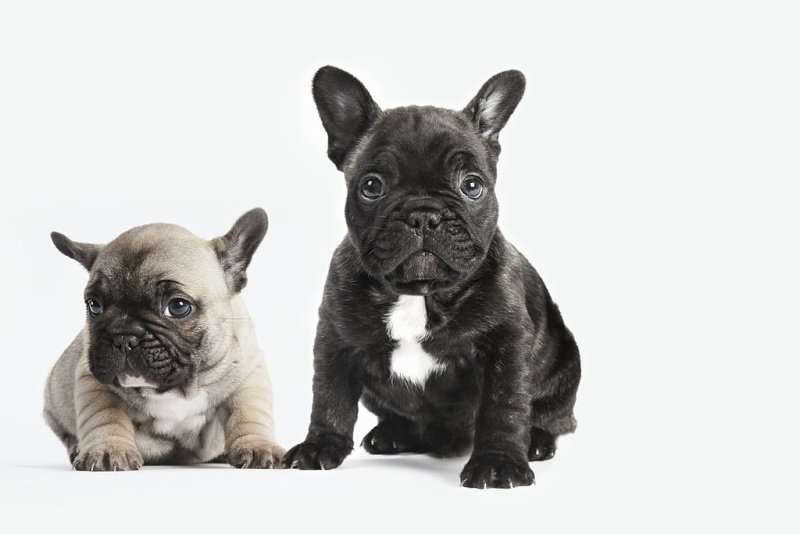 Why are French Bulldogs so Expensive?
One of the main reasons why this dog breed fetches an extremely high price is that they cannot breed naturally. Their physical features make it hard for them to mate. More so, females are also at high risk of delivering French Bulldog puppy because of their big heads and broad shoulders. If you are interested in having one of these adorable pups, prices can range from $1,400 to $8,500 from reputable breeders.
Are Frenchies good with kids and other pets?
Frenchies get along well with children. They are sturdy, and they are not so tiny so they can live in a household with a toddler. Regardless, never leave your child alone with your pooch. Make sure that neither dog or child is poking, pulling, or harassing each other.
Additionally, when socialized at an early age, these dogs can get along with other pets in the household. However, if you spoil them rotten, they can be jealous and aggressive towards other pets.
In case your Frenchie shows signs of aggression towards other people or pets, immediately take them away from the source of their stress or situation. Seek professional help if it becomes a regular behavior.
Adult supervision is required when kids are playing with any dog breeds.
What Are the Differences Between the Male and Female French Bulldog Personalities?
There is a range of differences between male and female French Bulldog. Its gender should be a vital factor when choosing a pup to take home. Typically, males are more inclined to be playful, rambunctious, and assertive. On the other hand, females are more timed and more affectionate. Likewise, females are more docile, and males are more challenging to house train.
But just as well, female ones can be a lot nippier. If tempted, females are quick to aggression and often moody in their youth. Similarly, males have the same personality issues, but they are not as aggressive as the females. Both genders will benefit significantly with proper training.
How Long Does a Frenchie Live?
The average lifespan of this breed is from 9 to 11 years.
Do French Bulldogs Shed?
They are average shedders. They have a short and easy-to-maintain coat that doesn't shed too much.
How Big do French Bulldogs Get?
You can find a French Bulldog weighing less than 25 lbs, but the average for this breed is around 28 lbs.
Conclusion
Many people fall instantly in love when they first see a French Bulldog. Its comedic nature, wrinkled squashed face, pointy, bat ears, and compact body are simply hard to resist. But is it the companion for you?
If you want a pet that is smallish but not delicate, has an easy to care for coat, gets along well with kids and pets, loves playing games but doesn't need lots of exercises and is typically quiet, then a Frenchie dog is a great match for you!