The French Bulldog is one of the most popular dog breeds. They might be small in size, but they have a massive number of followers.
All this can be attributed to their playful, sweet, loving, and adaptable personality. These dogs are physically known for their adorable facial wrinkles, "bat ears," and compact bodies.
Their easy adaptability, friendly temperament, and low-maintenance needs make them ideal companion-pets for city dwellers.
Frenchies are also hot items with celebrities. They've been seen alongside Lady Gaga, Madonna, and Robert Downey Jr.
If you're one who's recently jumped in with the Frenchie craze, you will surely be searching for the best name for your goofball.
Don't fuss, and we have prepared a comprehensive list of the most famous French Bulldog names for every whim and want of the fur parents! Yes, we have female, male, puppy, cute, unique, and a lot more in between.
Take a look at our wide selection of Frenchie names for your inspiration!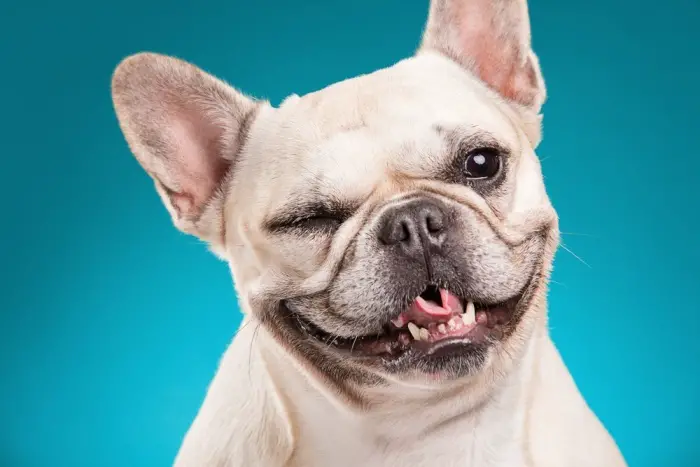 Female French Bulldog Names
Whenever we choose a name for our female pets, we want it to reflect their femininity while matching their unique personalities.
For a French Bulldog, charming lady-like words, items, and terms are the most popular choices.
Some pet-parents want something that sounds vintage and classy, while some seek tough-but adorable titles. Here is a rundown of female names that will suit your Frenchie.
Diana – it means divine
Alma – this means nurturing
Lilith – a cute term that means night monster
Lumi – a word that implies snow
Maisie – Scottish name for a girl
Everly – is a popular name for a girl
Astrid – means "divinely beautiful."
Ophelia – tells helpful one
Mabel – meaning loveable
Alice – it means noble
Leila – means night
Belinda – means the pretty one
Matilda – means might or strength
Edith – an English origin
Cleo – short for Cleopatra
Phoebe – means shining one
Vera – an exotic choice for a unique female Frenchie
Beryl – means sea-green jewel
Maple – a sweet syrup fitting for a sweet little furbaby
Amelie – means hardworking
Estelle – means star
Lucille – a French word for Light
Paris – the city of Light
Zuri – means beautiful in Swahili
Noelle – ideal name for pup received on Christmas!
You can also use local or foreign words as inspiration for naming your pets. Some terms in other languages are very feminine, yet they sound tough. Here are other female French Bulldog name ideas for your sweet and adorable fur baby are the following:
Akeyah
Aurora
Alexa
Ava
Bizi
Bianca
Bailey
Bubblegum
Bambini
Boonie
Buffy
Buttercup
Button
Chacha
Chichi
Cheesecake
Cherry
Cookie
Dakota
Dalia
Daisy
Dana
Feliz
Gracie
Holly
Hazel
Jolie
Lacey
Kona
Maggie
Lady
Josie
Aimee
Annie
Maya
Sofie
Sydney
Stella
Venus
Zena
Male French Bulldog Names
Finding a name for a male French Bulldog should also be an easy feat! There are thousands to choose from – popular, cool, cute, and masculine sounding titles that fit for your little goofball.
Though some people want strong names, they still want to highlight the Frenchie's unique personality. Here are some great names with meanings that you might love to call your pets.
Benjamin – means son of the right hand
Wyatt – a vintage sounding title of English origin
Andre – name that means brave
Baron – means the son of strength
Edmund – a fortunate protector
Charles – the heir to the throne
Duval – means son of the valley in Gaelic
Gerald – means the rule of the spear
Leopold – means brave people
Jasper – means bringer of treasure
Aurelius – a Latin origin which means "the golden one"
Noah – means wandering
Gaston – a character in Beauty and the Beast
Maximus – means "greatest"
Magnus – it means greatest
Byron – it means barn for cows
Percival – means pieces of the valley
Pierre – meaning stone or rock
Julian – means youthful
Orson – a lovely name that means bear
Jean – French term which means "gift from God"
Pascal – means one who is born during the Passover
Damien – the one who tames the wild
Vernon – means full of life
Zach – it means the Lord recalled
Ideally, you can also look at artists, celebrities, and other famous people for inspiration if you want something unique and fitting for your pet. Here are other male French Bulldog names you can give you little gentleman are the following:
Ace
Apollo
Andre
Armand
Buddy
Bentley
Baxter
Boomer
Buster
Bubba
Champ
Chance
Basti
Beau
Emil
Diesel
Frank
Enzo
Gus
Gunner
Guy
Leo
Hugo
Jacques
Felix
Loki
Leo
George
Jasper
Hank
Henry
Moose
Mac
Max
Milo
Murphy
Otis
Oscar
Napoleon
Polo
Rex
Rufus
Romeo
Rocky
Thor
Thucker
Tintin
Sam
French Bulldog Puppy Names
As puppies, French Bulldogs can steal anybody's hearts. They look fragile and bullish at the same time. These puppies will make you want to take them home and keep them.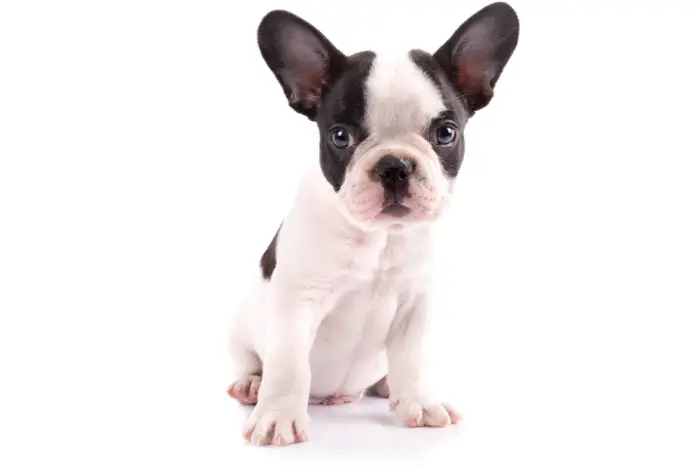 So, if you're taking a puppy home, you need the most fitting French Bulldog puppy names that can grow with them. Keep in mind that these dogs grow up real quick; thus, they might as well choose something cute and cool at the same time. Here is a list of adorable puppy names for a Frenchie.
Anastasia
Buttercup
Chomper
Desiree
Oliff
Penny
Dally
Bo
Atwater
Periwinkle
Nap
Emily
Bach
Pio
Chubs
Cadillac
Auggie
Merk
Isla
Zag
Zoey
Tank
Sunny
Lulu
Taffy
Peaches
Bunny
Lolly
Bonbon
Duchess
Cute French Bulldog Names
If there is one adjective that you can use to describe a Frenchie, it is CUTE! These dogs are delightfully adorable, and getting a name that's as cute as them is a must.
There are plenty of inspirations when searching for the perfect monikers to call your Frenchie. How about some soft names with gentle meanings? Or you might consider cute items and animals for that charming touch?
Take a look around you, and you might find enchanting terms or words that are perfect for your little buddy. Run through our list of winsome names for more ideas.
Summer – ideal for a Frenchie with a sunny personality
Tulip – it is a gorgeous and colorful flower
Bunny – an appealing name for a bouncy little Frenchie
Cotton – a great choice to call a white French Bulldog
Winter – a season name for a cuddly furbaby
Snow – another option for a white Frenchie
Raven – ideal for dark-colored dogs
Winnie – from the story of Winnie the Pooh
Birdy – for funny dogs who think they can fly
Kit – a short but sweet term that means "Pure"
Other choices for totally endearing names for French Bulldogs include the following:
Cloud
Storm
Sierra
Poppy
Jenna
Suede
Mallows
Tiger
Blankie
Clement
Moss
Milani
Lark
Sava
Catalina
Yarn
Moss
Pia
Kitten
Leaf
Blue French Bulldog Names
Blue Frenchies have a unique gene in them that makes its coat and nose appear bluish. It is a rare condition that sets them apart from their siblings. Being a Blue Frenchie makes them extra special, and if you are lucky enough to have one as a pet, then you want the best title for them too.
We have chosen some great names that highlight this uniqueness in them while keeping the cuteness intact. These names are one way or another connected with the color blue. Check out our list of Blue Frenchie names for your one-of-a-kind pet!
Blue Bell
Blue
Ibiza
Comet
Genie
Pewter
Luna
Bluno
Aster
Meeko
Flint
Dory
Periwinkle
Blue-ray
Capri
Bellevue
Sapphire
Violet
Neptune
Skye
Steel
Blueberry
Bleu
Bijou
Katniss
Stanis
Jarilo
Selene
Ivy
Nyx
Popular Names For French Bulldog
There has been a lot of controversy regarding the history of the French Bulldogs. It is one of the reasons why these dogs are very popular. Though they are of English origin, it was the French Boheme that made them quite a celebrity.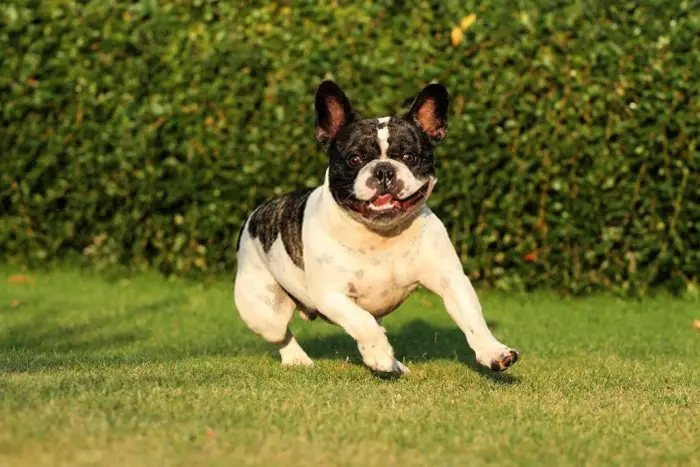 Over the years, they've become favored companion pets by artists, writers, and the wealthy Americans touring Europe. Let's get to know some popular Frenchie names as inspiration to find the most suitable title for your little buddy.
Ortino – a French Bulldog owned by Tatiana Romanov of the Russian Monarchy
Gamin de Pycombe – a French Bulldog show dog aboard the Titanic.
Sonny – The Frenchie who co-starred with Robert Downy Jr in the movie "Due Date"
Stella – the French Bulldog from the film Modern Family
Manny – the name of the IG famous Frenchie
Pistachio – Christina Perri's pet Frenchie
Popeye – Eva Longoria's pet
Steve – Shaun White's pet French Bulldog
Scarlett – David Beckham's Frenchie
Alabama – the name of Ashley Simpson's Frenchie
Dali – Hugh Jackman's pet
Django – Leo Dicarpio's pet Frenchie
Pepper – French Bulldog owned by Reese Witherspoon
Hank – Denise Richards' pet
Hobbs – The Rocks' pet name
Sharkey – Martha Stewart's Frenchie name
Asia – Lady Gaga's pet
Pippa – Chrissy Teigen's pet
Swifty – the name of Jason Priestley's pet
Thurman – the name of Rachel Bilson's pet
Cool Frenchie Bulldog Names
French Bulldog's personality is outright calm and charming. These dogs are naturally sweet, and they are always eager to please. Many people want fascinating names that reflect these inherent qualities of their pets.
There are lots of cool names you can get for your Frenchie. These names on our list are telling of your pet's adorable size and personality. We think you'd love to have words that are also sweet and delightful. Choose any one of these to showcase them to your friends.
Teacup
Honey
Pip
Lolly
Pebble
Beanie
Button
Sugar
Chip
Sprout
Cookie
Toffee
Elf
Shorty
Pixie
Sprout
Petit
Bacon
Sushi
Sweety
Bubble
Pancake
Berwin
Fleur
Danielle
Pissaro
Monet
Renoir
Koji
Eclair
Funny Frenchie Names
Adding a bit of humor to your pet's name is always a fun idea. Dogs can be silly because they want to see you laugh, and they love to please you.
Choosing a funny name will make you smile every time you call them, and they'll think you're happy to see them as they are happy to see you! But if you are hesitant to use something funny as their official title, you might still use it as their nickname! Here are some delightful ideas:
Yeti
Dijon
Waffle
Terror
Ramen
Bart
Petunia
Scrooge
Ducky
Corky
Chewie
Pumba
Meatball
Scooter
Nacho
Quezo
Jimmy Chew
Chewbarky
Skittles
Widget
Burrito
Big
Taco
Boner
Hobbit
Fang
Fitbit
Gary
Toast
Noodles
Best Frenchie Bulldog Names
Still haven't found the best Frenchie name for your pet? Don't despair! There are thousands of names you can find for your little buddy.
All you need is a little creativity, and you'll be on your way to finding the perfect title for your French Bulldog!
Here are unisex monikers to add up to your inspo list.
Angel
Arrow
Bingo
Bodhi
Bits
Bravo
Camelot
Cameron
Caleb
Cashmere
Cha-cha
Casey
Cody
Digger
Dior
Dumpling
Fondue
Gumball
India
Happy
Kelpy
Jazz
Jade
Kewpie
Kai
Monkey
Montana
Marmalade
Lentil
Mystic
Muffin
Nibbles
Onyx
Orleans
Patches
Parfait
Peanuts
Phoenix
Pax
Pickles
Puddles
Pudding
Pumpkin
Rainbow
Raindrop
Rain
Sage
Scout
Spanky
Souffle
Sunshine
Spot
Tuna
Yahoo
Zodiac
Piper
Brie
Bridget
Ernest
Alfie
Lou
Ash
Cheerio
Corky
Espresso
Freckles
Frisky
Fluffy
Gouda
Hershey
Nova
Oreo
Pinot
Puffin
Pookie
Quinn
Robin
Skylar
Snowy
Sparrow
Twix
Wooly
Munchkin
Java
Harper
Amigo
Apple
Brett
Shawn
Easter
Fudge
Giggle
Kiwi
Koala
Ozzie
Panda
Rusty
Timba
Tycoon
Veggie
Conclusion
French Bulldogs are exceptionally charming. They have the perfect compact built and the winning personality to make them the top choice for a modern companion pet. Many people are lured into the Frenchie craze, but getting any of these dogs is a huge responsibility.
There are many things to consider when welcoming them into your home. Though they are adaptable, you still need to prepare your heart and family for the joy and challenges of getting a Frenchie.
One of the foremost challenges is finding the perfect French Bulldog name for your new pet. Getting a name for them is usually based on how they behave, their personality, or their physical appearance. Thus, regardless of whether you want something unique, cute, or funny, we hope you could find inspiration from our list.
We'd be delighted to know about the title you give your Frenchie. We hope that we were able to help you come up with it. Let us know of any other names we might have missed by leaving us a comment in the box below!
RELATED POST