What is a Red Nose Pitbull? This breed of canine is a different type of American Pitbull Terrier instead of a separate breed. The Red nose Pitbulls have many interesting facts like its origins, personality, appearance, etc. If you want to know more, then go and read the topics below.
The Origin of Red Nose Pitbull
The Red Nose Pitbull breed's origin goes back to the mid-1800s in Ireland, and the dogs' ancestor is Old Family Red Nose (OFBR) family strain. The entire American Pitbull Terrier (including the Red Nose), were originally bred as fighting dogs in blood sports and dog fights. Thankfully the canines have another purpose as home guardians, catch dogs, hunters and family pets for English immigrants to America. Today the animal is not just a family pet, but also works as therapy, police and companion dog. It's a good thing that the Red nose pitbull is past its bloody and savage beginnings because we now have an excellent pet.
Red Nose Pitbull Temperament
The original Red nose pitbull dogs have an aggressive fighting nature due to their roles as a blood sport and fighting dog. Nowadays thanks to careful breeding, the canine's aggressive nature is gone. You get a dog that is friendly, loyal and protective. The protective nature of the canine shows itself when they detect a threat to their family and home. Also, the hunter instincts are still present so be careful in letting the Red Nose Pitbull dog meet unfamiliar animals or pets. Training and socialization methods on a Red nose pit puppy also help in improving its behavior.
Many people have an unfavorable view of the dog due to reports of its aggressiveness and attacking people. It's true that some Pitbulls has aggressive behavior, but the negative reaction of the animal is due to poor breeding methods, lack of training, poor socialization and abuse. The result of breeding and raising a Red Nose Pit properly is a well-adjusted animal.
Red Nose Pit Health Problems
The Red Nose Pitbull like any other dog breed is relatively healthy, but they do suffer from health problems. Knowing what can ail your pet is essential so that you can take action in preventing the problem. Here are four examples of health problems that affect the dog:
Allergies – Three types of allergies affect the dog. Skin Allergy is due to fleabites and causes the skin to be inflamed, red and scabbed. Food allergies are due to certain types of foods especially if the food is not suitable for canines. Lastly allergies due to mold, dust, and
Joint problems – Dog joint pain is the result of degenerative or developmental issues. Elbow along hip dysplasia are degenerative-type problems, and they are hereditary. Developmental issues are usually due to age or overuse like osteoarthritis. Also, some canine breeds are predisposed to have joint problems.
Heart disease – Similar to humans, heart disease in dogs is common. A will Red nose Pitbull canine show signs of fatigue, walking or exercise difficulties, sleep trouble, breathing problems and weight loss. You can prevent heart disease (except heartworm disease) in your pet, but you can reduce its chances of happening.
Cataracts – Disease, trauma and old age can cause the canine's eye to become opaque thus leading to partial or total blindness. Depending on how severe the cataract, it can't bother the dog that has it. Still monitoring the progress of the cataract is a must.
Whether the American Pitbull Terrier has a red nose or not, it is vital that your pet visits a veterinarian to check-up its physical condition. The disease can be mitigated if not stopped should the vet discover it. Also, a healthy lifestyle for your dog can lessen the chances of disease and increase the Pitbull lifespan too. Do not let the problems get severe so try to nip them in the bud as early as possible.
Cost of Red Nose Pitbull Puppies
If you are willing to spend some cash to buy a Red nose pitbull puppy, then make sure that you got plenty of money to pay. The pitbull costs the same as an American Bully dog. A top quality canine ill cost as high as $11000, as low as $3000 or somewhere in between the two figures. The price tag applied to either Red nose pitbull puppies or adults. The lineage and quality often determine the price of the breed. A dog for breeding competitive and show purposes will be expensive while those for pet companionship only will cost less. Bear in mind as what kind of Red nose pitbull's you want before buying.
Buying a very cheap canine may be tempting, but I'd advised that you don't get one. Cheap-priced canines are they adults or puppies usually are of low quality and have health issues that can cost you more money in the long run. Make sure to read our list of dog names for red nose pitbull
By the way, the color of the dog's nose has no bearing on its price.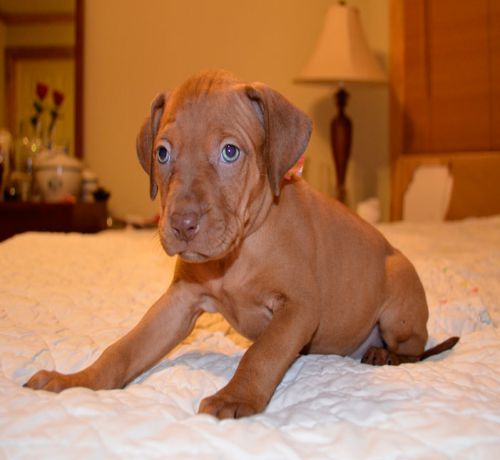 Red Nose Pit Appearance

A Red nose pitbull is more massive than normal Pitbulls and is muscular and stocky as well as agile. The canine's brick-shaped head is broad between the cheeks and has massive, powerful jaws. The body has a broad chest and a deep thick muscular neck. The coat hair is shiny and short making hair grooming less difficult. The dog's coat color is reddish with patterns of cream or white on both the chest and toes. Lips and toenails are red, and the eyes are either red or amber. The nose is not red, but copper-red.
An average male Red nose pits are 18 to 22 inches at the withers and weigh at 35 to 65 pounds. Females are slightly less tall and weigh less as well.
The canine's rough and tough looks along with its bloody history are why some people mistake the breed as dangerous.  As the saying goes "looks can be deceiving" and if one looks past the exterior, the Red Nose is a sweet animal.
MUST-READ: Popular Types of Pitbull Dogs
Training Tips

A Red nose pitbull dog has an inherent streak of stubbornness in its personality and has a strong will. Training will mitigate the stubborn aspect of its character, and you can teach the dog some tricks as well.
When doing some Red nose pitbull training, try to use lots of positive reinforcement. If the animal fails in its training, don't get angry or hit it physically. Instead, give some encouragement to the doggie and redo the exercise again until it gets it right. Should your pet succeeded in its training or doing a simple trick, give it some reward in the form of nibbles and praise the dog for its success.  You need not worry about the training being troublesome for the Red Nose since it's an intelligent animal and is willing to please you.
Training a Pitbull red nose puppies quickly is possible due to its age, but training adults are hard due to them being set in their ways. You will need to put more effort and time into training the latter.
Exercise
Keeping a red nose pit is essential for its health and physical well-being. The canine is adaptable to both outdoor and indoor environments, but keeping it indoors for an extended amount of time is not good for the dog. At least once a day, the red pit needs to go for a walk and given enough playtime. Vigorous exercises like hiking is another good way for a workout.
Lack of exercise can lead to the dog becoming obese, and you could end with more health problems that you and your pet can handle.
Just bear in mind one thing: the Red nose Pitbulls is just a variation of the American pit bull terrier, who just happens to be born with a red nose pit. Do not pay heed to the claim of some breeders that the dog is an entirely new and different breed of Pit Bull. These breeders will sell you the dog at an expensive prince when the actual price is similar or equal to the one would typically pay for an American Pit Bull Terrier. So be careful of buying a Red nose puppies at a very high price.
Regardless of whether your American Pit Bull Terrier possesses a red nose or not, the dog deserves all the love and care that you give to it. Looks are not important if you truly love something especially if it is your Pitbull dog.
Types of Food

A strong and agile animal like the Pitbull dogs requires the best kind of doggie food to have long as well as healthy life.
The dog requires high-protein meat with low-grain type doggie food. Avoid potatoes, corn, or wheat since these food types have allergens that can affect your pet. Also, avoid foods that have lots of fillers since they lack the proper nutrients.
You can feed your Pitbull once or twice a day and make sure that during each meal, your pet receives its daily food allowance. If you are daily giving your homemade dog food, then serve it meals that are 2 to 4 percent of its total body weight.
If you are feeding very young puppies, serve them softened dry food two or three times a day. Once the pups are fully weaned, use high-quality puppy food (for large breeds) to serve them two to three times a day. Continue serving the pups with this food until it reaches twelve months of age.
You have a choice of serving your pet dry dog foods, wet dog foods or homemade dog foods. Dry foods tend to be healthier, while wet foods are rich in calories and fat. Raw dog foods are good to eat and healthy depending on the preparation. Before serving homemade foods, consult your veterinarian.
Lastly, do not feed your pet too much food. Coupled with lack or inadequate exercise, your dog can become obese due to overfeeding. A Red nose Pitbull lifespan is affected by its state of health be it good or bad.
Living with Red Nose Pitbull Terrier

The Red nose pit dog like any dog breed requires that its owner (that's you) know how the canine will affect him or her and the family. For starters, you will need to spend a considerable amount of time with the dog. Be it training, play or exercise the Red Nose loves your company. Neglecting the animal can cause it to get bored and acquire destructive tendencies.
The dog is an excellent guard of your home and will not attack unless it thinks that the threat or danger is apparent. Nonetheless, the canine can discern friend from foe. When interacting with kids, the dog shows affection and love; still, you need to supervise any interaction between them. Your pet could unintentionally hurt a kid due to its strength. Living with other animals pets can be difficult if the Red Nose is not adequately trained and socialized.
Grooming a Red Nose Pitbull Terrier
A well-groomed Red Nose Pitbull's coat is shiny, vibrant and healthy-looking. Due to the canine's short and flat hair grooming it is easy if you were know-how. A daily brushing using a rubber curry brush is more than enough to straighten out the coat hair.
If you intend to bathe the canine, then do it only when the need is great. A doggie shampoo that is natural with no pesticides or chemicals is suitable for use. Do not use any human shampoo and soaps with sulfur, alcohol or tar-based. Make sure to rinse the Red Nose thoroughly to remove all the shampoo. After bathing, use a towel to dry-off the canine.
Make sure that you check the Red nose pitbull's body for signs of scabs, sores and hot spots since these can be signs of infection. Also, trim the toenails if they get long enough.
Also, brush the canine's teeth once a day to keep it clean of tartar and to prevent bad breath.
Recognized Clubs
The Red Nose pit has recognition from several doggie clubs: the American Bully Kennel Club (ABKC), the American Kennel Club (AKC) and the United Kennel Club (UKB). These clubs keep a registry of many Pitbulls and have a notable list of the breeder and their kennels as well as rescue centers.
Rescue Clubs
If you can't buy a Red Nose Pitbull for whatever reason, then adopting one is your other option. Here are some rescue centers in where you can find a Red Nose Pit:
Bobbie's Pit Bull Rescue & Sanctuary
Pit Bull Rescue Central
Most dogs in these rescue centers are adults and are already set in their ways so there will be some difficulties on their part in adjusting to a new owner. Rarely will a young pup be available for adoption, but if you can get one then do it.
Finding a Good Breeder
If you haven't got a Blue Nose Pitbull, then a trip to a Pitbull breeder is on order. The first thing to do is find a breeder that has an established reputation for producing high-quality pups. Check the canine's antecedents as well as visit the kennel in person. By visiting personally, you can get a gist on how the breeder treats his dogs. Lastly, the breeder must have a certificate of health for his or her puppies.
If you are looking for Red nose Pitbull breeders, then you'd out of luck. For one thing, a Red Nose Pitbulls are not a separate breed. There is no sure way of breeding a Red Nose Pitbull since it happens by chance or is random. You'd be likely to see more Blue nose pitbull canines than Red nose pitbull. On the other hand, you could ask the breeder to reserve you a Red Nose, though you might have to wait for a while.
MUST-READ: The Most Popular Pitbull Mixes
Red Nose Pit Dogs Socialization
Socialization tends to go hand-in-hand with Red Nose Pitbull training. Here are some general tips to help you:
When you bring your eight-week-old puppy home, introduce him to a variety of experiences.
Have the pup interact not just with your family, but visitors as well.
Take your pet to locations that you would likely visit like say a walk in the park.
Also, make the pup get used to interacting with other dogs.
Socializing an adult Pitbull can be difficult, so you going to do more work on it.
One important thing to remember about the Red Pitbull dog: it's not just a pet companion, but an integral part of your family and home. A Red nose pitbull dog that has experienced proper handling along with correct training is loyal, protective and adoring of its family. You can't get a better dog as a pet, and this guy is worth the time and effort you put into it.
Red Nose Pitbull Pictures