Dog muzzles are potentially distressing and uncomfortable for dogs. It is essential for every pet owner who is thinking of using muzzles to do the necessary research before buying and using them. You must realize that there are hundreds of types and designs of this product. What may suit one dog may not necessarily suit your canine companion too.
Most people think negatively when a dog is seen wearing a muzzle. People are instantly fearful. You make things easier and safer for your dog and the people around you when you make the right choice backed by a well-researched and informed decision. 
Once you enter a pet supplies stores, you should know the different types of dog muzzles and the benefits it has for you and your dog when they wear one. You should also know the features of the product for you to assess if it will work for your pet too. Keep in mind; these dog muzzles are for temporary use only. We have prepared some of the top muzzle choices for various dogs types and dog muzzle reviews to help you come up with an informed decision and make the right choice.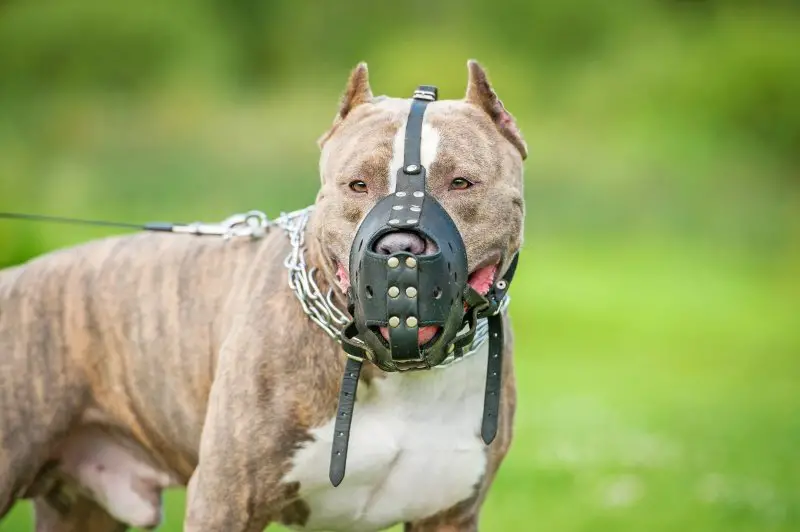 Our Top Picks For Best Dog Muzzle
Last update on 2023-12-10 / Affiliate links / Images from Amazon Product Advertising API
1. The Company of Animals Baskerville Ultra Muzzle (Top Choice for Optimum Safety)
Last update on 2023-12-10 / Affiliate links / Images from Amazon Product Advertising API
This rubber basket-style dog muzzle is the best choice for owners who want their pets to be comfortable while keeping the highest level of safety. It confines the dog's jaws to disable biting, but it keeps all other facial features free for panting, drinking, breathing and eating treats. The high-quality rubber dog basket muzzle is perfect for pets who are bouncy and reactive during outdoor activities. If you are going through some rehabilitation and behavioural therapy or workout with your pet, this dog muzzle will be beneficial for you and your dog.
2. Coozero Dog Muzzle Suit (Top Choice for Multi-Functionality)
Last update on 2023-12-10 / Affiliate links / Images from Amazon Product Advertising API
Coozero suit is a set of 7 different-sized dog muzzles that multi-functional. They are used to no-bark muzzle and to preventing bites, licking and other issues. Although they are not fully adjustable, it is still an excellent buy if you have several dogs that need to wear muzzles. It comes from lightweight cloth materials that are breathable and water-resistant. This a great choice if you and your pooch love playing and going on walks. It is also ideal for use at home, during travels, in grooming centres, pet stores, and veterinary clinics. It snaps in place with a nylon strap that loops around the back of your pooch's head and secured with a plastic buckle. If you have or you deal with several dogs, and you need several sized dog muzzles, this is the best option for you.
3. CollarDirect PitBull Dog Leather Muzzle (Best Muzzle for Pitbulls)
Last update on 2023-12-10 / Affiliate links / Images from Amazon Product Advertising API
These high-quality dog muzzles are ideal for breeds such as the Staffordshire Terrier and Pitbulls. It is a basket-style muzzle. This type of muzzle is made from high-quality genuine leather, so it is very tough and durable. It offers a snug and secure fit to prevent your bully from biting. It has adjustable straps so you can check whether it's too tight or too loose on your pet. Although made for Pits, double-check your pet's measurements before you order.  This type is one of the most comfortable dog muzzle for this breed.
4. BronzeDog Wire Muzzle for Doberman (Top Choice for Doberman)
Last update on 2023-12-10 / Affiliate links / Images from Amazon Product Advertising API
This basket-type dog muzzle is another one of the top devices designed for ferocious breeds such as Doberman and similarly moulded pets. It comes with extra-sturdy wires to ensure that it lasts over the ferociousness of some pets. The muzzle itself has padding, so it is comfortable to wear. The wire material allows pets to have some treats and provide excellent ventilation. The wire muzzle is shaped to allow panting, comfortable breathing and unrestricted nose licking. Considering its affordable price-point and comfortable features, you can buy this dog muzzle with confidence.
5. Dogs My Love Real Leather Basket Muzzle (Top Choice for Off-Leash Activities)
Last update on 2023-12-10 / Affiliate links / Images from Amazon Product Advertising API
This basket-style dog muzzle is the best choice for outdoor physical activities such as playing or running off-leash. It is made from genuine durable leather, and the basket design provides dogs with proper ventilation. It allows them to pant and stay comfortable even when wearing a restriction. It is a highly-secure muzzle with adjustable straps that hold it place. This muzzle also restricts large dogs from eating or drinking, so its better for owners with dogs that keeps on eating stuff from parks and public areas. Buy this dog muzzle if you want something that will keep your canine buddy comfortable while you stay active outdoors.
6. Pet Artist Genuine Leather Dog Muzzle (Top Pick for Labradors and Retrievers)
Last update on 2023-12-10 / Affiliate links / Images from Amazon Product Advertising API
This professional and lightweight leather muzzle provide well-rounded protection for your beloved pets. It is kept secured by sturdy snaps that connect the muzzle to the head and can be tightened up for a snug fit. It allows large dogs to pant freely, but they are not allowed to eat or nibble. It feels softer and more comfortable than wire or metal devices. If you have a German Shepherd, Labrador Retriever or Golden Retriever and other similar sized canines, this is the best dog muzzle for you to buy.
7. HanDingSM Dog Muzzle (Top Pick for Nylon Muzzle)
Last update on 2023-12-10 / Affiliate links / Images from Amazon Product Advertising API
The HanDingSM Dog Muzzle is a multi-functional and straightforward device to help you through various pet problems. It can be used to hinder a dog from eating around, stop them from licking wounds, barking and biting. It suits different breeds and sizes and can be used at home, for training, travel, in pet stores or clinic. It is designed to be easily adjustable with straps and buckles. Although it is easy to put on, it is difficult for the dog to take it off. Despite the restrictions, your canine buddy can comfortably pant and drink using this muzzle.
8. Lepark Soft Dog Muzzle With Hook and Loop (Top Pick for Basic Dog Muzzle Design)
Last update on 2023-12-10 / Affiliate links / Images from Amazon Product Advertising API
If you prefer fuss-free and basic muzzle for your dog, the Lepark Soft Dog Muzzle is the best choice for you. It has simplistic designs, but it is still aesthetically neat to wear. It is easy to put on and to remove. Like others, wearing dog muzzles can be uncomfortable; thus, your pet will still insist on removing it. Stay mindful when using this with larger and more energetic companions that they might undo the nylon stitching with their force.
9. Mingri Jinzhao Soft Basket Dog Muzzle (Top Choice for Dog Muzzle for Biting)
Last update on 2023-12-10 / Affiliate links / Images from Amazon Product Advertising API
This affordable dog muzzle is one of the best dog muzzles for biting. It features a flexible silicone basket made from non-toxic rubber. It is durable, sturdy, yet pliant soft for your pet companion. It is designed to provide you will holistic protection and comfort. The muzzle is made dog-friendly and comes with removable front grills so your pet will be more comfortable, be able to drink, pant and eat some treats. Buy this with confidence and enjoy a lifetime guarantee if you're not satisfied with its quality.
10. Goodboy Gentle Muzzle Guard Dogs (Best Gentle Muzzle for Dogs)
Last update on 2023-12-10 / Affiliate links / Images from Amazon Product Advertising API
If you are worried about your pet getting hurt when you use a dog muzzle, consider getting the Goodboy gentle dog muzzle instead. This product has neoprene padding that will mitigate chafing or bruising your pal. It comes with secured buckles which can be adjusted and keep it firmly in place. It is unobtrusive and will not restrict drinking, yawning or panting. It is one of the best choices if you are looking for dog muzzle to stop barking. If you want something more humane, this muzzle is the most comfortable one that you can buy for your canine pal.
11. Barkless Soft Basket Silicone Muzzle For Dogs
Last update on 2023-12-10 / Affiliate links / Images from Amazon Product Advertising API
BEST DOG MUZZLE FAQS AND BUYING GUIDE
The thought of dog muzzle usually crop up images of ferocious, aggressive dogs that will attack anybody and tore them to pieces. But in reality, wearing a muzzle has nothing to do about their aggressiveness. 
Some dog owners are just trying to ensure that their dogs and the passersby are both safe during walks. Muzzles are also for keeping them calm during vet and grooming visits. It also helps prevent dogs from licking their wounds or eating stuff when you are outdoors. Let us tell you more about these muzzles.
Things to Remember When Using Muzzles for Your Dog
Dog muzzles are helpful devices in training your pets. However, they can be dangerous when not used properly. As a responsible pet owner, you should decide on the right device for you and your dog. Like any other pet supplies, you have to research well before buying a dog muzzle. You should also be aware of potential problems brought by wearing a muzzle. This device also doesn't guarantee safety when working with dangerous canines.
What is a Dog Muzzle?​
A dog muzzle is a type of mask that is attached to the snout or mouth of dogs temporarily to address their unhealthy behaviour. It is not to be used for long periods because it can be uncomfortable and stressful for them to wear. It will stop your pet from biting, chewing, nibbling, licking, barking or eating things that they are not supposed to ingest.
Muzzles come in various shapes, sizes and design. You can find dog muzzles crafted from high-quality materials such as wire, leather, silicone and nylon. It usually comes with straps and buckles to keep it in place. Its primary purpose is to keep the dog's mouth restricted or unable to open wide. If you buy a muzzle for your pet, make sure that it will still allow panting, breathing and drinking.
What Are The Different Types Of Dog Muzzles?​
As a fur parent, deciding to muzzle your dog can have various emotional effects. But if you need to, then you should decide what type of dog muzzle to buy. Here are the different types and how comfortable they can be for your canine friend.
Soft Types​
Despite being "Soft," this type of dog muzzle is one of the most uncomfortable types in the market. They use soft material such as nylon, but most of the time, they can be tight fitting as they are often used as anti-barking muzzle. It may cause your pet to struggle so they can pant when they are wearing it. Panting is essential for dogs to dissipate heat, and if they are restricted, they may experience overheating problems.
But not all soft dog muzzles are tight-fitting. Some are made to provide a certain level of comfort for drinking and panting. So if you are going to buy a soft muzzle, make sure to buy only the good quality ones.
Mesh Types​
Mesh dog muzzles are fitted similarly with soft muzzles. They are a bit looser, and the material used for this type is breathable mesh. It allows better air circulation on the sizes. However, the issue is the same with soft muzzle – they restrict panting.
This type of dog muzzle may look better and more comfortable for the dog than the soft kind of muzzle. But if you are going for this type, make sure to find a good quality one. Like the soft types, there are also mesh types that allow pets to pant and drink even when restricted.
Basket Types​
Basket-type dog muzzles look like the worst thing to put on any dog. They look cruel and uncomfortable. You can find a wide array of basket-types in the market today, from leather materials to wire, plastic, and rubber. They cover the whole snout and are secured safely with straps.
Despite how they look, they are the gentlest and safest types of dog muzzle for your pet. Basket-types are not snug fitting around the mouth area so pets can open their mount and pant to cool down. They can also drink water and get little treats through this muzzle. For most Canine Clubs, the best kind of dog muzzle are the basket-types for they are the most comfortable, safest and kindest choice.
Plastic Types​
This type of dog muzzle is often mistaken for the basket type, but not all plastic types of this device look like a basket. There are plastic muzzles that cover the whole mouth and have holes drilled into them. Depending on which brand you choose, make sure that you get one that has enough space to allow canines to pant and has as many holes as possible.
Head Halters​
These are not traditionally muzzles but are more of a training device used to help dogs unlearn biting and aggressive behaviors especially with Pitbull dogs. This device forces a dog's head down when they start to bite. Although they may be suitable for training, they are less effective as an anti-bite dog muzzle. They are not reliable enough to ensure safety compared with other types of dog muzzles in the market.
Teach your furry pal to wear it so they will be comfortable wearing a dog muzzle. You can do this by giving them rewards and with a lot of patience. Once they learn to wear it, your pet will be more relaxed and will not struggle to get it off every time they are wearing it.
Make sure to have a muzzle that fits securely and adequately. If your pet will wear it for more than a few moments, make sure it allows that it allows your them to pant and open their mouth.
Use the dog muzzle as a safety aid to help you in your dog's fear or aggression training.
Use dog muzzles to solve fear and aggression problems as it will only make the problem worse. Teach them to become comfortable around what upsets them through positive training while using the muzzle instead.
Leave your dog unattended while wearing a muzzle. Your pet can struggle to get it off and injure himself and others while they do it.
Rely too much on the muzzle. Dogs are escape artists, and they can take off the most secure of devices at the most inopportune time.
Use dog muzzles as a replacement for other prevention methods to stop them from chewing. It may lead to injuries when they try hard to remove the muzzle or develop behavioural issues due to frustration.
Use this device to stop canines from fighting as they can still fight even when wearing it. They can hurt themselves and make the fighting worse. Best to use dog muzzles with positive training methods to help pets become more friendly with other pets.
Use tube or grooming style devices that restrict the dog from panting for long periods. They can overheat quickly and needs to pant to cool down.
Use this device for off-leash outdoor play unless to prevent dogs from eating inedible objects in the path. Best to keep them leashed to supervise them closely.
Use it to stop barking problems unsupervised. It will only make the problem worse. Best to use positive training to make pets comfortable when alone or provide them with exercise and chew toys to keep them busy.
How to Put on a Muzzle And Get A Dog Accustomed to Wearing It
Certain situations call for the use of dog muzzle but putting it on your dog can be challenging. Dogs will instinctively try to take it off soon as you snap it securely in place if they are not trained to use it. Here are some pointers to help your dog get accustomed to it and how you can put it on with ease.
Let them sniff the muzzle. Allow your dog to get familiar with the muzzle by letting your pet sniff it around. Give your pet a treat to show that it is something positive. Do this several times.
Touch nose to the muzzle. Do this several times all the while giving them a treat. They will show a real interest in it.
Hold the dog muzzle in front. Hold the device with one hand in front of your pet's face while you hold a treat in your other hand. Your pet will put your pet's nose inside to eat the treat. Do this several times until it becomes easy for them to do so.
Put on the muzzle on their snout and give them a treat. Put it on, give a treat and remove the muzzle. Do this a few times.
Place the dog muzzle and securely fasten it. Give your pet a treat and remove the muzzle. Repeat this several times while you slowly build up the time you wait to take it off.
Remove when not needed. Immediately remove the muzzle when it is not required. Never leave it on for long periods or when unsupervised.
Muzzle wearing is not a normal thing for dogs. It is uncomfortable and unpleasant for them to wear. They need a little getting used to for them to wear the device for some time. Thus, if you think you need to use a muzzle for your pet, make sure to choose the right one for them. These devices should not be worn for long periods, so remove soon as necessary. Just keep encouraging your canine pet use the muzzle and provide positive reinforcement while they are wearing it.
Muzzling a pet is never an easy decision. As pet parents, we always try to prioritize their comfort and safety. We do not want anything to distress our pets.
However, muzzling is necessary, and in some instances, it is mandatory. There are many options to choose from when it comes to muzzle types. We have provided you with the top choices and tips to help you decide on the kind of muzzle that is safe and comfortable for your pets.
Make sure to consider the tightness of the device. It should allow your dog to open its mouth and pant to cool down.
Some dog muzzles are designed for specific breeds, while others are suited for various breeds. Basket type muzzles such as The Company of Dogs Baskerville Ultra Muzzle and the CollarDirect Pitbull Muzzle are highly recommended.
There are also other alternatives with extra comfort features such as the Goodboy Gentle Muzzle with neoprene lining. These list of best muzzles for dogs we have mentioned are viable options which you and your canine friend will be happy to have.
Last update on 2023-12-11 / Affiliate links / Images from Amazon Product Advertising API