If you already have an English bulldog or are thinking of getting one, you should know that they are the most affectionate and loving dogs. They might give off a ferocious look, but they are calm and confident. English bulldogs are famous for their thick and broad body and weigh around 40-50 lbs. bulldog lovers can buy
While the English bulldog makes a great pet, keeping it healthy is challenging due to its many inborn physical deficiencies. You can care for it by taking care of its skin, walking it daily, feeding it a healthy diet, and so much more.
Here are some tips and advice to help you ensure a healthy lifestyle for your English bulldog pet.
Care for your Dog's Skin
English bulldog's skin is layered in folds, and it is more susceptible to diseases like yeast intertrigo. It is a condition that leads to rashes on the skin. For this purpose, you can daily wipe between your dog's folds with anti-fungal wipes.
Make sure to choose an anti-fungal wipe with natural ingredients like cucumber and chamomile. It is best to ask a vet about what kind of wipes best suit your pet.
Properly Bathe Your Dog
Try to avoid bathing your dog more frequently as it can remove the natural oils which protect the skin. But if your dog has a smell and bathing is the only option.
When bathing, use a tear-free shampoo and slowly lather it onto your dog's skin folds. Later the shampoo and let it sit for some minutes before rinsing.
Keep in Touch with a Vet
It would be best if you stayed in contact with a vet to keep your dog's hygiene and diet in check. Routine check-ups will ensure that your pet stays healthy. You can consider bulldog gift ideas like notebook journal merchandise for someone you know who is a bulldog lover. It can help them track down vet visits and their dog's routine.
If your dog has irritating skin problems despite your care, make sure to take it to a vet. They can treat skin problems effectively like infections, itchy skin, and dry skin.
Provide a Nutritious Diet
If you have a young bulldog, feed it up to four meals throughout the day. After about 18 months, a bulldog is treated as an adult. The diet change depends upon its age and activity level. Ensure your bulldog receives a healthy diet comprising protein, fats, carbs, vitamins, and minerals.
There is commercially available food that is specialized for bulldogs. Look for dog foods that can fulfill the nutritious criteria for your pet. Dog foods with high-protein content are good choices like potatoes. Use stainless steel to feed food and water.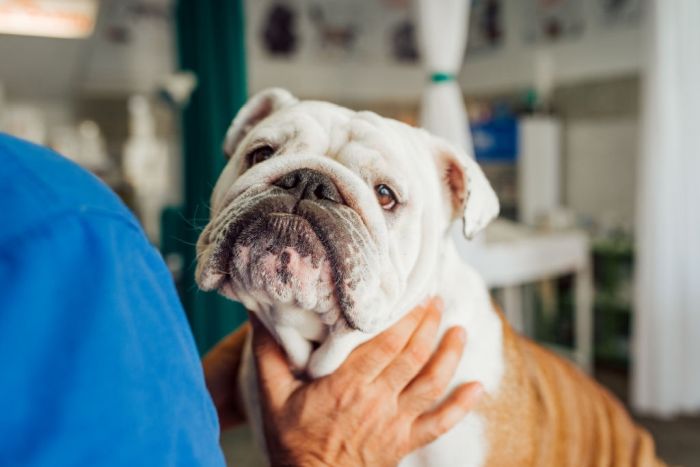 Take Care of its General Health
Aside from taking care of your dog's health and hygiene, make sure you perform fun activities with your pet. Even though bulldogs are low-energy animals, they also require exercise to stay engaged. Take your dog to walk and bond together.
English bulldogs have weak respiratory systems and difficulty breathing during hot weather. Keep your dog in air-conditioning during humid weather. Lastly, give your English bulldogs much-needed love and attention. Form a strong bond that will last as long as your Bulldog lives.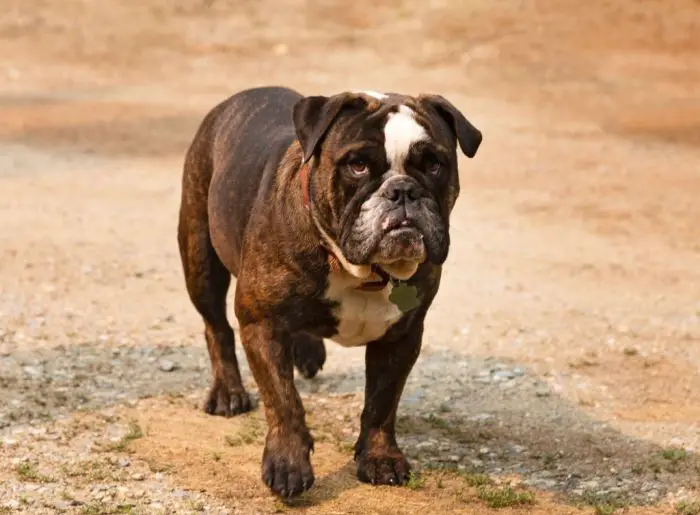 How to Handle your Bulldog
Puppies can be easier to handle as compared to a full-grown bulldog. You can hold your bulldog puppy by taking your one hand out and putting it beneath the dog's chest with your forearm supporting its back legs.
It is best to avoid lifting your puppy by their front legs or back of the neck as it could cause an injury. If you want to raise a full-grown bulldog, do it from the underside, bracing its chest with one of your arms.
Housing Tips for your Dog
The best environment for a bulldog is a warm, quiet spot to rest, and it should be away from the ground or floor. You can consider buying a dog bed or making one out of a wooden box.
Make sure to put a clean comforter, pillow, blanket inside the resting area. Keep your bulldog's bedding clean by washing it frequently. When your dog is expected to spend more time outdoors in summer, ensure it has access to cool water and shade from the sun. For winter, provide warm and covered shelter from the cold.
Take Care of Dental Health
Firstly, it needs attention that your bulldog needs a dental examination. If your bulldog has bad breath frequently, make sure to find out what it may indicate. There might be dental plaque formation resulting in foul odor due to germs.
Take your dog to a professional vet for treatment. After a professional cleaning, regularly clean the teeth by brushing, feeding formulated dental diet, and avoiding table scraps. You can follow the procedures given by the vet to prevent a dental plague. Use baking soda and water paste to brush your bulldog's teeth once a week for a home remedy.
Deal with Ticks and Fleas
Make sure to look out for ticks and fleas during the summer. Check daily for fleas on your bulldog. You can remove fleas by smooth coming.
Consult with your vet on eradicating ticks and fleas in case of manifestation. You can use many techniques and methods to get rid of them.
Basic Necessities for an English Bulldog
Your bulldog should be supplied with all the necessitates for living a healthy and happy life. Following is a checklist of things that you should provide your dog with.
High-quality and nutrient-rich food and treats
Clean water bowl and food dish
Leash
Collar with ID tag and license
Toys and safe chew toys
Crate for training
Dog bed or box with a warm blanket
Toothbrush
Carrier for puppies
Foods You Should not Feed your Bulldog
When caring for your bulldog, make sure to look out for things that you should never feed. Here are some of them.
Chocolate or any food with caffeine
Alcoholic beverages
Dough
Salty foods
Onions and garlic
Raisins or grapes
Spoiled food
Chicken, turkey, or any other poultry bones
RELATED POST: