Pet parents can be very meticulous when choosing essential pet gears that they will need to care for their pet. It is understandable because these gears do not come cheap! An example of a must-have gear when you're a pet owner is a sturdy dog crate. You may even need one of the best heavy duty dog crates for your escape artist pets!
A dog crate or kennel is necessary for short or long travels with your dog. Taking them for a ride in your car or visiting the vet requires that you purchase a reliable compartment where they can be comfortable, secure and safe. These products often become a sacred spot for dogs, but when your pet is not crate-trained, you will have difficulty keeping them in. A standard wire metal dog crate may work well with a small dog, but bigger and stronger dogs need something to withstand their power.
For these reasons, there are several considerations when choosing a sturdy, durable and long-lasting dog crate for their pet. It should be spacious, secure and robust enough to avoid injuries to their pet and home. Let's take a look at some of the top choices that fellow pet owners claim to be the best on the market.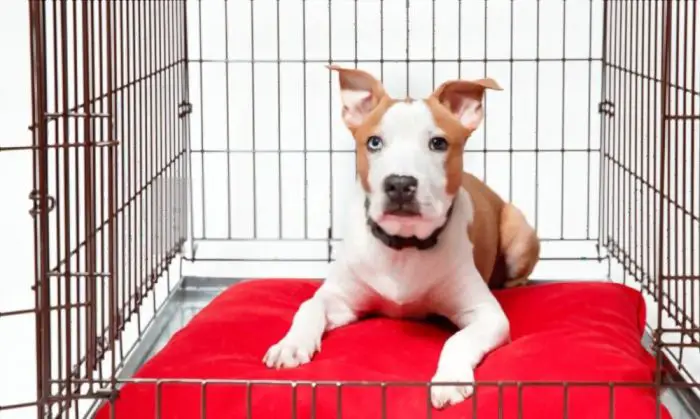 The Best Heavy Duty Crates For Dogs
1. MIM Safe Variocage Single Crash Tested Dog Transport Cage
The MIM Safe Variocage Single transport cage tops dog owner's choices for durable and impact dog crates for safety and practicality. It is thoughtfully designed to protect your canine buddy while allowing sufficient space for other items. The advantage of having this type of gear is that you can easily tailor-fit it into the kind of vehicle you use and the dog kept inside. The company also assures pet owners that their products have undergone crash tests; thus, your pet will be safe even if untoward rollover happens. Additionally, the cage has hooks for attaching a leash, and it comes with a spill-proof bowl to keep your pet hydrated during your trip. This product is one of the famous escape proof dog crates in the market today.
Features:
Can be adjusted to 14 sizes to fit vehicles and accommodate dogs
Heavy-duty steel material
Gas Hydraulic Motion Spring Door Locks
With Emergency Escape Hatch
Comes with leash hooks and a spill-proof bowl
Pros:
Protects dogs in case of a accidents and crash
Proven performance for nearly a decade
Passed front, rear and rollover crash tests
Easy to install
Convertible to various sizes and shapes
Sizing Details:
Weight: 46.3 Lbs
Dimensions: Large L40.55 x W21.85 x H25.59 inches
2. Amazonbasics Heavy Duty Stackable Pet Kennel
This pet kennel developed by Amazon is a valuable dog crate for both home and travel. It is made from a metal wire crate with anti-rust finishing; thus, you won't have to worry about it getting wet from the rain or moisture. The grid design offers excellent ventilation, and the kennel is fitted with drainage ducts always to keep your pet dry and cool. Pet parents are impressed with the ease of assembly, heavy construction and secure locks. It has a plastic floor grid which might not be the best for aggressive dogs or those who use brute force to escape. But generally, this kennel is a safe and comfortable environment for crate-trained pups. Additionally, it comes with a plastic tray that is lightweight and easy to clean. It also features a small feeding door, so your pet won't have any chance of escaping during feeding time.
Features:
Top opens for quick in and out access of pets and supplies
Easily collapsible for storage, easy to set up
Made from durable iron and polypropylene material
Heavy-duty stackable pet kennel with plastic pull out tray
Smooth -roller and lockable casters
Pros:
Available in three sizes
Comes with a feeding door
Comfortable Plastic Grid floor
Stackable feature
Backed with a 1-year limited Amazonbasics warranty
Sizing Details:
Weight: 37.9 to 72.31 Lbs (small to large size)
Dimensions (LxWxH)
Small 37 x 29.5 x 25.6 inches
Medium 43.5 x 34.3 x 29.8 inches
Large 48.2 x 42.5 x 37.8 inches
3. SMONTER Heavy Duty Dog Crate
If you are willing to invest in a product that is ultimately dog proof, the SMONTER crate easily gives you that extra assurance compared to a standard wire crate. These products are made of welded steel bars and robust metal frames. Despite the promise of durability, the company still offers a three-year warranty for your purchase. It is a promise of quality assurance that you can be confident in their product. Pet parents who used this pet cage are impressed with its non-toxic finish and two locks with safety buckles to ensure that your pup will not escape. Like other kennels on the list, this indestructible crate has four caster wheels that rotate 360 degrees and all lock in place for stability. It also comes with a plastic tray for quick and easy clean up. The company also offers the "Strengthen" upgrade option for additional anti-escape plug locks for cunning escape artist pets.
Features:
Escape proof design and bite proof shape
Double lock features with safety buckles
Double door for convenience
Heavy-duty metal material
Non-toxic but sturdy metal frames
Pros:
Easy to clean, install and move around
Comes with a plastic tray for an easy cleanup
Comfortable, well-ventilated and visible
Suitable for medium and large dogs
Ideal for use indoor or outdoor
Sizing Details:
Weight: 50 Lbs
Dimensions: 38L X 26W X 32H
4. Proselect Empire Dog Cage
Proselect Empire dog cage claims that their product is virtually indestructible, and a lot of pet owners testified that it has indeed kept their pets safe and secure. It is a little bit on the expensive side, though, but dog owners are happy to see it live up to its claim to be the most robust dog escape proof crate in the market. It is suitable for pets who combine their escape strategies with brute force when confined in a crate. It is built tough and will stand all the abuses of the most powerful dog breeds. It features impressive welding works, great locks and hinges. It uses 20-gauge steel with reinforced ½ diameter tubing as inserts. The metal is coated with rust-proof, non-toxic material that is expected to last for a long time. Additionally, the crate has two solid sliding latches that will keep your pets from breaking out. Also, it comes with a removable plastic tray for easy cleanup, four lockable caster wheels for convenient mobility and stability.
Features:
Virtually indestructible construction
Reinforced steel tubes material
Has floor grate with removable tray
Casters are removable and lockable for stability
Two Sliding Door latches for extra security
Pros:
Easy to assemble and collapse for storage
Easy to clean up
Thick steel construction
Portable, moveable and secure
Extremely strong pet cage
Sizing Details:
Weight: 76 Lbs
Dimension: 33.75″ H x 37″ W x 25.13″ L
5. Pupzo Heavy Duty Dog Cage
If you want to take things a notch higher with your dog cage, you can consider the PUPZO Heavy Duty dog crate. It features carbon steel materials which are harder and more robust than regular steel. It uses a non-toxic coating to prevent rust and corrosion while staying safe for your pup. PUPZO cages also have a top door for easy in and out movement for your dog and a smaller door for feeding. And although it is heavy, four caster wheels allow you to move it around quickly. Two of these wheels can be locked in place. Likewise, it comes with a plastic tray that you can remove for easy cleanup. One of the best things about carbon steel crates is that they are lighter than the standard heavy-duty steel cages.
Features:
Uses corrosion and rust-resistant carbon steel material
Heavy-duty design using metal square cube frames and wire
Comes with four lockable wheels for convenience and stability
Has a floor grate and two pull out plastic trays
Load capacity is at 110 lbs
Pros:
Easy to assemble and collapse for storage
Lighter than similar products
Easy to clean
Moveable, portable and convenient
Comes with a 90 day warranty period
Sizing Details:
Weight: 55 lbs
Dimensions: 38H x 25.6W x 38.3L inches
6. LUCKUP Heavy Duty Dog Cage
Pet parents prefer wheeled crates as an "at home" solution for their rowdy and often Houdini dogs. It is easy to move around and use while keeping your pet safely contained. LUCKUP crates are made from high-grade steel materials with a sturdy front lock. You can use this product for indoor or outdoor settings. There are three access doors to this crate – the top door, front door and a small feeding door attached to the front door. For those with cunning pets, you may fit a small padlock to the doors to ensure that they really cannot escape and cause chaos to your home. Pet parents claim that this is the most value-for-money product compared to similar quality ranges in the market.
Features:
Steel frame and material
Heavy duty locks with safety buckles
Double-door design and locking wheels
Has a small feeding door to prevent pets from escaping
Easy to maneuver and lock in place for stability
Pros:
Easy to assemble and collapse for storage
Easy to clean with removable plastic tray
Suitable for indoor or outdoor use
Uses a non-toxic finish that is safe for pets
Features caster wheels that rotate 360 degrees
Sizing Details:
Weight: 73.1 lbs
Dimensions: 41.5″L X 30″W X 37″H
7. Kelixu Heavy-Duty Dog Cage
For larger dogs with a lot of chewing power, such as a Golden Retriever, pet parents should look up this dog cage from Kelixu. It claims to be super sturdy and has ample space for your pet to lay around comfortably. Pet owners with large dogs are aware that they need extra space for anything that involves their huge pet. Because it is extra heavy, it is not an ideal crate to use for long travels, and it will be inconvenient to lug around this massive kennel if you are boarding a plane. It is perfectly sized for medium and large pets with a bad case of separation anxiety. The crate has a simple, square and rigid design that brings confidence and reassurance for your pet and you as pet owners. The steel bars are thick, unbendable and chew-proof. It has a secure lock which is thicker and studier than others. It is also easy to clean and maintain. Lastly, it comes with a removable plastic tray and manoeuvrable wheels.
Features:
Heavy-duty steel frame and material
With four wheels for easier movement
Extra-large and spacious to accommodate larger pets
Heavy-duty construction
Can prevent the most aggressive dogs from escaping
Pros:
Safe and reliable, corrosion-resistant
Optimal ventilation and visibility
Easy to clean with removable plastic tray
Easy to install and collapse
Comes with a three-year warranty
Sizing Details:
Weight: 79.2 lbs
Dimensions: 42.13 x 31.5 x 8.66 inches
8. CONFOTE Heavy Duty Stainless Steel Crate
If your pet's comfort is of utmost importance to you, CONFOTE stainless steel crate is your best option. The company is dedicated to providing pets with a sturdy, safe, secure and comfortable den to stay in. This crate is designed to prevent the most aggressive canines from breaking out and shredding your house while you are away. Because it is made from stainless steel, you are guaranteed that your pet cage can stand up against corrosion, rust, scratches and scuffs. You can use it for indoor, outdoor and travel purposes. The cage comes with double doors, lockable wheels for easy mobility, easy to clean and assemble. The company has also redesigned the metals to reduce the noise when the case is in use.
Features:
Non-toxic stainless steel materials
Welded parts for durability
360-degrees rotating and lockable wheels
Two-access doors for ease of access to your pet
Double locks to ensure that your pet will not escape
Pros:
Corrosion-resistant steel
Safe and non-hazardous to pets
Easy to assemble
Easy to clean
Comes with a slide-out plastic tray
Sizing Details
Weight: 33.4 lbs
Dimensions: 37.01 x 25.2 x 27.17 inches
9. Haige Pet Heavy Duty Cage
No products found.
This dog cage from Haige Pet has almost everything that every pet owner would want for their determined dog. It is incredibly durable and made from corrosion and rust-resistant steel materials. You are assured that your cage will last for a long time and will keep your pet in a safe place when you are not around. The bars are thick enough to ensure that your medium to large size strong dog will not destroy it with its strength or chew it down with its strong jaws. Also, it comes with a single door and smart lock that is impossible for dogs to open up. Haige heavy-duty cage also has wheels for easy movement and a slide-out plastic tray for easy cleanup. Pet owners love that it provides plenty of extra space for dogs to move around.
Features:
Highly durable steel material
Smart lock design
Convenient and mobile
Suitable for medium to large size dogs
Spacious and comfortable
Pros:
Made from a corrosion-resistant, anti-rust frame
Single-door and lockable caster wheels
Easy to assemble
Easy to clean with slide-out plastic tray
Comes with a 3-year warranty
Sizing Details:
Weight:90 pounds
Dimension: 40.6″L X 29.5″W X 37.4″H
10. PAWHUT Heavy Duty Kennel
Another top-rated kennel for a strong dog is this product from PAWHUT. It provides a secure and comfortable den for your canine friend. The crate is made from sturdy steel gauge tubes and frames. You will notice that each bar is welded into the frame, thus ensuring that it will last for a long time. It has two secure access; both have two-slide bolt latches. It also comes with two slide-out plastic panels, a metal tray and a grated floor for easy cleanup and maintenance. You can also move it quickly and securely, thanks to its four caster wheels lock. Most pet parents claim that this is one of the best pet crates to have at home.
Features:
Welded gauged steel tubes and frames
Stable and secure construction
Two access doors and slide bolt locks
With four caster wheels for mobility
Long-lasting and durable
Pros:
Easy to clean
Easy to assemble
Simple and portable
High-quality material
Convenient access provided
Sizing Details:
Weight: 79.2 lbs
Dimensions: 42.5″ L x 30″ W x 34.5″ H
Buying Guide for Heavy Duty Dog Crates
Looking at the features and promising benefits of durable dog crate choices, you may feel a bit confused with what you really need to buy. There is a range of pet products that each pet parent claims to have worked for them. However, it is much better to tell yourself that a specific product has all the things you need and will be an excellent choice for your pet. Here's a quick but valuable guide to help you decide on your pup's crate.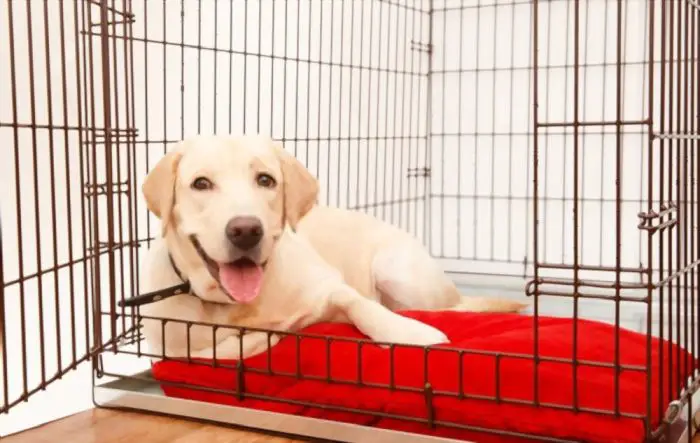 What to Look For in A Heavy Duty Pet Cage?
Durability – one of the main reasons why pet parents seek out a heavy-duty crate is because they want something durable than the standard crates. It is the crucial property that they look out for when making a decision. These added features and sturdiness for the crate to stand up to the demands of their pets, especially if it's a German Shepherd with separation anxiety. The strongest and the most durable are also the ones that last longer and provide bigger savings in the long run.
Accessibility – pet parents also look out for ease of access when choosing a crate for their powerful dogs. It should be secure enough to keep dogs inside while easy enough to access when you need to let your dog in or out of the cage. Some cages have several openings, a top door, wider and smaller doors to each specific purpose.
Mobility – depending on how you will use your dog crate, you may need to move it around your space or travel. But because they are heavy, you will need wheels as an additional feature. Most heavy-duty crates are fitted with rotating and lockable wheels for hassle-free mobility and stability.
Comfort and Space – your pet's comfort is an important consideration when you are choosing a cage. Most heavy-duty crates provide ample space for your pets to move around. More than keeping your dog secure and unable to escape, your ideal crate should be as cozy and comfortable for them as a home.
Cleaning and maintenance – lastly, pet parents put a heavy emphasis on the cleaning features when choosing a cage. There are different features that the crate offers, the most common one are the use of a slide-out tray and removable pan for easy cleaning.
Features Common in Heavy Duty Dog Crates
Let's take a look at the features offered by most heavy-duty dog crates, which address the common considerations pet owners have.
Dimensions – always check the sizing details and dimensions of the dog crate you plan to purchase. It should house your pet comfortably and still have ample space for them to move around. Depending on your dog's size and breed, most heavy-duty crates are designed to accommodate medium, large and extra-large breeds.
Floor Tray – grated floor, lower pan and slide-out plastic trays will help make cleaning and maintenance of dog crates easier. Ideally, floor trays should be rust-resistant and are made from materials that do not retain odor.
Type of Metal – The type of metal used also determines the durability and strength of the pet kennel you intend to buy. Generally, heavy-duty crates use steel or metal frames in varying dimensions. It must also be corrosion and rust-resistant.
Door Design – having multiple doors is an advantage if you have a heavy-duty crate for your dog. Each door has its specific purpose and is handy in different scenarios. Often, these products feature two doors, but others offer as many as four different openings.
Caster Wheels – being made of metal or steel, heavy-duty crates are expected to be cumbersome to move around. It should have proper rolling, rotating and locking casters. The wheels should also be locked in place when not being moved to keep them stable and secure. There are also removable casters that you can stack if you have several dogs to keep inside crates.
Types of Flooring – for the comfort of your pet, make sure that your heavy-duty crate has a smooth and accommodating type of flooring. It can be a porous plastic material, larger vent holes evenly spaced metal bars. You may also add a dog bed or cushion for a spot that they can comfortably lay on.
FAQS About Heavy Duty Dog Crates
Is it possible to find the best crates for my pet?
The best products are always subjective and will depend upon the needs you have for the crate. Some pet parents consider some features to be more critical than others, so you might not be impressed with all the features of just one product. The right crate for your needs will keep most dogs safe, secure and comfortable.
Do Purpose When Choosing a Crate for Your Dog?
Crates serve different purposes for every dog owner and its pet. Ideally, heavy-duty dog crates are chosen for dogs who are strong, powerful and cunning escapists. If you intend to use it as a permanent den for your pet at home, you want it to be stable, durable and comfortable.
Do I Need a Heavy Duty Crate for My Dog?
As a pet owner, your assessment of your pet's behavior and attributes should help you determine the necessity for a heavy-duty kennel. Dogs with separation anxiety become agitated or anxious when left alone. Some start chewing on things, and there is the possibility of hurting themselves. Larger dogs who are powerful and robust may also need these kinds of crates if they tend to escape.
Do I Need to Crate Train My Dog?
Sometimes, dogs with separation anxiety inhibit bad behavior when confined in a crate or left alone for just a few minutes. Ideally, you should crate train your pet while still puppies to become comfortable inside it when they grow. Crate training takes advantage of the dog's instincts to seek out their own quiet, comfortable and safe space. Dogs that are crate trained are also less likely to chew on stuff around the house when agitated. You may ask for veterinary advice in property crate training your dog, especially if you see signs of separation anxiety.
Conclusion
Choosing the perfect den for your pets will take time and serious consideration. There is a range of products with great features available; thus, you have to be clear with your needs and purpose for a crate. If you are using it at home for your powerful pet, LUCKUP Heavy Duty Dog Cage and Proselect Empire Dog Cages are some of the ideal choices. Pet owners with a history of breakouts will be impressed with the quality and durability of these products. But if you need something more portable, and your pet is not the type that escapes, consider getting the Amazonbasics Heavy Duty Stackable Pet Kennel. It should have everything you need, and it is affordable too.
MORE POST:
Last update on 2023-10-02 / Affiliate links / Images from Amazon Product Advertising API