Taking care of Pitbulls is quite challenging yet fulfilling. They are very sweet and cuddly, but also very tough and strong at the same time. Many owners are looking for a pitbull gold chain for their babies since these types of chain are not easily broken or snapped.
We are going to take a look at the top 10 gold chain collars for your pitties, and we promise only to give you the best items in the market.
Best Gold Chain Collars For Pitbulls
Before choosing a collar for your pitbull, it is vital to know if the product is the best value for your money. There are tons of choices in the market, but make sure to check the quality of the item before purchasing it.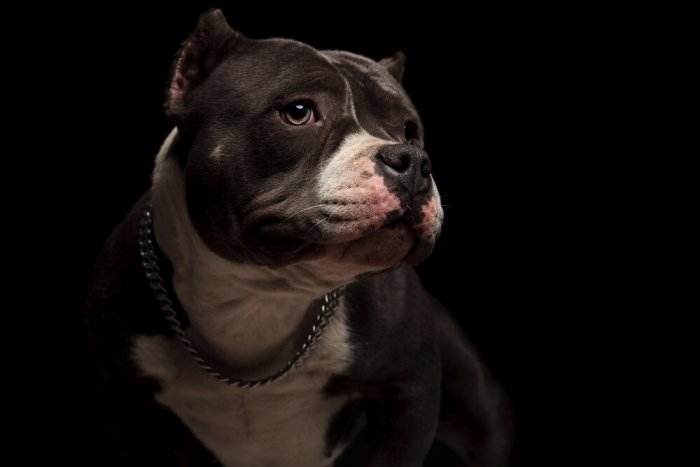 1. W/W Lifetime Custom Ultra Strong 19MM 14K Gold Plated Slip Chain Dog Collar
Last update on 2023-10-01 / Affiliate links / Images from Amazon Product Advertising API
It is not a surprise that pit bulls can easily cut off a regular chain. But, the W/W Lifetime Custom Ultra String Gold Collar has got your needs. It comes with a stunning gold color, and it also promises to keep your baby safe at all times.
The chain is manufactured using a 316L stainless steel so you are assured that your pitbull cannot just bite his collar off. A durable and reliable gold chain like this is the best for your hunky yet adorable pitbull.
Since it is made with stainless steel, you don't need to worry about rust and tarnishing. This flashy gold chain on pitbulls also keeps your dog comfortable as you walk him through the streets. All eyes would surely be on your dog as you walk with him.
2. BMusdog Gold Dog Chain Collar
Last update on 2023-10-01 / Affiliate links / Images from Amazon Product Advertising API
All we want is a high-quality collar chain for our Pitbulls, right? If you want to be 100% assured that the chain won't easily be worn off, get this 18-karat gold chain blended with stainless steel for your loving but strong pitbull.
Even after years of using it, this gold chain will always stay flashy with no rust or tarnish. It is also convenient for pitbull owners since it comes with a special buckle that is easy to put on and remove.
If you're still thinking if this collar won't just be eaten apart by your big doggy, we must say that it can endure a force of up to 700lbs. So, if your dog loves to chew, this can be the perfect accessory for him. It's very fashionable without compromising the durability and safety of your best friend.
3. Tobetrendy Gold Dog Collar 15mm
Last update on 2023-10-01 / Affiliate links / Images from Amazon Product Advertising API
Some chains can make your dog's skin irritated, but not the Tobetrendy Gold Dog Collar. It is made out of 18-karat gold and 316L stainless steel that is hand polished to make the quality more superior than regular chains.
What's even better is that it stays clipped and locked no matter how strong your big dog is, and that's exactly what we want for our dog's collar, right? You can choose between 10 to 24 inches to give a better and comfortable first for your tough guy.
The link is made Cuban-style to make your cute yet rugged doggy fabulous and cool-looking! If you want to have a luxurious-looking accessory that is convenient for you and your pitbull, then this is the best choice for a pitbull Cuban link collar.
4. Tobetrendy Cuban Link Dog Collar w/ Designer Lock Bling
Last update on 2023-10-01 / Affiliate links / Images from Amazon Product Advertising API
You no longer have to worry about getting a new chain collar for your chewy pitbull, because the Tobetrendy Cuban Link Collar is now here. This collar prides on its new upgrade which is stronger and durable.
If your pit often breaks or chews through chains, then this collar is going to be the best solution. This expensive-looking Cuban link chain collar is even perfect for both girl and boy pups, and whether your dog is a small or large breed, this link dog collar will always be perfect for them.
The chain is made out of solid metal, so it's definitely not hollow in the middle. It is quite heavier than traditional collars, so it will never break off so easily. It is also made with D-steel rings so you can attach tags and leashes easily. Make every walk with your dog memorable with this designer collar.
5. Petoo Heavy Duty Choke Cuban Chain 18K Gold Dog Collar
Last update on 2023-10-01 / Affiliate links / Images from Amazon Product Advertising API
This martingale collar is specially made for large dogs like your majestic pitbull. The Petoo Heavy Duty Choke Cuban Chail Collar can never break even if your dog loves to chew on his chains and collars. It is made from ultra-strong materials to keep your buddy safe and restrained when you need him to.
Since it is made out of 18-karat gold, your dog will surely stand out whenever you take him on a walk. Aside from Pitbulls, this collar is also perfect for other dog breeds especially the big ones like a mastiff, cane, rottweiler, etc.
This collar can help you train your dog without causing any damage to his body. It is also very smooth, so it is not harsh on your furry friend's skin. Lastly, it is hypoallergenic to help keep your pitbull's skin healthy.
Last update on 2023-10-01 / Affiliate links / Images from Amazon Product Advertising API
Who doesn't want a gold chain with a flashy diamond buckle for his cool pitbull? The Petoo 18L Gold Training Choker is chew proof so even if you leave your dog for hours with this collar, you are assured that it will never break.
It is proven to withstand a force of up to 680lbs. You can also choose between 10 to 20 inches depending on the size of your dog. This collar also comes with a 90-day guarantee so if ever you encounter some quality issues, there is no problem in replacing or refunding it back.
The buckle is made with 316L stainless steel for superior toughness. The two buttons for buckle is also easy to click release but assures you that it won't just release open without you unlocking it.
6. Petoo 18K Gold Training Choker w/ Diamond Buckle
7. Abaxaca 18K Gold 19 mm Dog Collar
Last update on 2023-10-01 / Affiliate links / Images from Amazon Product Advertising API
With metal imported from Germany, the Abaxaca 18K Gold Dog Collar would never fail to amaze fur parents. This gold pitbull collar also comes with 18K gold for extra sass and durability.
It also prides on its new technology called the high-level ionic plating that keeps your dog cool during hot summer days. The metal clasp is also difficult to break, so you know that your dog is always safe and sound even when you leave him for a while.
This hypoallergenic and smoothly polished collar will never hurt nor irritate your dog's skin. It is also suitable for all dogs – big or small.
8. PRADOG Dog Collar with Zirconia Locking
Last update on 2023-10-01 / Affiliate links / Images from Amazon Product Advertising API
The PRADOG Dog Collar with Zirconia locking is known for its heavy-duty features. While the clasp makes for easy locking and unlocking, the material used for this pitbull gold chain collar is robust and strong, so it won't break easily.
It comes with shiny CZ stones that make your dog look like a cool human being walking down the street. While being flashy and fabulous, it can handle up to 700lbs of any force, so your strong dog can never break it off.
The PRADOG collar is perfect for a large and hyperactive breed of dogs since it is made to withstand chewing and powerful restraints. If you're training your dog to behave calmly during walks, this is the best choice that you can have.
9. PRADOG Dog Collar with Zirconia Locking
Last update on 2023-10-01 / Affiliate links / Images from Amazon Product Advertising API
The W/W Lifetime Gold Dog Chain promises that no rust nor chewing can ever worry you as soon as you buy it. It is made to be 20 times thicker than other traditional plated gold dog chains for Pitbulls.
It also comes with a luxurious Cuban design, so you can always walk in confidence with your dog. You can choose between 16, 18, 20, and 24 inches of length for your large breed fur babies.
Walking and training will now be easier and stylish, all thanks to this awesome gold chain. The manufacturer ensures that every gold chain is smoothly polished and hypoallergenic to make sure that your dog's body and skin is 100% healthy.
10. DUPFY 32MM Width Cuban Rose Gold Dog Chain
Last update on 2023-10-01 / Affiliate links / Images from Amazon Product Advertising API
Most regular chains' problems are rusting, tarnishing, and breaking. The good thing is that it is never an issue with the DUPFY Cuban Rose Gold Dog Chain. If you have a female pitbull, this rose gold colored chain makes her feminine and dazzling on every walk.
It comes with a lock design that is unique and also heavy-duty that even 700 lbs of force can never break it. The manufacturer hand polishes every chain to ensure that it is marketed with the highest quality.
CZ gems are all around the collar, which is also perfect to be used for dog styling competitions. So, even if you use this dog collar for years, it promises to always make your pitbull look stunning and pretty.
PITBULL GOLD CHAIN COLLARS FAQS AND BUYING GUIDE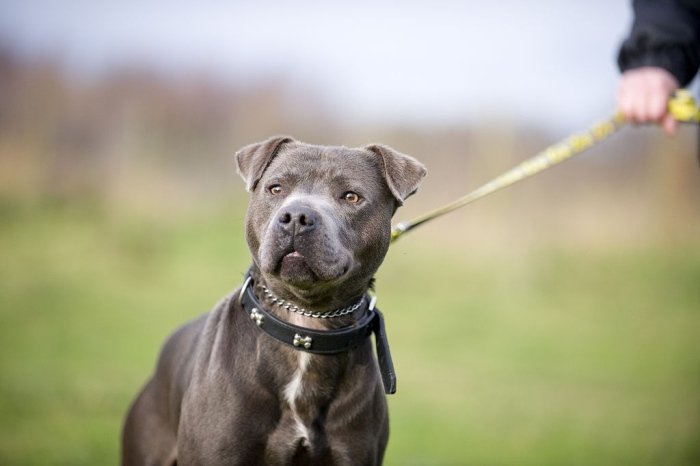 Collar chains are often made for restraint, identification, or protection of a dog. This simple device comes in an interlocking design of metal to effectively keep your dog from chewing the collar off. It comes with two big rings that can be locked easily around a dog's neck.
Here are two other things that a chain collar can be used for:
Keeping the dog's attention focused on you instead of his surroundings while you're walking him

Providing instant corrective action if and when the dog exhibits any undesirable behavior and/or breaking away from its "heel" position
What are chain collars for and how do they work?
Chain collars are often used to train a dog to follow your instructions, or to teach him to draw his attention to you. When a dog wears a collar, it gives a tight sensation around the neck which helps the owner correct a certain action or reaction of his dog and restrain him from running away.
Once a collar is used correctly, it helps a dog behave correctly like how you want him to. It is often placed on the base of your dog's skull. A sudden jerk can be felt by your dog whenever he tries to let him know how to behave calmly.
It only gives a little to minimal discomfort to help an owner train an overly excited or hyperactive dog how to respond correctly.
What are the pros and cons of using chain collars?
Advantages:
Chain collars are very affordable and don't require much money to get a high-quality one. It also comes in various sizes to fit most dogs. These collar chains are proven to be very helpful in training a dog about the proper response.
Disadvantages:
These chains can cause harm to your dog when worn improperly. Some cheap chains can also rust and irritate your dog's skin.
Here are some of the most popular materials used in manufacturing a dog's collar:
Canvas
Faux leather
Leather
Metal chains
Nylon
Nylon blends
Suede
Metals are the most common material used for buckles, but some collars use plastic to snap the lock together. One thing to remember is to choose a metal fastener to ensure that it won't wear off easily. If your dog is very active, we highly recommend using a collar that is made of a breakaway fastener.
What kind of collar is best for a pitbull?
There is no right answer to this question because it all depends based on your dog. Some things to consider are their behavior and your own personal preference when it comes to choosing a collar. You can opt for simple collars, but make sure that it is always hypoallergenic and it won't break easily.
Some dogs are stubborn, so a leash might not be a good idea. Try to consider using check chains or an illusion collar to give you more control over your dog. Lastly, make sure to learn how to properly install the collar to prevent unwanted injuries.
Things to consider when buying a gold chain collar for Pitbulls
Function
The only thing that you need to ask yourself is why would your dog need a collar. This question will help you figure out what type of collar you would need for your best friend. If he's big, strong, and active, look for a rigid and sturdy collar.
Material
Nylon is the best material to choose if your cute dog loves playing in the water. But for regular days, you can choose to get him a simple collar, and you can also use the gold pitbull collars that we have mentioned above.
Size
The best thing to do is to always bring your dog to the store to make sure that you get the correct sizing. But if you're buying a collar online, make sure to accurately measure your fur baby's neck before checking out.
Growth (for pups)
If you're looking for a collar for your puppy, remember that they grow super fast. We highly recommend getting an adjustable collar so your pup can wear it as he grows bigger and bigger. Plus, it gives you extra savings too.
Summary
A pitbull gold chain can be one of the best accessories that you could ever give your lovely dog. Dog parents understand how stubborn yet adorable Pitbulls can be, so these collars that we have reviewed can help you have a better understanding and relationship with your furry best friend.
With extra patience and love, your pup can definitely be the most well-behaved pit bull in your area!
RELATED POST:
Last update on 2023-10-02 / Affiliate links / Images from Amazon Product Advertising API