Pitbulls are strong, ferocious, and muscular breeds. While Pittie parents realize how goofy and cuddly they can be, there is plenty of muscle mass behind these goofballs.
It only means that they are capable of snapping collars or harnesses if not secured enough.
Pitbulls are stubborn, and they can be powerful chewers too. If you leave them alone for a while, you will surely find an unfastened collar like a destroyed chewed up toy. Thus, Pitbull owners need to find something made for their pets. If you will settle for the standard collars, it may not last long enough and wear out too quickly.
But like any other supplies and gear for pits, there are thousands of collars that you can consider for your pet. Finding a good collars means you're getting a product that is worth your money and comfortable for your dog among a confusing list of choices. We have prepared a list of the top rated collars for pitbulls that will suit you and your dog's needs.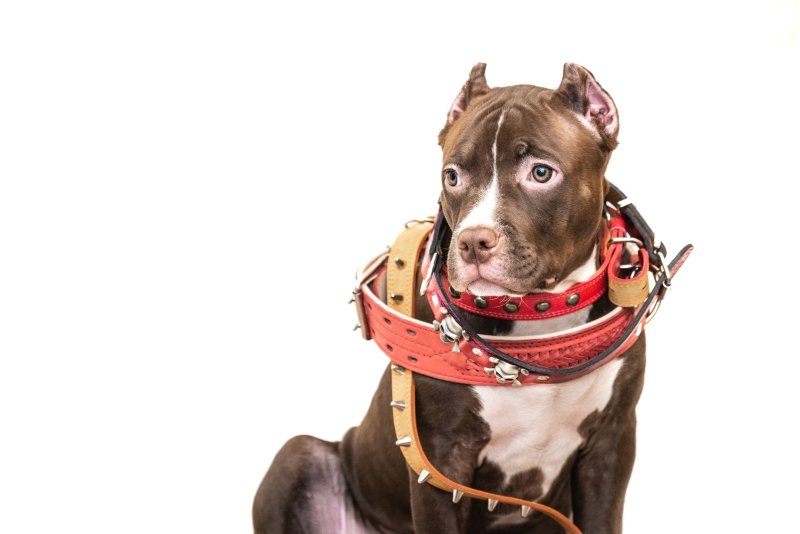 1. Silver Phantom Jewelry Pitbull Collar (Best Good-Looking Jewelry Dog Collar)
This eye-candy is a Cuban-Style pitbull Collar in silver tone. It is indeed eye-catching and flashy. If you and your dog do not mind the extra attention, this pitbull heavy chain collar is for you. It has strong and durable chain links that can withstand up to 680 pounds of muscle. So there is more to this product than just the attractive look – it is powerful enough to hold up your firm and persistently stubborn pup. It is one of the top pitbull heavy-duty dog chain collars that you can rely on. This product is made up of solid stainless steel so you won't have to worry about it getting all rusty or corroding anytime.
2. Bestia Genuine Leather Large Breed Dog Collar (Best Elegant Leather Collar)
In ancient Egypt, dogs were considered sacred, and this product is reminiscent of those times when people adorn their pet collars with ornaments to make it look appealing. The Bestia Genuine Leather Large Collar has heavy-duty leather made with top-quality buckles, metal fittings, and eyelets that makes it nice-looking. It is one of the top-selling high-end collars for bully breeds. A lot of owners are genuinely impressed with its high quality buffalo leather material, soft padding, and sturdy stitches. Your canine baby will never out-chew this product as it is stronger than his bite.
3. Excellent Elite Spanker Tactical Dog Collar (Best Pitbull Training Collar)
This durable thick dog collars for pitbulls is as sturdy as it looks. When it comes to pitbull gears, you need the most durable items that can be effective against their powerful pulls and jerks. The Excellent Elite Spanker could be the excellent collar for pitbull dog training. It is easily the coolest one among similarly designed products. It is made from high-quality and super-strong nylon material that comes with an attractive and functional D-rings and ID panel.
4. W&W Lifetime Custom Ultra Strong Chain Collar (Best Gold Plated Heavy Duty Chain Collar)
Most pit bull owners are aware that their pets are probably the only ones who can successfully pull off wearing a flashy gold plated chain collar. The W&W Lifetime Custom Gold Plated Ultra is the perfect collar for your extra large pet. It is made with Cuban-style chain link that is made from super-strong 316L Stainless steel material. It is stylish, flashy and, comfortable to wear. If you want something luxurious but functional and durable for your muscular goofball, then this is the badass pitbull collars for you!
5. Max and Neo MAX Reflective Metal Buckle Collar (Best Reflective Dog Collar)
This dog collar guarantees comfort and style for any canine seen wearing it. Made from ultra-wearable, double-layer nylon material that is soft and durable, it is perfect for walks, stroll, or trot. It can be used during the daytime or nighttime as it features reflective stitching around the band. These stitches are designed to bounce back lights, so there is maximum visibility. This high-quality collar is reinforced with metal eyelets, and gun-metal finished buckles. It also comes with an extra clip for you to attach charms, dog tags and other accessories. Another reason for you to buy is that each time you buy a collar, the company also donates a collar for a rescued dog in need.
6. Signature K9 2-Inch Heavy Agitation Collar (Best Military Grade Collar for Pitbulls)
It is rare for pitbull parents to find the perfectly fitting collar for big neck sizes and durable enough to last over time. Well, the Signature K9 Heavy Agitation Collar will make you and your pet happy. It has the right width to make a soft landing on your pet's throat. Its thick two-layer, military quality leather allows the collar to spread the pulling weight stress around the neck. It means that even when your canine buddy lunges for a squirrel, he will be comfortable and injury-free. It is specially hand-crafted, uses heavy-duty stitching, and utilizes first-rate hardware to ensure that nothing fails. It comes in burgundy or black colors, and pet owners can choose to have a handle or without.
7. Dogs My Love Real Leather Black Spiked Pitbull Collar (Best Spiked Dog Collars for Pitbulls)
Pitbull spiked collars for are a big hit or miss when it comes to appeal and appearance. Not everyone is impressed by dogs wearing it. It looks threatening for some dog owners, but there is still a massive market for this type when you consider studded collars or harnesses for Pitbulls. It is made from thick leather material and is available in a range of colors and neck sizes. You can pick out an attractive color like pink or yellow to offset those fearsome-looking spikes. So, if you are on the lookout for such design, the Dogs My Love Real Leather Black Spiked is your best bet.
8. Black Rhino Neoprene Padded Thick Dog Collar for Pitbulls (Best Waterproof Pitbull Collar)
This waterproof padded collar is sturdy, durable, comfortable, and practical. It is available in different sizes and colours. It is softly padded with neoprene material to ensure that it is comfortable for your dog. This product is made especially for dogs who love playing in the water. It is made with waterproof material so you won't have to remove it when your pet decides to have a dip. It also comes with reflective stitching for that added safety feature.
9.Bully's Pit Bull Collar, Dog Collar for Large Dogs
Bully breeds definitely have a mind of their own. Though they respect you and consider you as their owner, they still can be extra stubborn at times. This trait can be a challenge if you are walking outdoors or at the dog park. They can get excited and pull away from you, thus you need a reliable collar that will keep them with you at all times. This nylon Pitbull collar is a heavy-duty product recommended for Bully's that pull. It addresses your needs for an effective leash and collar, but it is also comfortable for your dog. It comes with a steel buckle which lets you adjust it for two-inches or so according to your pet's neck size. Compared to other Pitbull collars, this product from Bully's are extra wide. It is made to be comfortable, breathable and lightweight to pets wearing it. It is made from tactical grade nylon material, thus, it is washable and durable. Your Pitbull will surely like having this strong collar around his neck!
PITBULL COLLARS FAQS AND BUYING GUIDE
What Are The Things to Consider Before Buying a Collars For Pitbull?
Pitbulls are known to have an unfortunate history of violence and abuse. They are usually feared because they are are strong breed and the way they were represented. They are a fearsome and robust breed. They look muscular and robust; thus, even until now, people are still wary when they are around. But Pittie owners know better, they are sweet and loving. They are great and goofy extra large family pets. 
Even though Pits are powerful and stubborn, owners need to find the most appropriate set of leashes, collars and harnesses. It is not only for reassuring people around but for you to have adequate control and security when they are mule-headed as they naturally are. Here are some factors to consider when choosing the best collars for your Pitbull.
Different types and brands of collars for bully breeds use different materials. Thus it is best to check on these factors before buying. The perfect collar for pitbulls are those made from sturdy, high-quality and durable materials. It should be able to withstand the strength and stress that comes with restraining this breed.
As owners, you know that you will need something stronger than the usual collar or leash and that some materials and make will not last long for your pet. Double-check the bands, D-rings, eyelets and other components for durability and quality. There should be double stitching as this will hold up longer than the usual single stitching.
Be sure to read customer and real reviews and testimonies regarding the brand and model. You can get a clear picture of how well a product stands up against your pet's strength through honest reviews and opinions of other users.
One of the most common materials used as dog collars is nylon. It is lightweight and pliable. But when it comes to this powerful breed, nylon collars should be adequately thick and robust to rally up against the constant pressure and possible chewing spree. There are excellent nylon collar choices that you can try, just make sure that it has high-quality and strong materials.
Another top choice for collars are those made from high-quality genuine leather. It is thick, strong and durable. Some leather becomes better with time; thus, it promises to be comfortable to wear for your pet. Aside from leather, metallic chains are also another option for pitbulls. It has proven to be useful especially when used with energetic dogs.
Getting the right size is critical when it comes to finding the perfect fitting dog collar for your pitbull or other bully dog breeds. You can consider getting an adjustable collar with enough eyelets so that you can adjust while he grows even more muscular. Keep in mind that dogs don't stay the same size and they can grow fat or slim anytime. It will be costly for you to buy different sizes because what you have become ill-fitting.
Try to measure your dog's neck size and add a couple of inches for allowance. You should always expect some discrepancies, especially when ordering from online stores.
Dog collars usually come with D-rings where owners can attach identification or Dog Tags. Some companies allow buyers to personalize the collars free of charge. It may be through the engraving of some information on the collar itself or by getting a plate which you can attach to the collar. These features should be necessarily considered when choosing a collar for your pet. It will come handy in case your pet runs away or gets lost.
When it comes to a dog collar for pitbulls, you should always consider the quality over the price. Various cheap products promise everything that you may want for your pet but come with a price that is too good to be true. You may think that you can make good savings with these products, but you might end up spending even more. For your pet to be comfortable and for your pockets to be happy, make quality your top consideration when it comes to best collars for pitbulls.
What Are The Different Types Of Collars For Pitbulls?
Like any other accessories and gears for your canine friend, you have several choices when it comes to collars. Here are the different types of collars to help you decide which is the most suitable for you and your pet's needs.
These are the most common type of collars that you can find from the pet supply and accessories store. They are also referred to as the "Flat Collars." It usually comes with metal buckles and quick-release locks. It comes in various materials, makes, colours and styles. For pitbulls, it is best to have something sturdy with buckles as they are more durable. The rolled leather collar is an excellent choice for pitties as they are sturdy and less likely to cause any irritation or hair loss.
These are also called choke chains and are intended for training use only. When training dogs to walk on a leash, their behaviour is corrected by a slight tug on a leash which will cause the chain to close on the dog's neck. This type of collar poses strangulation hazard thus, dog trainers have moved away from using this type of collar specially for strong dogs. Professional trainers and people who know how to use it properly should only be the ones to use it for their pet. 
Jewelry Chain Metal Collars
This type of dog collar is flashy and flamboyant. Usually made with Cuban-style chains, it is quite comfortable for dogs to wear. These chain collars are also made from strong and durable stainless steel material which can resist the pressure and stress with restraining your Bully.
These types of collars are high-tech kind. It has several unique and advanced features. It has GPS to help track your pet's location, it can monitor changes in his behaviour, and it can also help in training your pet. These smart collars can be used with your smartphone. Some of these models are also waterproof and connects with your Wi-fi.
Head halters or collars look like a muzzle, but they are used differently. Head collars are more like harnesses that is attached to the head and are used to help train dogs to walk on a leash and heel. It is designed to cause the dog's head to turn once they try to pull on the leash. When properly used, it can successfully deter pulling and help other training.
Compared with collars, harnesses are designed to be placed around the dog's abdomen and chest and crossed over at the back. A leash may be attached to the top of the harness. Most Pitbull owners prefer using harnesses because of their tendency to pull, which may put pressure on their neck. It is also ideal for dogs with medical conditions in the throat or airway.
Which is the Better Choice for Pitbulls - Collar or Dog Harness?
Collars are made for walking, and they come in various styles, sizes and options. It can become uncomfortable for dog breeds who are continually pulling away. It can be a good option for pitbull puppies who dislike harnesses. Using collars also offer functionality, and they can be easily worn or taken off. However, collars are not suitable for training, and it can cause neck injury when your pet starts pulling away.
On the other hand, harnesses are more popular with pitbull owners as they discover the many advantages it offers. It is best for training and gives owners better control over their pets. Harnesses discourage pulling and allow owners to automatically stop their pup from jumping on strangers without risk of choking. Additionally, harnesses are more suitable for short-nosed breeds.
Why Are Prong & Choke Collars Not Recommended?
People looking for a training collar for their pits may see choke and prong style chain collars on the list. These collars are designed to tighten whenever your pet tries to pull. It will tighten and pinch the dog's neck if he fails to stay in the right heel position. But here we do not recommend its use.
According to PETA.org, the use of choke and prong collars are associated with various pet injuries. Improper use of these types of collars can lead to spinal cord injuries, paralysis, dislocated neck bones, crushing of the trachea and many others.
These punishment-based collars are already outdated, and they should not be used anymore. Dogs may interpret the tightening as a stranglehold and make them fearful or even more aggressive. Some dogs also develop scar tissues which no longer have feelings for the pain. Thus, they build up a tolerance for the tightening feeling.
Prongs and choke collars inflict pain to punish bad behavior, but it doesn't teach them to behave in the right way. And dogs do not always understand why they are being punished. It may traumatize them and lead to more significant behavioral issues in the future.
The safest and most humane way of training pit-bulls to walk on a leash is to use the front leash attachment collar or harness. Couple this up with lots of positive reinforcement and praises for his excellent behavior. With patience and practice, you and your Bully will soon have an enjoyable strolling experience.
How to Collar Train Your Pitbull Dogs: Pro Tips to Keep In Mind
Dogs need to be trained to walk on a leash and collar. It will make the experience safer and more enjoyable for you and your pet. Your fur baby needs to learn that when you walk together, they need to keep the leash a bit slack. One of the easiest ways to train dogs to walk correctly with a collar is by the use of clicker training. This technique pairs a sound with a small reward, so your pet will know whether he is doing what you want him to do.
And even if you don't use the clicker training method, you can use positive reinforcement to teach your dog new tricks. Here are some tips to help you start teaching your pitbull to walk politely with a leash and collar.
When you don't have anywhere exciting to go and see, you are the most exciting view for your dog. Your chances of connecting is high, and you will probably give a lot of praises and rewards as your pet keeps the leash slack. The more you reward your pet's good behaviour and keeping the leash slack, the more you are teaching them the proper way to walk the leash.
Recognize the Slack with a Reward
When you go outside, recognize that your dog will want to move forward and explore the outdoors. If your pet starts to pull on the leash, stop walking and ignore the behavior. Once the line is slack once again, resume the walk — shower on praises and reward every slack in the line.
Keep Training Sessions Short
Dogs get bored and frustrated with long training sessions. Until your pet learns to walk on a leash and collar, it is best to keep sessions short. You may walk your pitbull on a harness until they learn how to walk with a slack. Then, you can start walking them with a collar without any pulling.
Pitbulls are a unique breed. They can be stubborn to a fault, but fur parents know how lovable they can be. With patience and proper training, you can soon enjoy walks with your pet while they wear a collar and a leash. We hope that we have given you some insights with our top 10 list of collars for pitbull dogs. We highly recommend collars that are made with genuine leather materials like the Blackjacks Leather Collar and the Bestia Genuine Leather Collar for Large Dogs. Some interesting alternatives are the Silver Phantom Jewelry Collar and the Dogs My Love pitbull Spiked Collars. There are various choices for you when it comes to collars, but it still depends upon you and your dog's needs.