Pitbulls are dogs that can be an American Pitbull Terrier, American Bully, Staffordshire Bull Terrier, or American Staffordshire Terrier. Over the years, the negative reputation of these powerful dogs has waned, and they are winning hearts with their adorable nature and gentle characteristics. It's no wonder, more and more are welcoming Pittie puppies into their homes and family. But have you ever thought about the perfect name for them? 
Pitties are just like a new family member. They'd need all your love and support, and they too would need a name. Of course, you want something unique and well-suited for their breed and characteristics. Various factors affect pet-naming decisions. 
To help you out, we've searched far and wide to come up with the most popular, cutest, and most badass names suitable for your Pittie. Take a look at these 300 pitbull names to see if your pick has made it. 
Popular Pitbull Names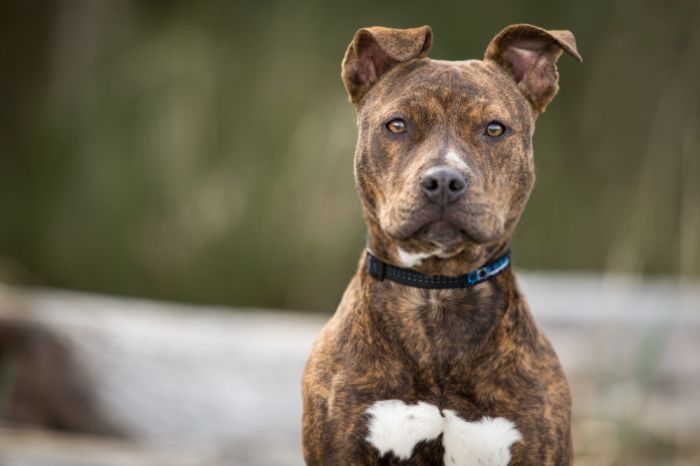 Some pet owners choose popular Pitbull dog names for their pets. Since these monikers are already very famous, they seemed to be the most suitable choice. Here are a few that made it on our list:
Ace
Ax
Blue
Bella
Bailey
Bo
Buddy
Callie
Choco
Coco
Charlie
Chloe
Lola
Lucy
Luna
Layla
Leo
Max
Marley
Molly
Mia
Rocco
Scotty
Tank
Zeus
Copper
Daisy
Duke
Diesel
Ecco
Freddy
Genie
Harley
Holly
Jax
Jack
Nala
Neo
Odie
Pax
Penny
Roxy
Remi
Riley
Rocky
Roxy
Stella
Tommy
Thor
Unique Pitbull Names and their Meanings
Moving on from the famous and familiar, there are pet owners who prefer to have Pitbull dog names that are unique. These names are not usually given to dogs, but when attached to a Pittie, it clicks. Here are some of our top choices.
Hulk – means enormous, but not aggressive
Will- loyal, kind
Molos – originally a dog breed called "Molosser" an ancient Pitbull type
Jacob – a shy but friendly dog
Montana – means mountains in the Italian language
Tsuyoi – means firm in the Japanese language
Bulk – another term that describes something large
Blaze – means to set on fire
Atticus – means "a brave soul"
Kona – means faithful and loyal
Xena – from the warrior princess
Sasha – means one with an attractive smile
Nova – one of a kind, with great character
Spike – one with a loyal attitude
Master – one with a dominant personality
Archer – ideal for arrogant dogs that are also caring
Trigger – means powerful jaws
Rex – a name taken from the Dinosaurs
Vega – a bright star the constellations
Datu – is a Filipino term for Chief
Raja – a Malay term for a Chieftain
Mori – in Japanese this means hunter
Bingo – based on the social game
Sari – a Malay term for "essence"
Haddi – this word means "bone" in Hindi
Female Pitbulls Names
Choosing a female Pitbull name is also a challenge for many dog owners. You want to highlight your pet's caring and loving nature, but you don't want to set aside her strength and power. Thus, here's a list of influential dog names aptly curated for a female Pittie.
Athena – the Goddess of War and Wisdom. She is the strongest in persona in Greek mythology, thus, a perfect name for your female Pit.
Hera – she is another tough and powerful goddess
Kahuna – means a female "Chief" or person-in-charge in Hawaii
Rogue – defined as "playful and mischievous"
Nyx – the goddess of night and a compelling character in Greek Mythology
Sheba – means queen
Jezebel – she was the queen of Israel in the 9th century BC
Vega – this star is the brightest in the Lyra constellation.
Vixen – this term means "female fox," but it may also indicate an ill-tempered woman or an attractive but dangerous lady.
Dixie – an American term for anything Southern
Duchess – is royalty, a rank below a Princess
Fera – a Portuguese word for "beast"
Kaia – this word means "sea" in the Hawaiian language
Katja – means "pure" in the German language
Nikita – a Japanese term for "unconquerable"
Nia – a Swahili phrase which means "lustrous"
Nora – it means "honor" in Latin
Vanya – a Greek word that means butterfly
Tori – is a Japanese word that means "bird"
Zoey – a word that means "life"
Other great names you can give your female pets are:
Acacia
Leia
Norma
Pepper
Willow
Koda
Strawberry
Berry
Cielo
Elsa
Linda
Sasha
Bonita
Lobo
Issa
Audrey
Lucille/Lucy
Mari
Siri
Oreo
Misha
MJ
Amos
Angel
Bonbon
Truffle
Indie
Lulu
Molly
Tiara
Male Pitbull Names
Compared to female names, choosing a name for a male Pittie seems more exciting for most dog owners. You are free to choose masculine sounding names that are tough and rough. These names can come from heroic characters and powerful men. For fun, it can also come from villains from your favorite movie. Here are some ideas:
Ares – based on the Greek God of war, embodies physical strength which is ideal for a Pit
Blade – this name sounds cool and masculine
Bruno – this is another though and masculine name that is perfect for your Bully.
Butch – this name sounds old school and charming
Dozer – is a machine that is tough and is an excellent choice for your pet.
Hercules – the son of Zeus in Greek mythology. He possesses extraordinary strength, thus an ideal name for your dog.
Mack – from mack truck, a rugged vehicle
Odin – in Nordic mythology, he is a widely revered god
Nitro – is an explosive material used in dynamites
Bond – from James Bond, suitable for a strong and intelligent pet
Hunt – from Ethan Hunt of Mission Impossible
Bolt – he is the fastest runner in the world
Igor – is a character from the Frankenstein movie
Ice – a cool but tough-sounding name for your Pittie
Ramboo – a name inspired by the Rambo movies
Eros – the Greek God of love, he is born out of chaos
Xander – it means "protector of "men"
Lon – a Gaelic term that means "fierce"
Kratos – a Greek god for strength and power
Zane – a Hebrew name which means "gracious gift"
Other great names to showcase masculinity for your male pet include:
Tomas
Nacho
Mclaren
Hudson
Jada
Alfred
Austin
Cyan
Smokey
Patch
Arlo
Barney
Logan
Wayne
Conan
Jon
Truman
Wrango
Homer
Woody
Nico
Stark
Pepero
Zee
Troop
Ernie
Bart
Trump
Narco
Stone
Pitbull Puppy Names
Although fearsome and huge, you can still opt for delightfully adorable names for your Pitbulls. These choices will fit them while they are puppies but are also great monikers when they are all-grown-up. Here are the ideal puppy names to consider.
Peanut
Yoda
Stitch
Whooper
Yogi
Foxy
Vienna
Ginger
Jaws
Taz
Jedi
Grunt
Stub
Milo
Monkey
Penny Lane
Hades
Bubba
Kiki
Lulu
Dash
Cash
Prince
Rebel
Chomper
Champ
Wacky
Bambi
Fifi
Cookie
Tyrion
Mason
Damon
Zedd
Kiwi
Tilda
Dora
Melon
Pumpkin
Squash
Cora
Frida
Muerte
Pixel
Jojo
Johnny
Nancy
Fang
Boris
Bones
Tough Pitbull Names
Another option for naming your Pitties is to check out a list of really tough names. This list should give you an idea of how to pick out a name that will embody your pet's tough, strong, and compelling personality.
Warlock – means strong and powerful wizard
Mulan – the tough Disney princess
Luna – a word meaning "moon"
Zora – an African-American writer
Leo – a term that also means "lion"
Tiger – ideal for a fierce but cuddly pooch
Brutus – a very masculine name
Apache – from the helicopter
Magnus – a Latin name that means "the greatest"
Texas – a large US state
Other tough-sounding names that suit a Pittie include:
Hugo
Vadar
Lara
Atlas
Robber
Zodiac
Loki
Razor
Hunter
Monk
Reed
Tera
Ryder
Knox
Nixon
Cute Pitbull Names
We all know that Pitbulls are cute and cuddly, though they look tough on the outside. When showered with love and affection, these dogs grow to become loyal and loveable pets. They are even called nanny dogs because of how well-behaved they are around children. If you have kids, you might want a name that's as cute as they are. Here are some adorable names for you and your kids to consider.
Bunny
Bubble
Bee
Burrito
Cheeto
Cheeky
Dinky
Fairy
Dragon
Fiona
Giggles
Jazzy
Pickle
Poppet
Puzzles
Sweetie
Sugar
Tinkerbell
Trixie
Tickles
Twirly
Rosie
Toto
Bear
Bree
Eggy
Marble
Fleck
Sailor
Twinkle
Blue Nose Pitbull Names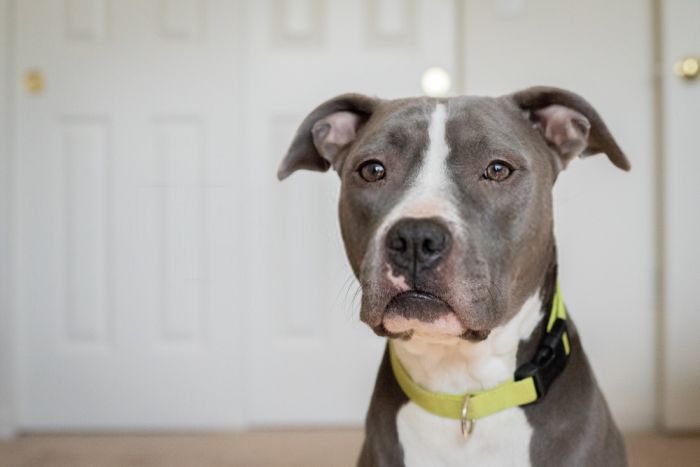 If you're an owner of a Blue Nose Pittie, you might want a name that suits their unique qualities. Though they are called Blue Noses, these dogs range from pale grey to charcoal tone in color. This unusual hue makes them popular, as it is very rare in any dog breed. Take a look at some of the best names for a blue nose Pittie.
Storm – the grey color will remind you of an overcast horizon
Sky – this name perfectly suits this rare colored breed
Teal – a shade in between green and blue
Silver – it is a unique name for a unique pet
Navy – a military that guards the seas
Gunner – a sturdy but great name for your Pit
Flint – one of the best names for this rare Pit
Shadow – a dark but cute name for a pet
Azure – light blue color
Topaz – a blue gemstone
Related Post: Facts About Blue Nose Pitbull Dogs
Red Nose Pitbull Names
Similar to the blue-nose Pitties, Red Nose Pitbulls also have a large number of fans because of its unique shade. They are also loyal, loving, and fun to have around. Here are some suitable names for a fiery colored canine.
Scarlet – red color with a tinge of orange
Teak – a tropical tree
Gretta – a lady with great character and personality
Rose – name suitable for a lovable doggie
Peaches – the peach color is a great inspiration for your red-colored pet
Honey – this sweet nectar has a golden, burnished color
Merlot – a fine grape made into a fine red wine
Burgundy – a deep red color
Ember – a term related to a burning fire
Phoenix – a legendary bird that rises from the ashes
Related Post: Interesting Facts About Red Nose Pitbull
The Best Pitbull Name
When it comes to searching a name for your Pitbull, some of the most popular results point to Blue or Bluebell. It is probably because of the rare coloring that some of these canines. This distinct coloring also made popular variations of Shadow, Grey, and Gray.
You will also notice that some tough and muscular names are often chosen for this breed. Some of the best pics are Tank, Zeus, Rocky, and Diesel. These names rank quite high when owners are asked for the best name for a Pitbulls.
On the other hand, some sweet and adorable names are also clear winners for Pitties. Some standard picks are Lily, Rosie, and Daisy.
How to Choose a Name for Your Pitbull
The best names for pets will still depend on your personal preferences as the pet owner. Ideally, you should pick out a name that you and your pet both like. A name can sound fierce, cute, or unique, but how about involving your pets in the selection process? Here are some tips for you.
Related Post: Best Names For American Bully
Call out names – once you have a shortlist of names you like, try to call out names with 20-second intervals after each one. If your pup comes to one of the names, then it is the name for him.
Use cards and treats – write out your preferred names on cards and place a treat on top of it. Get your no-name pet and watch as they pick out a name by chomping on the first treat on a name card.
Pee on Trees – this is a funny way to involve pets in a name selection process, but it only works well for male pooches. Tack a name card on each tree in your yard. Let your pet out for a pee or potty. If it chooses a tree with a name, then it is the name to give him!
Wrap Up
Pitbull dogs are wonderful pets. They are tough-looking, but they are a delightful mush on the inside. It can be hard to decide on a name that aptly describes how uniquely adorable they are. Our list of names can give you a range of choices for tough, unique, cute, or popular Pitbull names.
Once you found the perfect moniker, train your dog to get used to its name by giving them treats and praises each time they approach you when they are called. Before you know it, they'd be running excitedly every time you call them.
Have you found the perfect name for your Pitbull? Did it make it on our list? Share with us your thoughts by leaving us a comment at the box below.