Owning an American Bully is a dream come true for many enthusiasts. These mighty canines look freakishly strong and muscular. They are ferocious and a bit intimidating. On the other hand, they also display a strong bond with their owners. It makes you long for a Bully of your own. But where would you find them?
There are hundreds of world-renowned American Bully breeders. If you want an ideal puppy, these breeders are the ones to visit. They can give you an ideal puppy with early training and socialization. With them, you are guaranteed a healthy and happy Bully. Reputable breeders also offer Bullies with the best physical attributes, temperament, and behavior.
Currently, there are several dog lines that you can explore. Each bloodline has its specialization. These kennels have a "brand" of Bully they produce. We have here a list of the 8 Best American Bully Breeders with various bloodlines to offer.
Kingpin Line
The Kingpin Line is famous for fierce-looking bullies. But their dogs are calm and have adorable personalities. These dogs are rare in the American Bully breed. Kingpin line has a combination of traits only notable in select bloodlines. Consequently, their Bullies have a muscular physique and a loving personality.
Additionally, dogs from this line display a passive personality. They are not angered easily. Thus, they make excellent pets for families with children. These dogs are also ideal for people in apartment settings. They are friendly and love being around people.
More so, Kingpin Bully lines have been around for many years. They are one of the most sought after breeders of American Bullies. Mr. J Lomeli, the owner of Kingpin is an ethical and well-reputed breeder. You can become a follower or a contributor to this bloodline.
Kurupt Bloodline
Kurupt Bloodline is known as a Bullypit breeding program.  But they are also popular as Bully Breeders. Kurupt is known for XL, XXL, and Monstrous American Bullies. For instance, they have triple-size dogs that are "freakish" and ferocious-looking. However, these dogs are also friendly and calm. 
Many enthusiasts don't consider the Kurupt line to be authentic American Bullies.  But dogs from this line are a significant influence in breeding large and muscular bullies.
The most popular descent from this bloodline is Kurupt Blood Panic. It has a 27-inch head and is an impressive specimen. Prices for Panic's semen fetch incredible prices. He attracts many Bully fans around the world.
Related Post: Hulk The Largest Pitbull in the World
Razor's Edge
Bullies from the Razor's Edge bloodline have athletic looks and active temperament. But they are also calm and gentle. These traits are common with the American Staffordshire Terrier.
Razor's Edge Bullies have a combined strength and stamina from Pitbulls and the mild traits of the AST. Razor's Edge is under the ownership of Dave Wilson. He worked with his friend, Carlos Barksdale. They started breeding game dogs even before Bullies became popular.
Gottiline Pitbull Bloodline
Richard Barajas started the Gottiline Pitbull Bloodline. His dog, Notorious Juan Gotty is from the Grey Line Kennels. He had a muscular physique and sired puppies to create the Gottiline.
Gottiline produces bulky and big Pitbulls. Its popularity grew and reached various countries. Presently, there are now Gottiline Bullies in Canada, Japan, the Philippines, and China. Dogs from the Gottiline are used in sports like weight pulling. They are fierce and broad. They can scare even the bravest of people with their looks. However, they are quite friendly and maintain a calm temperament.
Related Post: 5 Different American Bully Sizes
Nakamoto Bullies
The Nakamoto Bully line has produced interestingly exotic breeds. It was named after Jack Nakamoto, the son of the family. They have been in the breeding business since the early 1980s. The Nakamoto kennels are known to produce interesting Pitbulls.
In 2010, they started breeding American Bullies. Since then, they have produced some of the most exotic looking Bullies in the country. Their Bullies are popularly sought-after because of its unique qualities. There is a high demand for these exotic breeds locally and internationally. 
Nakamoto also guarantees the use of vet-certified methods. Thus, each Bully they produce is healthy and high-quality. They have a 60-acre family kennel in Southern California. It is open for visitors and enthusiasts. Moreover, you may contact them if you want a unique American Bully of your own.
Colby Pitbull Bloodline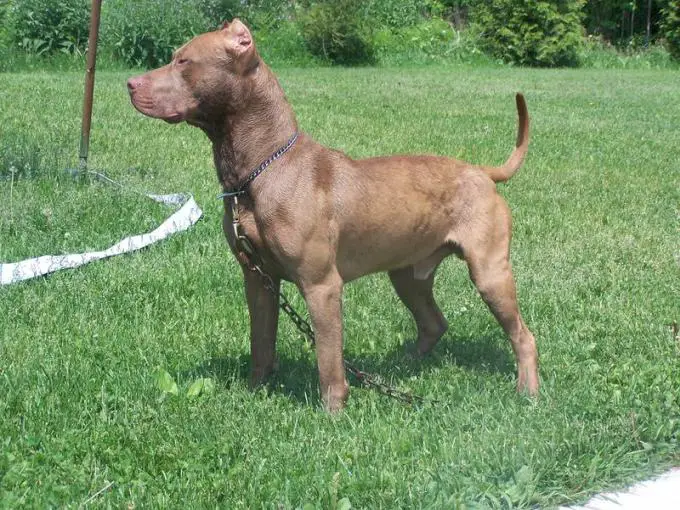 If you are interested in XL and XXL Bullies, the Colby Pitbull Bloodline is for you. This bloodline was started by John Colby, a prime mover of Bully-breeding. It has been in the business for more than 100 years. The Colby line is sporty and robust dogs. They are also alert and agile. But unlike other bloodlines, these dogs have a fierce temperament.
Dogs from the Colby bloodline are not ideal family pets. They are suited for a sporty, healthy, and active lifestyle. However, there is a vast demand for dogs from this line. They do not look like your classic Pitbulls. These dogs are tall and muscular with long legs.
Golden Line
The Golden Line kennel has produced some of the well-loved Bullies in the country. They have kennels that specialize in breeding various Bully lines. For instance, they have kennels that produce XL-sized Bullies. But they also have other kennels that focus on creating smaller pocket Bullies.
Golden Line Bullies are popular as some of the finest and fantastic specimens. These dogs are well-loved around the country. They are uniquely short with a full-body structure. Their physical appearance makes them adorable looking. More so, these dogs are calm and have a friendly aura. 
They delivered delightful lap dogs that are suitable family pet. If you live in a small apartment, a pocket Bully from Golden is also an ideal choice for you.
Remyline Bloodline
The Remyline bloodline started with Remy Martin. He has a badass stare and blue-colored fawn. Remy is near-perfect Razor's Edge Bully. He came into the hands of Fabian Chichester in 2003. Dogs coming from this bloodline have consistent looks following its iconic founding sire. Similarly, the dogs also have plenty of American Pitbull terrier blood.
Over the years, Remy Martin bred continuously to fix certain traits and characteristics. However, the dogs' looks remain very consistent. They offered a limited variation in terms of appearance. 
Remy Martin is a prolific stud. He has sired more than a thousand offspring. All of these have thick frames and structures. Because of his popularity, even international kennels are lining up to access his bloodline. It is a prized specimen to add to their pool of Bullies.
Related Post: 300 Best Pitbull Names
Conclusion
Looking for the perfect American Bully can be a challenge. Fortunately, there are top-quality kennels registering as breeders. Thus, it is now easier to get one of your own. We hope that our list has provided you with insights on the best Bully breeds in the country. Depending on your preferences, you have various options to find the most suitable Bully for your needs.  
You might want them as pets or you are thinking of starting your own breeding business. Whichever way you go, it is best to get high-quality Bullies from top-notch breeders. Caring for and breeding American Bully dogs requires utmost dedication. You have to be passionate about their cause. And lastly, put in a lot of hard work, and remain ethical in your practices.