If you're looking for a Bully dog as a pet, you might want to take into consideration on how to get the best kind of Bully. There are American Bully breeders who have dogs that you can choose from, but it is advisable to a top quality dog. Try to find if Bully breeders are reputable in the sense that they breed and sell top quality dogs. The ideal Bully dog does not have antisocial behavior, and they are healthy as happy animals. Any breeder worth their salt takes all measures to ensure that their Bullies are the best in terms of quality.
The several types of dog lines depending on the breeder you choose. Below are some of the Top American Bully breeders whose kennels have bred kinds of Bullies of different bloodlines. Most of these breeders and their dogs are more or less a "brand name" when it comes to producing the best Bully breed.
Kurupt Bloodline
Specializes in Bullies that are triple in size and makes for a good protection dog while still being friendly and great family pet. American Bully breeders of the Kurupt Bloodline (or more known as Kurupt Blood Panic) have bred a very extreme kind of Bullies that is best described as "freakish." One example of this bloodline's dog is Panic who has a 27-inch head. This will be the ideal dog for you if you're looking for something big and lovable. The largeness of the dog in spite of being labeled "freakish" is not some kind of deformity. It is nothing more than the signature trait of this bloodline.
Razor's Edge
Bullies of this bloodline have an emphasis on athleticism and temperament while having a calm personality and gentle manners that can be found in American Staffordshire Terries. It also has combines the original pit bull breed's strength and stamina. Breeder Dave Wilson the one who came up with the concept of this kind of Bully has a different goal compared to other American Bully breeders. On a first glance, his dogs look similar to other dogs, but they are squat and short dogs that possess a big chest and compact snout. It took a long time, but eventually, Wilson made his dream Bully a reality. Razor's Edge dogs are up to the standards of the American Bully Kennel Club or ABKC which makes it an excellent candidate for dog shows.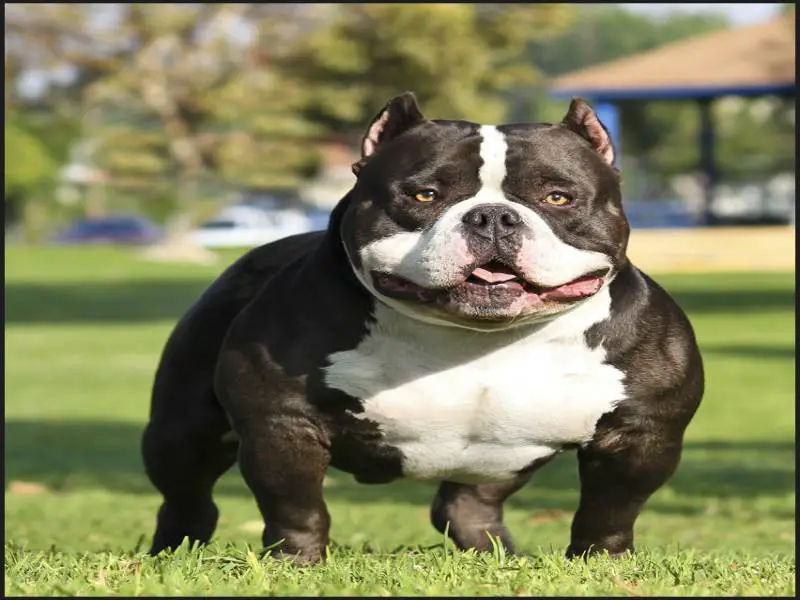 Gottiline Pitbull Bloodline
One of the most popular bloodlines of American Bully whose breed is more recent and new compared to other American Bully breeders established bloodlines. Dogs of this bloodline are easy to spot due to the bulky appearance that gives it the impression of being a powerhouse of a dog. They are bulky and stocky yet agile and strong at the same time. Though it may not look like a family dog that is lovable it actually is that kind of dog. Richard Barajas, a breeder of West Side Kennels, was the one who bred this bloodline whose sire Juan Gotty is the foundation of other American Bully bloodlines. If you want a 100% purebred dog of this kind it is advisable to go to breeders Roja Toma of West Coast Gottiline and Ed Sherperd of Dax line. Both are certified and reputable breeders whose dogs are top quality and genuine.
Colby Pitbull Bloodline
Here you can find dogs that are well-muscled and fit with good gameness, temperament, and conformation. Its bulky muscular build gives the impression of great strength. These traits along with being agile, limber and alertness make them very good athletic pets. Compared to other American Bully breeders this bloodline's breeder John Colby has bred these kinds of dogs in 1889 making this Bully bloodline 118 years old to date. Today many Bully breeders would still breed a 100% Bully from a Colby bloodline due to the mentioned traits above. Quite an achievement for a line of Bullies that is more than a century old.
Remyline Bloodline
Founded by Fabian Chichester who based the bloodline on Lowjack's Remy Martin a Razor's Edge dog. These dogs belong to this bloodline have temperaments and looks that very consistent instead of varied. It is because the breeder Fabian Chichester just used one dog to produce Remyline. The stud Remy Martin had a thick bone structure that is heavy in density, blue-colored fawn, a great headpiece and bad-boy looks stare in his profile. Remy Martin is currently one of the most prolific studs and has more than a thousand registered offspring. Due to its popularity, many kennels are lined up for the chance to add Remy's bloodline to their own.