Are you looking for good American Bully Supplements that are guaranteed to work wonders in your Bully dog? It would be advisable to buy the top best vitamins and protein supplements for your dog that are currently available on the market. American Bully dogs need a little help from vitamins and protein supplements to augment as well as improve their physical health. After all, a healthy American Bully is a happy dog, and happy dogs are the best kind of pets for Bully lovers.
Please note that American Bully vitamins and protein supplements are different products from steroids. The main use of supplements for Pitbulls and American Bully dogs is to increase their body muscles, provide the essential nutrients to the Bully and improve the dog's immune system.
Steroids on the other hand only increase the muscles of dogs that are given this stuff. Steroids could also give your Bully some side effects like these:
An increase in thirst and appetite
Weakened immune system
Allergy symptoms increased
Gaining weight
Blood clots
Diabetes
Hair loss
Any Bully owner who loves their dogs should try to avoid giving them steroids. American Bully Supplements that have vitamins and protein ingredients are the only legit and safe products for your dog.
There are many American Bully vitamins and protein supplements currently available on the market. Your dilemma is what vitamins and protein supplements are the best for your dogs. You will be looking for supplements that have the best protein and vitamins that can maximize the supplement product's overall effectiveness. You must also take into account the number of servings of each product that can give your dog as well as the price. Admittedly some of these protein and vitamin supplements have a more-than-average price, but there is no doubt that these American Bully Supplements are worth the price that you will be paying. You can't put a price on your American Bully Dog's health.
Our Top 5 Picks For Best Supplements For American Bully and Pitbull
Gorilla Max Protein Muscle Supplement for Dogs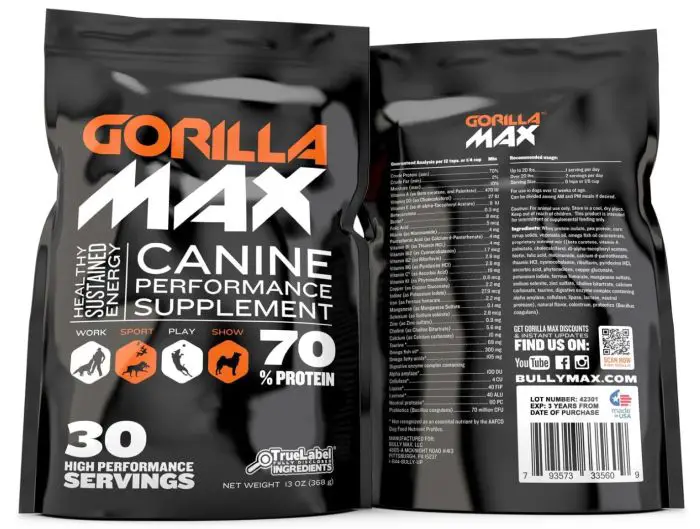 Nutritional Facts:
Help build muscle mass for your Bully.
Every serving of Gorilla Max has 20 grams worth of protein.
Increases your dog's immune system to avoid and prevent ailments that would affect it.
The American Bully is given an overall improvement of health and living thanks to the products of high-quality protein and vitamins.
Read Also: Bully Max The Best American Bully Vitamins Review
Vita Bully Supplements for Bully Breeds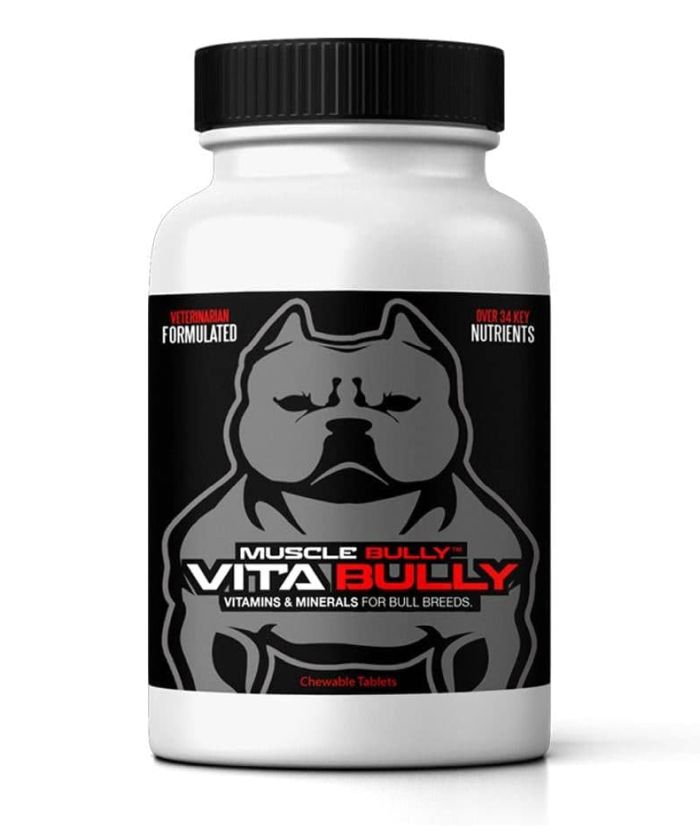 Nutritional Facts:
Vita Bully has more than 34 essential nutrients for your American Bully's overall health. Each of these nutrients contributes to the overall health of the dog.
Boosts the repair and growth of Bully dogs thanks to the product's amino acids.
Contains antioxidants to help the dog's immune system.
Provides fatty acids for maintaining a Bully's shiny coat.
Digestive enzymes for maintaining a healthy gut. A healthy gut improves the Bully's digestive system.
Can be used for puppies to help their growth.
Vita Bully is safe with no side effects.
Also, has the veterinarian's approval making it an ideal supplement for your dog.
It tastes great as a supplement. Dogs will have a very healthy appetite and motivation to take it without hesitation.
Read Also: Top Rated Dry Dog Food for Pitbulls (Review)
Muscle Bully Creatine for Dogs
Nutritional facts:
Muscle Bully Creatine for Dogs is a very safe and effective supplement for dogs. 100% guaranteed.
The supplement possesses absolutely no side effects. A good choice for those who are conscientious about their pet's health.
Adds size and build to an American Bully's muscles. Results in big-bodied Bully, which is the ideal form of this dog.
Ingredients are all-natural and raw which makes this product great.
The product contains no artificial ingredients like salt, artificial flavoring, and sugar.
Can give 400 servings to your dog.
Enhances the power, muscle strength and performance of Bully dogs. A good supplement for very active Bullies.
Made from 100% pure creatine. The purity of this one ingredient is what makes this product so effective.
This supplement is scientifically proved to be beneficial and effective in improving a Bully dog's health. This scientific fact alone gives the supplement credibility when it comes to improving and maintaining your dog's healthy existence.
Trophy Dyne, High-calorie Supplement for American Bully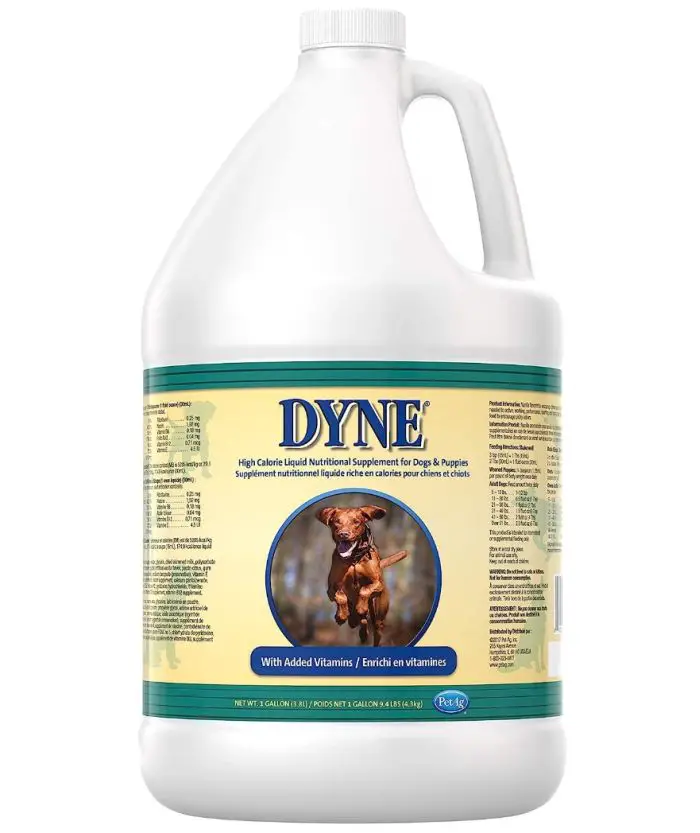 Nutritional facts:
Contains minerals and vitamins capable of maintaining a dog's blood level at normal parameters.
The supplement is a liquid type. In spite of its liquid form, Bullies will find that this product is palatable to their taste.
Used to combat dehydration in dogs that have active lifestyles allowing your pet to enjoy its exercises and activities without getting too dehydrated.
Also used to help an American Bully recover from stress caused by traveling.
Improves a dog's coat luster as well as its skin content that results in one good-looking Bully.
Compared to other brands of American Bully Supplements it possesses about half the ounce per calorie making it a very economical product.
Excels in renewing nutrients and weight losses of an American Bully due to ailments like parasite infection, malnutrition.
An ideal supplement for sporting and working dogs that need to replenish their energy lost due to such strenuous activities.
As an additional bonus, it can be used on other animals regardless of whether they are household pets, livestock or domesticated animals.
Muscle Bully Puppy Naturals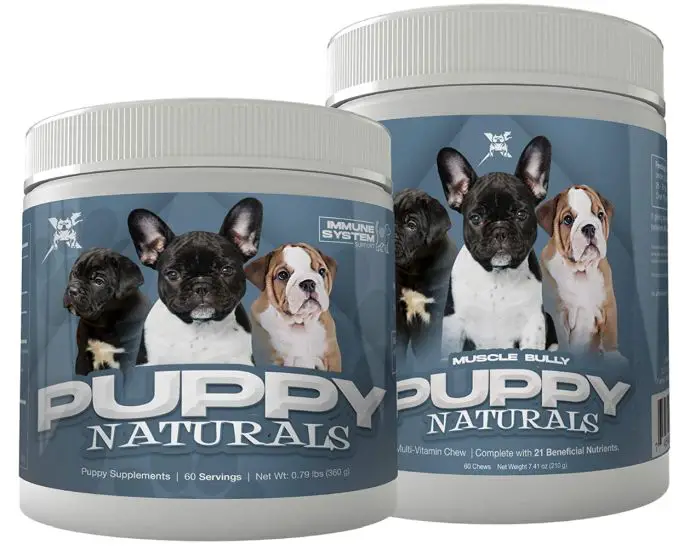 Nutritional facts:
Specifically designed for bully breed puppies.
Contains 23 vitamins and minerals to help puppies grow in their juvenile years
Has 18 BCCAs that helps in the metabolism of proteins and muscle-building
One serving contains 30% protein and 40% healthy, bulk-building fats
Great-tasting flavors loved by puppies and is also safe for nursing Pitbull mothers
Loaded with vitamins, minerals, amino acids, digestive enzymes, and fatty acids
Promotes a nutrient-rich diet for Pitbull puppies
Promotes a healthy immune system, luxurious coat, brain and eye health, strong bones, teeth and nails, better digestive performance.
Provides key nutrients to support proper development in the critical growth period
100% satisfaction guaranteed
Read Also: Top Rated Dry Dog Food for American Bulldogs (Review)
Be careful of buying fake supplements since these are worse than steroids. Fake supplements usually contain ingredients that are useless at best and dangerous at worst to dogs. Try to verify the authenticity of an American Bully Supplements first to avoid wasting your money on a fake product that can endanger your Bully.
There are other Pitbull and American Bully Supplements out on the market. The ones listed above are the best supplements used by Bully dog owners. Each one of the products listed above is ideal for keeping your Bully health and fit. Don't worry about spending money on these reasonably priced vitamins and protein supplements.
You just spent your money wisely in buying supplements products that are guaranteed to work and are perfect for your pet. With these supplements, your Bully dog will have a good, long healthy as well as a happy personality.