Are you wondering why dogs need supplements or what kind of supplements will work best for your furry companion? If yes, then you came to the right article. Supplements are responsible for making your furry companion energetic and healthier. But, aside from supplements, your doggos also needs a healthy food diet.
Bully Max is a well-known company that makes vitamin supplements specifically for Pitbulls. This article features Bully Max reviews. Read until the end of this article to know more about the company and what kinds of supplements will be the best option for your furry companion. So keep on reading!
Bully Max Dog Food Reviews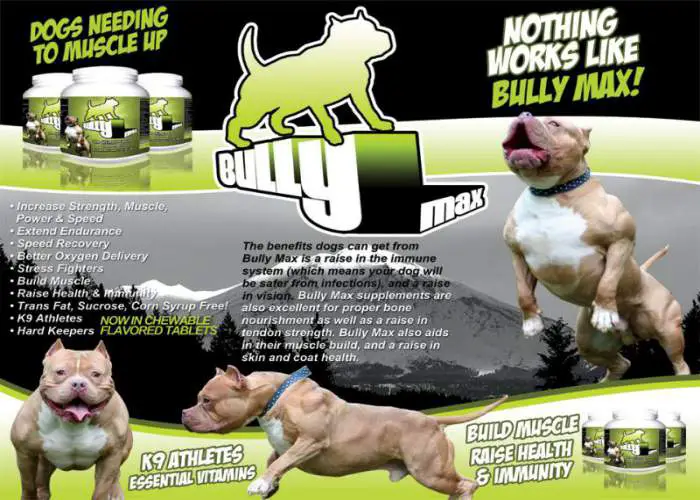 The company Bully Max sells products made specifically for Pitbulls. They have produced numerous products that will surely catch the eyes of Pitbull owners who want muscle growth for their doggos.
Bully max improved their products and added dry foods for dogs and numerous dog supplements. They also introduced another dry food recipe for dogs, which is great for dog parents who love the brand but want some changes.
Although these products are formulated for Pitbulls, they can also be consumed by other dog breeds, which can be an option for non-pitbull owners. Besides, they have products for different ages of dogs, which means senior dogs and puppies can also benefit from these products.
What is also awesome is, they have weight gain and food supplements products made for owners who want their dogs to gain muscle mass. Although, some of these products aren't ideal for dogs who gain weight easily.
Bully Max Health Supplements
There are plenty of dog supplements in the market that leave dog owners a bit overwhelmed because they may have no idea what kind of health product will work best on their dogs- which is fine. After all, the products have labels where you can read what will fit your dogs the best.
The use of natural ingredients is always ideal, so look for a brand that assures their client that they will be offering only high-quality natural products- such as Bully Max, for example. The FDA requires companies that produce supplements for dogs, including Bully Max, to meet FDA requirements for their products.
What Are The Ingredients in Bully Max Dog Food?
Bully Max introduces us to two different recipes for dog foods which offer plenty of nutrients than other average dog food recipes or brands on the market. Listed below are the ingredients used in these two recipes:
Chicken meal
Bully Max picks limited kinds of meat ingredients, considering the fact that the brand only has one recipe for dry dog foods. Chicken meat is affordable yet filled with fat and protein. Although some dog owners are intimidated by the word meal, the thing is, they shouldn't be. Chicken meal is meat where the moisture is removed, which means a thicker protein source.
Grains
Bully Max only uses chosen grain ingredients in their dog food recipes, some of which are brown rice, barley, and sorghum. These components are the best grain options compared to others like corn and wheat. Although, these kinds of wheat inclusions on dog foods might still be controversial for some, and other dog owners still prefer dog foods without grains.
Chicken fat
Plenty of brands that make dog foods put chicken fat on their dog food recipes to enrich the flavor and because it also gives a generous amount of animal-based fats. Aside from being a cheap alternative, it is also the most convenient source of healthy fats.
Fish meal
Typically, dog food brands whose ambition for their product is to be high in protein uses fish meal. Usually, these brands use Menhaden Fish and process it to remove the oils, which makes the fish meal nutritionally dense. Fish meal can also be used either on cat or dog foods.
Beet pulp
Beet pulp is also one reliable soluble fiber source in the products of Bully Max. As we all know, soluble fiber is a must for dogs to make sure that they have consistent and regular bowel movements and digestion. That said, although beet pulp is a good source of fiber, other than that, it doesn't provide that much nutrition.
Brewers yeast
For more minerals and vitamins in their dog foods, brewers yeast is also one of their key ingredients. It is packed with Chromium and Vitamin B, which gives plenty of health benefits to our furry friends.
Flaxseed
If you are looking for a plant-based option with Omega 3 fatty acids, then flaxseed is the best option for you. The fatty acids not only give your dog healthier and shinier skin and fur, but it also prevents your furry companion from avoiding certain diseases.
Bully Max Health Benefits
The goal of any dog food and supplement is to give your furry companion a healthier life and avoid certain diseases. Listed below are the things your chosen dog food and supplement must offer your furry companion:
Boost of the immune system
Strengthen bones
Improvement of visions
Muscle growth
Protects and gives prenatal vitamins for nursing or pregnant dogs
Increases energy and performance
Enhanced digestion
Helps aging dogs to help with their joints and hips
Excellent source of Omega 3 for all kinds of dog breeds
Doesn't have side effects
All in all, these supplements give plenty of nutritional benefits, including vitamin D3, K, D3, A, and B12, as well as other superfood ingredients like flaxseeds that offer Omega 3.
Does Bully Max really work?
If your Pitbull suffers from being skinny, small, underweight, or a combination of these, you might consider supplements for muscle growth to help your furry companion avoid diseases and be healthy in general. It will help your dog to maximize his full potential, especially for dogs who enter in sports.
Great nutritional profile
If you are going to look at the Bully Max high-performance dog food, you will notice that it is not your typical dry food for dogs. It offers 22% of fat, 33% of dry matter protein, carbohydrates of 36%, and the fat-to-protein ratio is also 67%. Therefore, it is an above-average dry dog food.
Above average proportions
Bully Max offers a product that has below-average carbohydrate and above-average fat, which is why they are superior to other dog food brands. The flaxseeds and brewers yeast give a protein-boosting effect, which has the performance of a dog food jam-packed with meat.
In fact, fat and protein are essential to every canine's diet no matter their breed or activity level. Of course, dogs that have an active way of life like a young Pitbull will most benefit from this high-quality nutritional mix.
Where Can I buy Bully Max products?
Bully Max and other dog food brands are now featuring subscription purchases which give their customers home deliveries, discount, and other exclusive benefits. Although, this service is currently only offered in the U.S. But their products are easily available in other large online retail websites like Amazon.
Popular Bully Max products
Here are the best dog food products and supplements by Bully Max:
1. Bully Max High Performance Super Premium Dog Food
The Bully Max High-Performance Dog food is made in the United States and offers natural and meat-based formula. It also offers more than 30% protein and 20% fat compared to other typical dog food brands. This dog food offers more than enough by its 535cal per cup, which can make your dog nourished.
The Bully Max High-Performance dog food doesn't contain artificial flavors, preservatives, colors, or any other hidden ingredient that may cause harm to your beloved furry companion. It's only made with real meat, which is packed with amino acid that helps muscle growth.
This product is suitable for any dog breeds from ages four weeks or older. It is designed to be compatible and work alongside any Gorilla Max or Bully Max supplements. Once you figure the best combination for a high-protein diet, your dog will be glowing and healthy. Keep in mind that some plant-based sources of protein can cause allergic reactions.
2. Bully Max Total Health 7-in-one Dog Supplement
No products found.
The Bully Max Total Health 7-in-1 Dog Supplement can support your furry companion's skin and coat, and comes with digestive enzymes which may result in better digestion. It also supports the joints and hip, and also provides vision support and cardiovascular support. This all comes in a form that can be easily eaten by our furry friend because it is flavored.
This also has tons of CFU in each scoop, which keeps the great state of the immune system of your dog. You can now help your dog avoid viruses and illnesses with this yummy powdered supplement.
It also offers Omega-6 and Omega-3 fatty acids, which are healthy fats intended to help cure itching and hot spots that can be irritating for our furry companion. This also helps them to have a shinier and healthier looking coat. All ingredients are natural, so they do not have soy, corn, wheat, or any preservatives.
3. Bully Max The Ultimate Canine Supplement
If you want to protect your dog from all kinds of infections and enhance their metabolism and vision, go for this Bully Max Ultimate Canine Supplement. It is a muscle growth supplement for our canine companion that also offers nourishment for the bone and raises the strength of the tendon.
This muscle mass supplement for our canine friends also helps them grow muscle and gives them a shinier and healthier coat and fur. It is recommended for hard keepers, K9, and other dogs that may need the help of this product.
All in all, it is a powerful supplement for dogs that can increase their strength, power, endurance, and if needed, speed recovery. It also helps your dog deliver oxygen better and fight stress, and it is a great option for dogs who undergo chemo, surgery, and trauma.
4. Bully Max Muscle Building Chews for Dogs
The Bully Max Muscle Building Chews is one of the most recommended muscle growth supplements for dogs because it is convenient, and it is also the most effective supplement out of them all. This is approved by veterinarians for all breeds of dogs from ages twelve weeks or older.
You might be wondering why you should choose this supplement. Well, it is infused with seventeen powerful ingredients used for muscle growth. It is used by plenty of dog owners, such as those who own K9 units, breeders, and veterinarians. This comes in tasty soft chews, which means measuring and mixing isn't necessary.
It doesn't also have any corn, soy, wheat, or fillers that may cause allergic reactions to your beloved dog. To sum it up, it is a muscle growth supplement that helps your dog enhance its metabolism, eyesight, and endurance. It also helps dogs recover, especially those who experienced post-surgery trauma.
Also Read:
Last update on 2023-10-02 / Affiliate links / Images from Amazon Product Advertising API