Are you thinking about taking home a Bull Terrier dog? Then you must be well-informed about their unique qualities and loving nature.
Welcoming a dog in your family is a great responsibility. You need to provide shelter, food, and everything they need physically, mentally, and emotionally.
It is also crucial that you ensure their training and socialization to become well-behaved pets in any situation.
Bull Terrier dogs can be your best buddy. These dogs are known for their unique oval-shaped profile and triangular eyes. Also, they are very independent, playful, and cheerful canines.
Having them around will be such a joy for everyone in the family. So, have you thought of excellent Bull Terrier names for your new pet?
If you haven't yet, we've prepared a list of popular, unique, and cool names you can aptly call your lovely Bull Terrier. Read on and to find the best one for your new friend.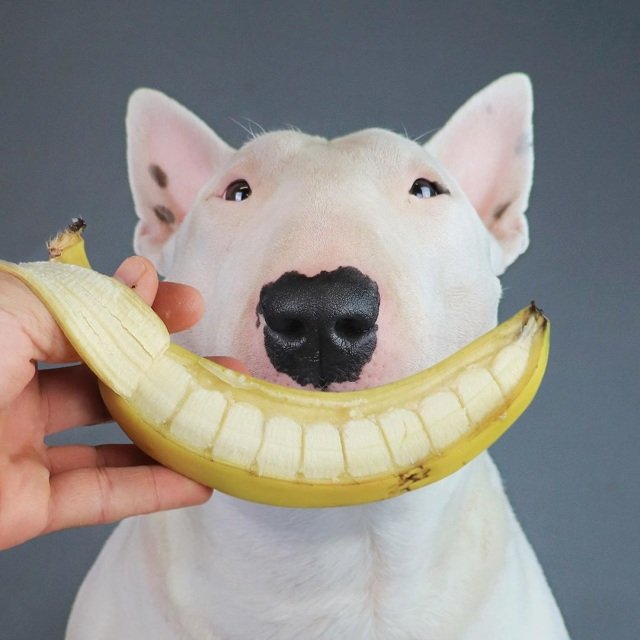 Female Bull Terrier Names
When choosing Bull Terrier names, you will indeed consider their unique origins and their strong lineage.
We've picked names that reflect their roots and some that evoke their image in the early 1900s as a companion dog to the gentry.
You may find some of these names to be familiar, but others are foreign-sounding too. Have female Bull Terrier dog names!
Amber – a beautiful yellow color
Arya – a strong girl character from Game of Thrones
Athena – the Greek goddess of War and Wisdom
Aubrey – a typical English female name for Bull Terriers
Autumn – pertains to the season
Avery – a wise counsel, friend
Basil – a flavorful spice
Bella – meaning beautiful
Biscuit – a favorite snack
Blossom – a plant's condition, a flower
Bree – an upbeat girl
Buttercup – kind of yellow flower
Candy – sweets or treats
Cassie – strong-headed girl
Charlotte – a delightful pastry
Cher – an endearment for a child
Clara – means clear in Latin
Crystal – unmistakeable, glass-like mineral
Daisy – a beautiful flower
Dixie – a nice southern name
Dutchess – a female royalty
Emma – means whole or universal
Eve – the first woman creation
Faith – confidence or trust
Foxy – sly or tricky woman
Gale – wind or joy
Ginger – a strong spice plant
Gypsy – a wandering woman
Holly – a symbol of Christmas
Iris – a type of flower
Other Bull Terrier names that you can give your good girl are:
Lucy
Sassy
Della
Calla
Pax
Lana
Ida
Una
Abby
Annie
Alice
Dawn
Laney
Kourtney
Elizabeth
Wren
Briar
Sue
Jadira
Mildred
Male Bull Terrier Dog Names
For male Bull Terrier names, you might want something badass yet very unique to its personality and breed.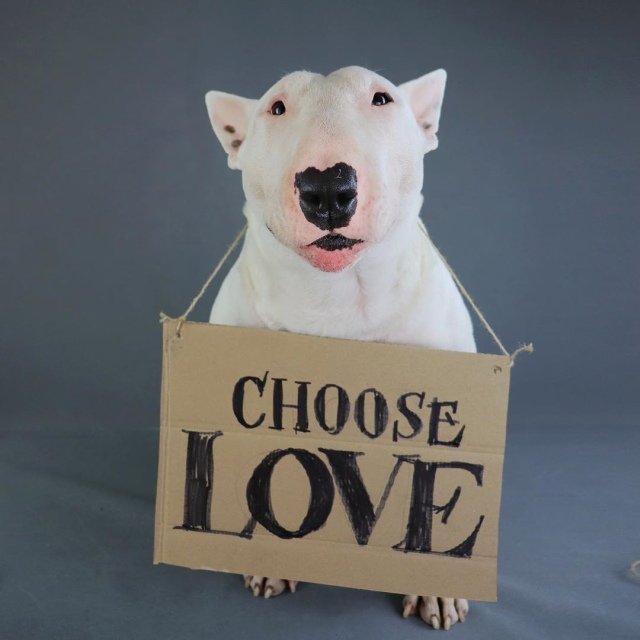 Most of these Bull Terrier names have a distinct sound and feel that will remind you of your pet's British flair. Here's the list of perfect monikers that you might just love.
Copper – the reddish mineral/metal
Bandit – an outlaw
Bear – a ferocious mammal
Vito – means full of life in Spanish
Jester – a royal clown
Farrin – a blacksmith in French
Gaspar – king of the treasure in Persian
King – highest monarch
Duke – another royalty
Prince – the one who will inherit the throne
Bully – an overbearing person
Bruno – means armor
Caesar – a long-haired
Edward – protector of wealth
Felix – means happy
Frank – a free man
Gus – short of Gustave
Harry – ruler of the home
Hunter – a hunter
Max – means great
Oliver – elf army
Oscar – divine spear
Rex – means king
Rusty – means full of rust
Shadow – mean dark side
Simon – means a listener
Spike – a long pointed material
Victor – a winner
Wolf – a wild canine
Zeus – a Greek God
Other excellent Bull Terrier names that you can consider for your male best buddy includes the following:
Franklin
Davis
Skip
Edgar
Sutton
Tucker
Jasper
Corbin
Ted
Wyatt
Grover
Todd
Butch
Dagger
Hades
Gunner
Sheffield
Wyatt
Everett
Steven
Bull Terrier Puppy Names
Bull terrier puppies are adorable and delightful to have around. Naming them should not be hard for new pet parents. However, many are still undecided with what to call their new Bully puppy.
Here is a cool and cute selection of names that tackles their playful nature. Who knows, you might find something funny and lightheaded that suits your pet best.
Jinx – a playful dog
Ash – ideal for a gray-haired dog
Champ – means the winner
Free – for free-spirited dogs
Truffles – delicious choco balls
Coco – for chocolates
Tiny – a nice name for a rut
Toby – a common name for little boys
Taz – from the Tasmanian Devil character
Zoey – a cute name for Bull Terriers female puppy
Archie – the famous comic icon
Alex – means defender of men
Bertha – means the bright one
Bimbi – means glorious in Sanskrit
Button – a small item for clothing
Cake – a delicious dessert
Chica – a beautiful girl
Clara- means clear
Dallas – means dwelling
Diva – a famous singer
Other Bull Terrier names for your puppies include the following:
Dolly
Eddie
Beau
Bentley
Benjie
Draco
Pochi
Rio
Anjo
Rena
Calla
Kip
Steel
Skye
Rubble
Marshall
Rowdy
Comet
Fiery
Hero
Miniature Bull Terrier Dog Names
These smaller versions of the Bull Terriers are the same as their standard-sized counterparts, except for their size. In the early 1900s, these dogs were recognized based on their weight.
These dogs share the same fun-loving, loyal, and clownish personality similar to any Bully despite such differences. Thus, you can choose any fitting Bull Terrier names for these mini-sized fur babies.
Our list of names for miniature bull terriers are cute and curated explicitly for their pint-sized goodness!
Spunky
Todd
Squirt
Bowie
Buster
Beast
Titch
Bo
Gideon
Aspen
Caleb
Blanc
Gringo
Snowball
Curt
Winter
Dillon
Junior
Rascal
Chaos
Sugar
Sasha
Kendra
Blanche
Sugar
Sweet
Cleo
Kaya
Maggie
Sadie
Emma
Luna
Bambi
Pearl
Star
Twinkle
Leia
Luna
Raven
Rebel
English Bull Terrier Names
English Bull Terrier names are frequently chosen based on their reputation as a muscular, healthy, and vigorous canine. Other times, pet parents decide to call their pets based on their temperament and playful nature.
Choosing the perfect Bull Terrier names for an English Bull Terrier should only be limited to English names. There are so many fun and exciting names that you can give to your dog.
Their unusual looks, full of life and energetic nature, needs a matching title too! Here are some great options for you to consider.
Dulce
Pax
Spark
Gemma
Anna
Farrin
Ethan
Knoll
Bourne
Silver
Ransom
Tanner
Clayton
Lawson
Brook
Woody
Davis
Sutton
Mutton
Alvin
Grayson
Langdon
Colton
Kingston
Primrose
Perri
Maryjane
Harleen
Coraline
Luella
Kimber
Erin
Wendy
Brian
Charlie
Nyla
Howard
Elton
Jasper
Graham
Funny Bull Terrier Names
Finding funny Bull Terrier names is also another excellent move for would-be fur parents. These dogs have a reputation for acting silly just to make their owners happy.
They are always full of energy, and they always give their all when they are focused on something. These dogs also have a habit of greeting strangers enthusiastically, and it can be both funny and scary at times.
Make sure that your dog goes through early socialization and training so that they will be at their best wherever you go out in public. Here are some funny, some silly, but all adorable Bull Terrier names for your loveable dog!
Goofy
Eggo
Tricky
Joy
Zippy
Laddie
Perky
Spot
Bouncy
Joker
Bliss
Perky
Hope
Groot
Misty
Sunshine
Cookie
Barbie
Bolt
Doddle
Bacon
Elmo
Yoda
Pumba
Rufus
Waldo
Kevin
Peanut
Nugget
Nacho
Woofer
Putt-putt
Barkley
Waffles
Jabba
Chomper
Barney
Gollum
Pikachu
Frodo
Unique Names for Your Bull Terriers
We know that your pet is one of a kind. There is no other dog like him or her. Thus, it is understandable that you'd want to find a unique and unusual name for your best buddy.
The Bull Terrier names under this category have an exact meaning, and they instantly make a statement to whoever hears it. We are sure that these names deserve your consideration.
Liberty
Royal
Blessing
Marigold
Wisdom
Mercy
Justice
Whimsy
Mistic
Sterling
Sapphire
Temperance
Juniper
Journey
Allure
Lovella
Hera
Xena
Goldie
Vlad
Famous Bull Terrier Names
Unknown to many, Bull Terriers have that standoffish reputation as a gentleman's companion. They were famous canines during the early 1900s, and even until now, they still are very popular.
It can be observed how they were a preferred companion by various personalities and celebrities. If you're interested in Bull Terrier names based on their popularity, here are a few famous, exciting, and unique name stories to peruse.
Willie – General Patton's Bull Terrier
Baxter – from the movie Baxter, "Beware of the dog that thinks."
Brut – from the Novel Answers to Brut
Blue – owned and as famous as owner, the Canadian Hockey Commentator Don Cherry.
Bodger – an old white Bull Terrier that starred in the novel and movie The Incredible Journey
Bullseye – Bull Terrier names based character from the movie Oliver
Chico – the dog in the Next Friday and Friday After Next movie
Darla and Hoku – the Bull Terrier names by Kirk Hammett of Metallica band
Diablo – owned by hip-hop artist Adil Omar
Grimm – from the cartoon show Mother Goose and Grimm
Jock – a famous dog in South Africa, a companion dog of Percy Fitzpatrick. Jock had his novel entitled "Jock of the Bushveld."
Kiwi – said to be a Bull Terrier but looked more like a Whippet.
Lockjaw – the dog character in Sierra Pepper's Adventures in Time
Meatball – a white Bull Terrier owned by Major Gregory Boyinton in a TV series "Baa Baa Black Sheep."
Ronnie – is a dog owned by Rick Springfield. This dog appeared on the Working Class Dog album cover.
Rufus – he is the most awarded Bull Terrier dog in history. Many pet owners use this for their Bull Terrier names list.
Sam – this dog accompanied its owner, Alby Mangels, on his world travels.
Scud – a character from the movie "Toy Story."
Spuds Mackenzie – she is the "star" in the commercials of Bud Light Beer in the 1980s
Tugg – this dog gained popularity on the internet after rescuers chronicled his recovery after they found him abandoned and abused.
The Best Bull Terrier Names for Your Pet
Some of the most popular and best Bull Terrier names include Spunky, Spike, Squirt and Max. There are thousands of Bull Terrier names to consider.
Some prefer Bull Terrier names based on the dog's physical appearance, while others pursue a name that best describes their characteristics. It is understandable if you wish to give them something unique or unusual too.
Conclusion
Thinking of a perfect name for your new pet can be as hard as choosing the dog itself! When deciding what to call them, choose a few names, and try to call your puppy with each one.
Typically, dogs react to the first syllable, and the one they respond to and recognize would be the best choice for them. We hope that you had fun looking at our list Bull Terrier names and that you finally came to a decision on what to call your adorable new pet!
Have you found the perfect name for your Bull Terrier? What names do you have for your pet? Share with us some name ideas by leaving a comment in the box below.
More Dog Names