Bulldogs are one of the most common domestic dogs household owners have. According to the American Kennel Club (AKC), bulldogs are the kinds of dog breeds that are friendly, courageous, and calm. The breed even gained an AKC site rating of breed popularity of 4 out of 193 dog breeds that are recognized by the site. So, what makes the seemingly typical all-American bulldog special? Read on to find out.
What is an American Bulldog Breed Like?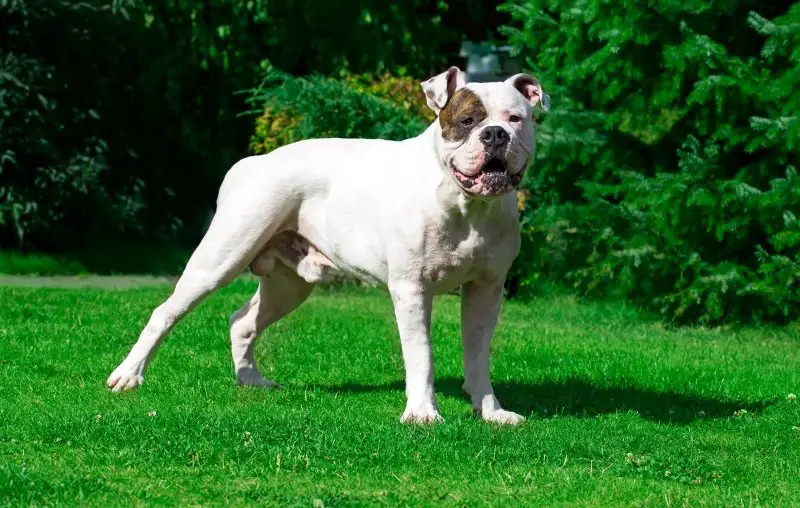 The bulldog is a special and one-of-a-kind dog breed just because you cannot mistake this dog for any other breeds out there. They have loose skin on its head, furrowed brows, and push-in nose – all of these characteristics are only present in just an American bulldog. Aside from that, they are also courageous and known to be protective of their owners. Bulldogs can weigh about 50 pounds which can make them feel like they are lazy. So, from time to time, owners would have to take them out to walking and they would need to have moderate exercise. Owners can take good care of their Bulldogs' health by feeding the dogs nutritious food that is good for their digestive health and any physical activities, as well.
OUR BEST SELLER DRY DOG FOOD FOR AMERICAN BULLDOGS
What's The Common Nutritional Requirements & Diet For American Bulldogs?
When it comes to the diet of your dog, you shouldn't just take any food and feed it to them. One, it has to be catered well and specifically formulated for the dog breed. You cannot feed normal human food to a dog on a regular basis because dogs have different makes of digestive systems compared to a human person's system. Dogs – to be specific in this case, American Bulldogs – have different nutritional requirements and dietary needs too. Here are just some of them.
Protein –  Some kinds of American bulldogs are extremely active and therefore, they would need higher sources of energy. Protein is one of the foods that a dog's system can extract energy from. It is recommended that you should feed your dog a good grain-inclusive food with about 28-30 percent protein to supply his daily protein intake.
Fat – Adult dog breeds will need at least 5 percent of fat to be included in their diet. Puppies and pregnant dogs, on the other hand, require a higher amount of minimum fat percentage comprising at least 8 percent of fat in their diet. If you're looking for dog foods, then it's important to note that almost all of the ingredients found in most dry dog foods are high in fat content since it's the most appealing to both dogs and dog owners alike. But, you should be careful with your American bulldog's diet. If you're going to feed him foods with high-fat percentage, there is a tendency that your dog can be overweight or can suffer from problems with their digestive health such as an upset stomach and diarrhea.
For the average American Bulldog, it is recommended to serve them food with about 12 to 16% of fat content which is considered to be a moderate amount for their size.
Carbohydrates –  These are important minerals for your bulldog because it will provide your active pooch the energy he would need to last the day with. Aside from that, carbs can also contribute fiber and other nutrients to your dog's digestive health. It also contains simple sugars and starches that help your bulldog's brain to function well. Complex carbohydrates, on the other hand, can prevent sugar spikes or rushes by regulating your dog's glucose levels. It's also important to make your dog feel heavy and full throughout the day. Fibers that come with the carbohydrates ingested can also help regulate your dog's digestion and metabolism.
Fiber – Fiber should also be taken on its own and not be dependent on the fibers from carbohydrates. Usually, fiber is either soluble or insoluble. The difference is that soluble fiber is usually found in beet pulp, chicory, and inulin. This type of fiber can slow down the digestive process by attracting water and turning the material into a gel – hence, it's named soluble fiber. Insoluble fiber, on the other hand, can be found in cellulose and can help speed up your dog's digestive process. If you have an overweight dog and are looking forward to watching his weight, then you can feed him foods that are rich in insoluble fibers to help him feel full and metabolize the food that was previously ingested as fast as they could.
Most of the dry dog foods found in the market contain about 3 to 6 percent of crude (or pure) fiber. However, you may want to consider checking the state of your bulldog's stools before deciding whether to give him foods that are high in fiber or not. If your dog's stool has high fiber percentage, then you might need to change his dog food that has slightly less fiber.
Probiotics and Prebiotics – These are two components that you should make sure your dog foods have. Prebiotics are also known as dietary fiber and it promotes the growth of healthy bacteria inside your dog's system. Two of the most common prebiotics found in dog food are chicory and inulin. While probiotics are living organisms that are also added to your dog's food as well for them to form colonies with millions of good bacteria in your dog's digestive system. Once the probiotics have grown into your bulldog's body, then it can then improve your dog's overall digestion.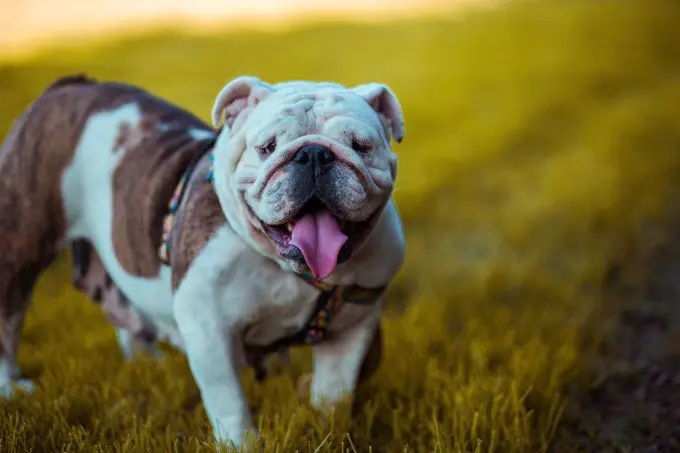 A Guide to Feeding American Bulldogs by Age
Since American bulldogs are such a different breed from all the others, there is a certain amount when it comes to feeding them food depending on how old they are. You cannot serve food 5 times a day to a 3 month-old bulldog just because his digestive system cannot take it yet. Here's a quick and short guide that can help you estimate how much food you should give to your pet.
If your dog is around:
0 to 3 months old –  Your dog is still considered a puppy! Hence, you should be able to feed him a dog food specifically for bulldog puppies. Since they are still growing, they would need to be fed more often than larger breeds. Puppies around this age should be fed up to at most 4 times a day.
For the serving size, a two-month-old puppy should be fed 231 to 271 grams of dog food per day while a three-month-old puppy should be fed about 276 to 341 grams per day.
3 to 6 months old –  Technically, your dog is still considered a puppy for this age. However, you would want to lessen his food intake so you can make sure that he won't have any health issues or weight problems when your American bulldog grows a little bit older. You should feed your puppy around this age at most 3 times a day.
For the serving size, a four-month-old puppy should be given 297 to 371 grams of dog food per day, 304 to 410 grams per day for a five-month-old and 304 to 446 grams per day for a six-month-old American bulldog.
6 to 12 months old –  During this stage, your dog should be playful enough to be able to burn down all the food that he was able to ingest when he was young, your puppy can now only be fed at most 2 times a day.
However, the serving size should double since the frequency of giving them food have been decreased. For a seven-month-old bulldog, it is recommended to give him 282 to 446 grams of dog food per day; for an eight month old, 240 to 387 grams per day; nine month old with about 216 to 320 grams per day; ten month old, about 215 to 318 grams per day; eleven month old with about 476 to 991 grams of dry dog food per day while for a twelve month old bulldog or one year old dog, you can give him 434 to 941 grams of food per day.
Generally, if you are having troubles remembering the frequency and serving size you should give your bulldog, try to think of this principle instead:
The younger the dog, the more times you should feed him per day although with lesser serving size or amount. Conversely, the older the dog, the less times you should feed him per day but feed him with a larger serving size or amount of dog food. The ranges of the serving size will also depend on the build of your dog and how much dog food he could take in one sitting.
Dog Food for American Bulldogs Review
1. Nature's Variety Instinct Raw Boost Grain Natural Dry Dog Food + Free Recipe
No products found.
Nature's Variety Instinct Raw Boost grain-free Dry Dog food is freeze-dried with raw grass-fed lamb. It's recommended for your American bulldog especially if he would need a high-protein, and grain-free diet. What sets this aside from all the bulldog dry dog foods have grass-fed venison as its top ingredient. Raw boost is also infused with high probiotics which means giving your bulldog this food will help support his digestive health and even give him the healthiest skin and coat he could ever have. It's also recommended especially if your dog is hypersensitive with it comes to food since most bulldogs can easily get food allergies with some food. The raw boost is made without any grains, potatoes, corns, wheat, soy or any artificial colors or preservatives. Hence, it's perfectly safe for your dog's allergies!
This dog food contains all the nutrients your dog could have. It's even perfect for any age of your bulldog – even if he's still a puppy or a full-grown dog. The ingredients are also made from all-natural and real meat with whole food ingredients that are protein-packed and even minimally processed, assuring that your dog gets pure and real nutrition of raw in every bowl.
Features:
Grain-free and high in protein
Made only from the finest ingredients
Considered to be the first raw boosted kibble
Can make your dog's coat and skin healthy
No preservatives and artificial colors added
Pros:
Great for dogs who need high protein intake
Recommended for bulldogs that have food allergies
Made from all-natural ingredients
2. NUTRO Wholesome Essentials Adult Dry Dog Food
If your dog's favorite is chicken meals, then this is the best dry dog food you could give him. The Nutro Wholesome Essentials Dog Food is made from farm-raised chickens, making it as its number one ingredient that delivers the great taste and helps support your dog's muscles to be stronger. This is also recommended for large breed dogs since it's made with all-natural sources of glucosamine and chondroitin. The formulation of this dog food is made specially to support your dog's healthy joints. It's also crafted with essential antioxidants such as vitamins E and A that are needed for a healthy immune system.
This dog food is also crafted with real and recognizable ingredients and not with genetically-modified organisms (GMOs). It's not made with chicken by-product meals, corn, wheat, or soy protein and it doesn't definitely contain any artificial flavoring, colors, and preservatives.
Features:
Formulated specially to support your dog's joints
Contains vitamins A and E
Made from all-natural ingredients
No artificial foods and preservatives included
Made from farm-raised chicken
Pros:
Great for dogs with protein allergies
The formula is tailored for all dog life stages and breed sizes
Contains real and recognizable ingredients
3. CANIDAE Grain-Free PURE Dry Dog Food (Lamb)
The Canidae pure dry dog food uses only real food as its ingredients to make sure that it will give your bulldog the healthy food he needs. Enoch ingredient is made from 7 to 10 key ingredients that are easily recognizable. These 10 key ingredients are lamb, turkey, chicken, sweet potatoes, chickpeas, peas, chicken fat, and Menhaden fish meal. There are no food preservatives, artificial flavorings and genetically modified organisms (GMO) in this dog food. All of which are obtained from all-natural sources. If you have an oversensitive dog, then you should know that there are no corn, wheat, or soy in this dog food, so you shouldn't worry about your bulldog getting any food allergies from this. You can feed your dog all the great taste they crave and deserve to have while getting all the nutrition they need.
Features:
Made from all-natural ingredients
No artificial flavors and colorings
Not made from any genetically modified materials
Contains 10 key ingredients
Great source of protein and other nutrients
Pros:
High in protein
Does not contain wheat, soy, or corn
Recommended for bulldogs that have food allergies
4. Royal Canin Breed Adult Dry Dog Food For Bulldog
The Royal Canin dog food is recommended for adult bulldogs. It's designed to specifically meet the nutritional needs of purebred Bulldogs that are 12 months and older. It's exclusively tailor-made for large breeds to pick up and chew their dog easily. Aside from that, the ingredients included in this dog food helps reduce gas and stool odor with highly digestible proteins, precise fibers, and high-quality carbohydrate sources. It can also reinforce the skin barrier with all the essential nutrients that are needed to support healthy skin and wrinkles. You can also give your dog this dog food to maintain bone and joint health with EPA and DHA to support short and stocky bulldog bodies.
Bulldogs generally have sensitive skin, so this dog food specifically formulated for purebred bulldogs is perfect for their diet. The kibble itself is specifically designed to fit your bulldog's unique jaw structure.
Features:
Specially formulated for purebred bulldogs
Can help strengthen your dog's bones and joints
Contains vitamins and minerals that will nourish your bulldog's skin and coat
Kibbles are designed for different jaw structures
Made from natural and healthy food
Pros:
Help reduce stool odor
Supports digestive health
Supports bone and joint health
5. Blue Buffalo Life Protection Formula Natural Adult Dry Dog Food + (Chicken & Brown Rice)
The Blue Buffalo dog food uses real meat as its first ingredient. It has a high-quality protein that can only come from real chicken, which can help your dog build and maintain healthy muscles. They also contain wholesome whole grains, garden vegetables, and fruits. It's also specifically formulated for adult dogs since it contains the essential proteins and carbohydrates to help meet adult dogs' energy needs and omega 3 and 6 Fatty Acids to promote a shiny coat and healthy skin. It also contains a precise blend of antioxidants, vitamins, and minerals that are carefully selected by veterinarians and animal nutritionists alike. This food will help support your dog's immune system health, life stage requirements and healthy oxidative balance. Aside from that, it's also made with just the finest natural ingredients that are enhanced with vitamins and minerals.
Features:
Does not contain any chicken by-product meals, corn, wheat, soy, and artificial flavors or preservatives
Uses real meat as the key ingredient
Recommended for adult purebred bulldogs
Contains whole grains, garden veggies, and fruits
Infused with omega 3 and 6 Fatty Acids
Pros:
Available in different tasty flavors
Contains vitamins and antioxidants
Recommended for dogs with joint problems
6. Nature's Recipe Grain Free Easy to Digest Dry Dog Food
Nature's Recipe Grain-Free Dry Dog Food is the closest thing to a raw food diet that you can give your American Pitbull dogs. It is a delicious grain-free formula designed to provide for your dog's high-energy needs. It uses real-chicken blended with peas, sweet potato, pumpkin, and garbanzo beans. It has all the required protein and fiber for optimal digestion. It has no artificial flavors, colors, preservatives, or by-products so you are confident in feeding your dog. It contains 25% crude protein, 15% crude fat, 4% crude fiber, and 10% moisture. Your adult American Bulldog will have a healthier coat and an easier time chewing this moist kibble. Although this brand's fiber content is a bit lower than others, pet owners can provide other fiber sources such as treats or vegetables.
Features:
Contains real-chicken meat
Has a healthy mix of protein, carbohydrates, fiber, and fat
Grain-free soft kibbles
Provides for your pet's high energy needs
Easy on the stomach
Pros:
Easy to digest
Does not cause indigestion or bloat
Soft and moist kibbles
High-fat content for a healthy coat
Ideal for all life stages
7. ORIJEN Dry Dog Food Biologically Appropriate & Grain Free
The Orijen Original Dry Dog food is recommended for dogs that possess a biological need for a diet that's rich in various nutrients and minerals that can only be obtained from fresh whole animal ingredients. It has about 38% of protein and 20% of carbohydrates, which are two of the most essential key nutrients your bulldog needs. The ingredients used for this dog food don't come from rendered poultry meals. One-third of the meats are from dehydrated chicken and turkey, which means that these poultry are air-dried at low temperatures from fresh meat for a more concentrated source of nourishing protein. The remaining two-thirds of the meats are either fresh or raw that are flash-frozen meat and don't contain any preservatives. It also contains nutrient-dense WholePrey ratios of fresh meat, organs, cartilage, bones, fresh whole fish and whole eggs as a natural source of every nutrient your dog will need.
Features:
Great for any large dog breeds
The meat came from dehydrated chicken and turkey
Does not include any artificial flavorings and preservatives
Has 38% protein and 20% carbohydrates
Does not contain any GMO
Pros:
Equipped with nutrient-dense WholePrey ratios of different sources of vitamins and minerals
Unmatched by other dog foods
Can work with any biological needs of your dog
8. Purina Beneful Healthy Real Chicken Adult Dry Dog Food
No products found.
The Purina Beneful Dry Dog Food is made from real farm-raised chicken. This is the main ingredient in dog food; hence, dog owners are assured that their bulldogs will get the right and exact amount of nutrients they will need. Aside from that, there are also bits of real peas and carrots added to the dog food, so dogs could find the meal appetizing enough. Overall, this dry dog food components are rich in antioxidants and can help support your dog's healthy immune system. This is also recommended for dogs that are watching their weight since it has 10% fewer calories than most of this caliber's dog foods and it doesn't have any sugar as its additives.
Features:
Made from farm-raised chicken
Contains 23 essential vitamins and minerals that can support your dog's overall health
Real peas and carrots are included in the mix
Rich in antioxidants
Can help boost your dog's immune system
Pros:
Ideal for dogs who are overweight because of its lesser calorie content
No added sugar
A nutritious and flavorful treat for your dog
9. IAMS ProActive Health Adult Breed Specific Dry Dog Food
The IAMS Proactive health adult Bulldog Food is ideal for both American and English bulldogs alike. The ingredients included in this dog food are tailed to bulldogs' nutritional needs for a healthy and balanced diet. This dog food is specially formulated with L-Carnitine, which is essential in keeping a healthy metabolism and digestion for dogs. It's made with real chicken and it does not contain any soy, wheat, or fillers that your dog can get an allergic reaction from. On top of everything else, a serving of this dog food gives your bulldog a healthier functioning heart and stronger and more firm muscles.
Features:
Improves healthy digestion and metabolism in dogs
Supports bones and joints by making these strong and durable
Maintains your dog's healthy skin and coat
Infused with proteins that are sourced from chicken and eggs
Contains real chicken and no preservative or chicken meal by-products
Contains L-carnitine, which can help improve your dog's digestive health
Pros:
Perfect for either American or British bulldog
Contains real chicken, wholesome grains, carrots, and beet pulp
Specifically formulated for Bulldogs
Common Food Allergies of an American Bulldog
American bulldogs are considered one of the strongest dog breeds globally, but that doesn't mean that they are not exactly immune to any food allergies. Therefore, it's important to serve your Bulldog Food that is safe for him, especially if he has any present food allergies. Here are the most common food allergies of an American Bulldog you should look out for:
Grain allergy –  This is the most common type of food allergy that American bulldogs usually experience. This can be avoided, however, if your dog avoids all kinds of dog food with grains. With that, you can feed your dog a grain-free and gluten-free diet.
Carb allergy –  Potatoes are the most common carb allergy source in American bulldog, But that especially doesn't mean that all dog foods that contain carbohydrates are harmful to your dog. If, however, your dog has an existing carb allergy, you can buy potato-free dog food for your American bulldog.
Peanut allergy –  Peanut allergies or, generally speaking, nut allergies are your pooch's response to a protein that poses a threat in your dog's system. Dogs with peanut allergy often suffer from itchy and swollen skin, and wheezing, ear infections and gas pains. You can buy nut-free dog foods to avoid this kind of food allergy.
Soy allergy –  When your bulldog is allergic to soy, it can cause hypersensitive reactions to your dog, resulting in severe itching and distress for your pet. You can avoid this by minimizing your dog's exposure to food that is rich in soy.
Chicken allergy –  Some chicken meals can also cause distress or any allergic reactions to your dog. Chickens are part of the poultry group that can cause food allergies in dogs, such as indigestion, ear infections, and breathing troubles.
Beef allergy –  Some commercial dog foods contain chicken or beef; if you want to give your dog some protein from meat, you would have to stick to some lamb alternatives.
There are actually a lot more food allergens that your dog can be hypersensitive to. However, you can avoid stressing your dog by buying dog foods that don't have such ingredients.
Common Food-Related Health issues of an American Bulldog
Bulldogs are known to be one of those large dog breeds that can really get overweight if you overfeed them food. What's also worst is they are one of the most hypersensitive dogs when it comes to food. Therefore, you would need to really watch out what kind of food you are giving to your dog to help him avoid food-related health issues. Here are some health issues your dog may encounter that were caused by dogs:
Hip Dysplasia – This is a bone-related disorder that's caused by a lack of calcium. This is common in underweight dogs and it can lead them to have trouble with moving and slight pain in the hip bone area and joints.
Bloating – This is usually a digestive health issue that most AmericanBulldogs have. Gassy food items usually cause it, and dogs suffering from a sensitive stomach are most prone to having this kind of disease. When untreated, it can result in indigestion and constipation.
Obesity – Low-fat diet can cause obesity in dogs. It can also lead to joint and thyroid problems when untreated.
What's the Recommended Calorie Intake for American Bulldogs?
The recommended daily calorie intake for a typical American bulldog is at least 1,358 calories. According to the National Research Council of the National Academics, this is based on a bulldog weighing about 50 pounds, at least, living a healthy and active lifestyle. Older bulldogs, however, would need lesser calories since they are less active than the usual active bulldog. However, for growing bulldog puppies, they would need a greater amount of calories even if they aren't as active as more developed bulldogs. A young bulldog who's weighing around 50 pounds may require at least 1,451 calories per day.
If you're having some trouble remembering the conventional calorie intake, you can instead remember this: The younger and more active your American bulldog is, the higher calories you should feed him. Conversely, the older and less active your bulldog is, the lower calorie intake you should feed him. In any case, you should make sure that your bulldog's food intake is just enough for him to live a healthy lifestyle.
Conclusion
Both American and English Bulldogs are just as precious as any dog there is out there. However, since they are more sensitive to having food-related health problems such as obesity and hip dysplasia, as well as food allergies, then you may want to give him the healthy treat he deserves. Also, you have to take into consideration your pooch's age and lifestyle. You, as their owner, should be responsible for looking for the Best Dog Food for American bulldogs – it should be healthy, full of nutritious elements one can get from fruits and vegetables, as well as Affordable Dog Food.
Last update on 2023-10-02 / Affiliate links / Images from Amazon Product Advertising API