Choosing an American Pitbull Terrier dog as a pet for your family is a wise choice. The Pitbull Dog breed is an energetic working dog and tough-looking, yet it is also gentle enough to be a pet companion. There are a lot of useful as well as informative things about this dog breed. If you want to know more, then read the following topics below.
What is the Origin of APBT?
The undeniable and sad fact about the American Pitbull Terrier dog is that it was originally bred as a fighting animal. In the 19th century England, one of the favorite spectacles of the populace was blood sports especially bear and bull baiting. Many Bull Terrier dogs were created to fight bulls and bears. Eventually, blood sports became illegal due to their inhumane nature and were replaced by dogfighting. Despite having aggressive traits bred into the bull and terrier breeds, they also have an unwillingness to bite humans. Because of that character, dog-fighting handlers can separate the dogs without danger. In time dog-fighting was branded as illegal giving the canine a reprieve from a life of fighting.
Gradually the dog breed's reputation changed from a ferocious fighting animal to a protective, yet strong, gentle dog. Another indication of the breed's career shift from pit-fighting canine to a human animal companion is the breed's new job as farm dogs. Many of these Bulldog breeds were brought to America by immigrants. The dogs' job involves guarding their owner's property, helping hunt wild game, prevent intrusions from animal intruders and provided companionship to their human owners. During this time, the American settlers developed larger versions of the breed.
Today the canine is favorite pet companion for families, and it resembles little from its pit-fighting dog ancestors. Also, the dog has found suitable work fitting for its endurance high energy and intelligence. One can see the Pitbull serving as search and rescue, police work, border patrol, and general service canine.
Overall Stats of American Pitbull Terrier
Height: A male American Pitbull Terrier is 18 to 19 inches tall at the withers. Females, on the other hand, are slightly shorter with a height of 17 to 18 inches at the withers
Weight: Both the male and female American Pitbull dog has a weight that ranges from 30 to 85 pounds.
Breed Group: Terrier Dogs
Litter Size: 5 to 8 puppies
Life Expectancy: 12 to 16 years. However with proper care and keeping the dog healthy it is possible to extend its lifespan beyond 16 years.
Temperament of APBT
On the surface, the American Pitbull Terrier looks like a dangerous animal, but in reality, the dog is not dangerous at all. Pitbulls have puppy-like personality, possess plenty of zest and love for their families. The breed makes for an excellent watchdog thanks to their keen sense, but their love for humans disqualifies them from being good guard dogs. When it comes to their owners and their families, the dog is loyal as well as devoted. The Pitbull loves and is gentle with kids making them perfect companions for the latter.
Nevertheless, the canine's positive traits still require training and socialization. Training will rein in the dog's bossiness and stubbornness as well as instill the thought as to who is in charge. Socialization will help the Pitbull get used to different sights, sounds, experiences, people and other animal pets. Aggression towards other dogs one negative trait that socialization can remove or mitigate.
Finally, the dog has the urge to chew things especially stuff around your house like say shoes as one example. The result of the chewing is a ruined item. You can remedy this urge by giving the Pitbull doggie toys to chew. Just make sure that the doggie toys are durable, sturdy and big enough not be accidentally swallowed by the canine. Read our Guide on Blue Nose Pit & Red Nose Pit.
Other Names of American Pitbull Terrier

American Pitbull Terrier is the common name of the dog breed, but it does have different alternative names. However, the canine's alternative names apply to the breed's different bloodlines or strain.
The American Staffordshire Terrier – This name belongs to another bully breed of the same name. The confusion about the name was due to the American Kennel Club's decision to give the Pitbull the name to separate the breed from its history as a pit-fighting dog. Compare the real American Staffordshire Terrier dog to a Pitbull; the former is smaller in size.
Colby Pitbull – This breed is ancient regarding bloodlines and is one the foundations for today's APBT The Colby bloodline still exists today thanks to the preservation efforts of John P. Colby's family.
Old Family Red Nose (OFRN) – This breed of Pitbulls have reddish coloration. OFRNs have red or amber eyes, copper-red nose, red toenails, red lips and red coat.
Health Issues of APBT

Like any other dog breed, the American Pitbull Terrier will experience health problems. Knowing what kind of illness affects a Pitbull Bull Terrier dog is vital so that you can deal with the problem.
Hip Dysplasia – The hip joint ball and socket of the Pitbull suffers from malformation. As a result of the deformity, the hip joint ball will not correctly connect to the socket portion. The ball joint grinds and rubs the socket instead of smoothly sliding inside it. Depending on how severe the hip dysplasia, it can be very painful to the dog. This condition is hereditary, and canines with hip dysplasia are not bred with other canines.
Heart Disease – There various types of heart diseases that affect a Pitbull, but the most common one is aortic stenosis. Aortic stenosis is a condition in where the connection between the aorta and left ventricle of the heart is abnormally narrow. There are little or no symptoms that a dog has aortic stenosis, though most canines show little energy. Like hip dysplasia, aortic stenosis is hereditary.
Allergies – Skin allergies can cause discomfort and itching in a Pitbull. Without treatment, the skin allergies can damage tissue once it reaches secondary level. Causes of allergies are allergens in food, dust, fleas, pollen, grass, etc.
The hereditary physical problem that affects the canine is an instant disqualification for breeding it to another dog. If you have some plans to breed your pet, then, unfortunately, you are out of luck Do not let the health issues, discouraged you from owning a Pitbull. A regular visit to a veterinarian for a checkup can mitigate if not prevent the full effects of the illnesses. Keeping your pet physically healthy can also help in the dog's well-being.
List of Colors of the American Pit Terrier
Brindle
Red
Blue
Black and White
Grey
Some Pitbulls have different nose colors as well. There's a bluenose Pitbull dog and red nose Pitbull type.
Grooming Tips for a Pitbull Terrier
Keeping clean an American Pitbull Terrier is necessary since it keeps the dog healthy and fresh. Here are some tips when grooming a Pitbull:
Coat maintenance – The dog's coat is shiny; feels stiff to the touch and has little hair. Because of the coat's traits, you can do brushing with a stiff brush and use a cloth to wipe the canine's skin with ease. The Pitbull still needs a bath, but only on occasions.
Teeth brushing – To prevent the buildup of tartar and get rid of lurking bacteria in the dog's teeth, you need to clean its teeth 2 or 3 times a week. If possible do a daily brushing to remove bad breath and stop gum disease.
Toenail trimming – Normally a Pitbull's toenails are shortened naturally due to wear and tear. However, if you hear the canine's toenails clicking on the floor every time it walks, then you need to trim the nails. You only need to do nail trimming once or twice a month. If you feel that you are not good at cutting (it can be a tad tricky) your pet's toenails, then hire a professional dog groomer.
Ear check – Use a cotton ball and damp it with a gentle, pH-balanced ear cleaner, then clean around the outer ear only. Leave the ear canal along and don't insert anything in it. If the ears are red or have discharge, then the canine's ears have an infection.
Keep an eye out for inflammation, tenderness, redness, sores, rashes or other signs of infection in the skin when you are grooming your pet. Also pay close attention to the canine's mouth, nose, eyes, and feet. Spotting an infection on the dog's body will alert you to what problem it is suffering. By detecting the problem, you are mitigating and preventing a potential illness. Take the Pitbull to a vet just to be sure.
Training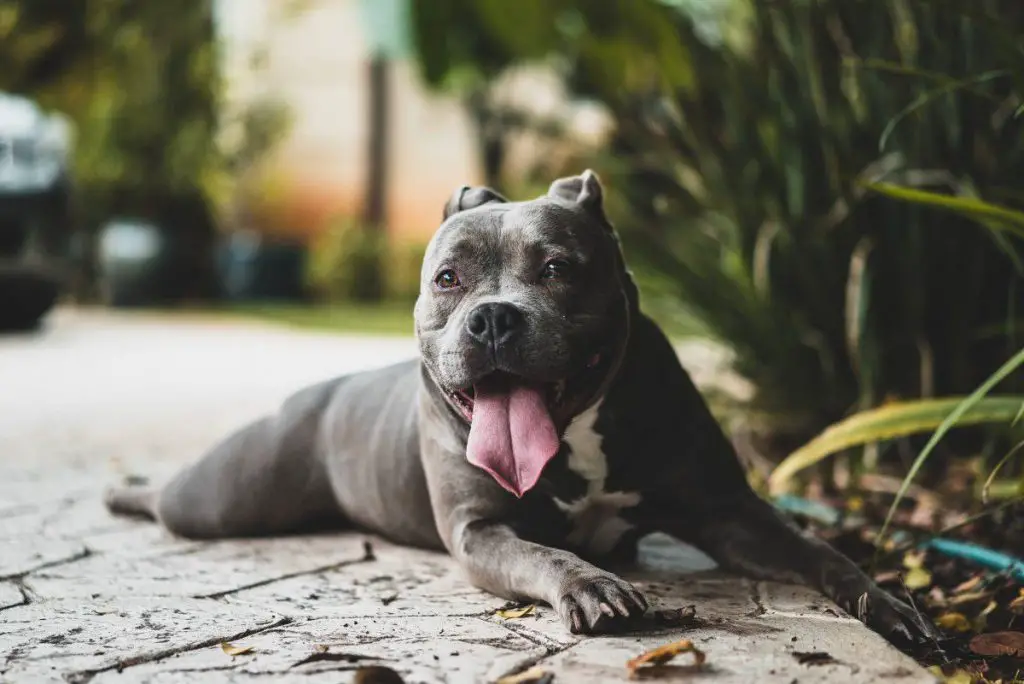 With the proper training and socialization, the Pitbull can become a well-rounded canine. The best time to train a Pitbull is when it is still a puppy. You can always train adult Pitbulls, but you are going to need a lot of patience and time.
Bossiness and stubbornness are negative aspects of an American Pitbull Terrier dog. By training the dog, you are letting know who is in charge and make the canine more obedient. Teach the canine some simple tricks first like commands such as "sit," "run," "stay," etc. Just make sure that your training is fair and gentle, yet consistent. Avoid harsh punishments and give the Pitbull positive encouragement to improve its training.
Training the dog in socialization will remove its aggressive tendencies to another dog or animal pet and make it friendlier to other people. Still, if you and your pet are going out for a walk, you will need to put a leash on the dog just in case you need to rein in the Pitbull.
Just to be on the safe side, supervise all interactions between the Pitbull and children as well as pets. Pitbulls tolerate kids and are good playmates with the latter, but the breed can sometimes hurt a young child accidentally due to its strength.
If you intend to enter your Pitbull in a dog show, you will have to invest time and effort to train it. Agility, obedience and running contests are some of the events that your dog will go through.
Another advanced form of training is for Pitbulls who are working in search and rescue, narcotics and explosives detection, border patrol and helping disabled persons.
Foods
American Pitbull Terrier dogs need a daily amount of high-quality dry food in 1.5 to 2.5 cups. The dog meal is further divided into two meals per day. However, some Pitbulls may need more food to eat depending on its level of activity, age, metabolism and build. To give your dog proper nourishment, you must buy high-quality dog foods.
Be careful of feeding too much and neglecting to give exercises your pet. Your dog can become obese due to overfeeding and lack of activity. To check if your Pitbull needs a diet, try checking for the canine's ribs. If you can feel the ribs underneath the muscle layer and not see them, then the dog's weight is normal. If you can feel that the ribs are buried under rolls of fat, then the canine needs a diet.
The Pitbull's meal must be a dog food that is low-grain, but high in protein with meat. The dog's energetic nature demands lots of protein intake. If you are buying dog food from a store, you will need to choose the right kind of food
Dry dog foods are a healthier choice for meals, and they have less fat and calories, unlike moist dog foods. Steer clear of dry dog foods that are mostly fillers. Fillers do not contain or have fewer minerals and nutrients.
Homemade dog food is a mixture of several ingredients, though meat is the main ingredient.  Avoid putting potatoes, corn or wheat as ingredients in homemade dog food. These components have allergens that can affect the Pitbull.
Serving raw dog foods is another viable option for feeding the canine, but take great care to make sure that the raw dog food is hygienic and free from harmful bacteria. Your pet can end up with salmonella if you're not careful.
Feeding a Pitbull once or several times a day depends on the dog's age. Very young puppies require food twice or thrice a day. Weaned puppies still need to feed two or three times daily until it reaches the period of one-year-old. Adult Pitbulls only need food once or twice per day.
American Bully and APBT Differences
It is easy for some people to think that the American Pitbull Terrier and the American Bully is the same breed. Know for sure that the two dog breeds are different from each other. Physically speaking, what is the difference between the two canines?
The Bully has a large broad head with a blocky, broad muzzle, while the Pitbull has a broad head with a blunt edge along with a muzzle that is shorter than its skull. The Bully's broad body has a deep chest width, strong firm back and wide, but short loins. The Pitbull also has a wide chest, but it does not exceed the depth of the chest, the ribs extend all the way to its back giving it a flat form and its loins are much narrow.
Personality-wise, both dogs are similar. Though the Pitbull needs training and socialization to curb or remove its other negative traits like aggression.
Recognized Club
The American Pitbull Terrier is a breed that has recognition from other dog clubs. The dog clubs are:
United Kennel Club (UKC) – The first club to grant recognition and register the Pitbull as an official breed of dog. In 1898, C.Z Bennett who is the founder of the UKC registered his very one Pitbull dog
American Dog Breeders Association (ADBA) – This club was established in 1909, and it is exclusively for American Bull Terrier breeders only.
American Kennel Club (AKC) – The Pitbull was granted recognition by the AKC in the 1930s. However, the American Kennel Club registered the dog under a new name as an American Staffordshire Terrier breed. Naturally, some would confuse the Pitbull and the actual American Staffordshire Terrier dog are one type of breed.
Are They Safe?
Assuming that the American Pitbull Terrier has been trained and socialized, it can be a family-friendly, gentle and strong dog. Some canines are willing to sacrifice their lives to defend their families. A well-rounded dog can be a gentle and loving pet that also acts a nanny to kids. Not to mention that the canine makes for good contestants in doggie sports and can be a hard-working animal in public services like search and rescue.
Are Pitbulls good family dogs? Of course, the canine is a suitable pet for a family. But one thing to bear in mind, the Pitbull needs lots of attention and companionship from its owner and family. A Pitbull owner also needs to firm and give out gentle discipline to the canine. If you are too busy to give attention to this breed, then it may not be a suitable pet for you.
List of Countries that ban the APBT
Unfortunately, some countries and regions do not look favorably upon the American Pitbull Terrier dog. Most states ban if not restrict the importation or ownership any types of Pitbulls. Therefore it is crucial for you to know which countries ban the canine.
Argentina
Bavaria
Belarus
Bermuda
Denmark
Ecuador
Finland
France
Germany
Guyana
Ireland
Israel
Italy
Latvia
Liechtenstein
Malaysia
Malta
New Zealand
Norway
Poland
Portugal
Puerto Rico
Romania
Russia
Singapore
Spain
Switzerland
Turkey
The United Arab Emirates
Ukraine
The United Kingdom
Venezuela
Some countries as a whole have no ban on the canine, but only in parts of their regions:
Australia
Austria
Belgium
Brazil
China
Canada
The reason each country or region has a ban or restriction on the breed all the same thing: they fear the aggressive nature of the Pitbull. The sad fact is that some minority of people have been criminally neglectful where the dog's action is concerned. The result is the passing of legislation that targets not only the Pitbull but other dog breeds as well. Misinformation is also another reason.
Where Can I Find or Buy an APBT?
You can practically buy or find Pitbull or any Pitbull Mix puppies from breeders. The average selling price is between USD 500 and USD 700.
However, it is advisable that you buy a puppy from legitimate and registered Pitbull breeder. Registered breeders will sell you a genuine Pitbull, and they will give basic training to pups. Dubious breeders on the other will cheaply sell you a dog that superficially looks like a Pitbull or worse has questionable pedigree. The bottom line is that while a Pitbull puppy from a legit breeder has a high price tag, you are getting a pet that is worth your money.
If you don't feel like buying a Pitbull, then your other option is to adopt one. Dog rescue centers and shelters always have a dog or two for people who want to choose one. Do bear in mind that you will be getting an adult canine most the time.
Conclusion
Quite a lot of info about the American Pitbull Terrier isn't it? Owning a Pitbull can be a tad difficult sometimes, but the effort is worth the trouble. The breed's gentle nature coupled with its devotion and puppyish demeanor makes them an excellent pet for anyone. The most important thing to give your pet is lots love and care for its well-being.