Various dog breeds bloodlines are favorite pets to any dog-lover, and one of these breed of dogs is the American Bully. For an established breed that is more recent compared to other dog breeds, the American Bully is proving to be a popular choice of pet companion for most if not all dog-lovers. Currently, there is another variant of the American Bully that is gaining lots of popularity.
This American Bully dog variant is the Exotic American Bully dog breed that looks like an American Bully at first glance. The popularity of the American Exotic Bullies is due to its physical features making them a favorite for Bully dog-lovers. The Exotic Bully's physical features have been exaggerated or overdone. Traits like bigger head size, wider chest, shorter muzzles and very strong muscles are what set the dog from other Bully dog breeds.
For a favorite type of dog, they are too expensive for dog-owners expect for those with lots of money. At $5000 once can see that the price is high and that just a starting price. Nevertheless, if you're the type of dog owner who is looking for a pet and has money to burn the only thing left to do is get an Exotic Bully.
Owner: Jorge Luis Soto
Kennel: Bully Camp Line
Location: California
This dog has a lot of controversy about his features. Mr. Miaggi's exotic looks make him stand out from other Exotic Bullies. The debate about this Exotic Bully's appearance even extends to Mr. Miagi's sire Marcello of Kingpin and La Madrina of Bully Camp Line. The discussion about their looks even extends to the two's foundation bloodline.
Golden Boy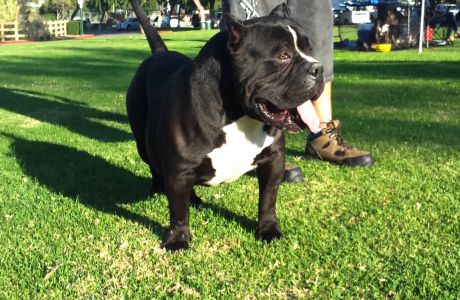 Owner:  Joe Gonzalez
Kennel: Golden Line
Location: South Bay
This dog is one of Golden Line Kennel famous stars. The breeding of Bolton's Kingdom DNA-P who is the sire and Queen Lunatic 91 West End KNL produced this black and white Exotic American Bully who now possesses the title "Purple Ribbon."
Some of Golden Boy's offspring like 91 West Queen Gotti, Bigslick's Golden Dream, Golden Line 91 Baby Lunatic, Golden Stamp of Mex-Line and Lord Rocco are also famous.
Goliath II or G2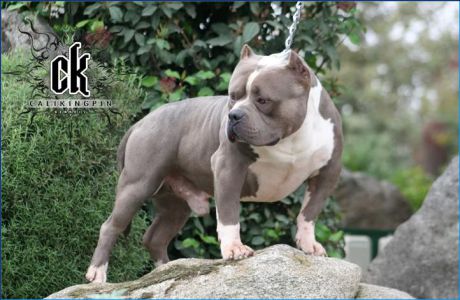 Owner:  Juan Lomeli
Kennel: Kingpin Line
Location: Modesto, California
Goliath II is a very impressive Exotic Bully due to his impressive size. American Bully breeder Juan Lomeli owns Goliath II or otherwise known as G2 as well as Kingpin Line Kennels. G2 along with the males of Kingpin Lines like Marcello and Cartel are living legends in their kennel.
Some examples of G2's offsprings are Drama of Kingpin Line, Diamond Girl of Gottiline, Military Pits Romero Sakae, and Hidden Society's Corona.
Bullseye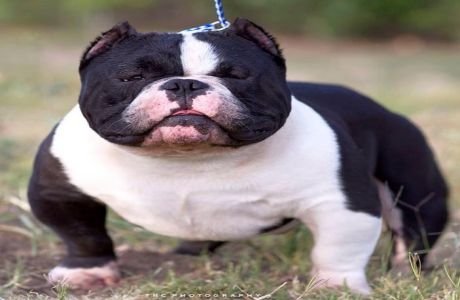 Owner:  Peter
Kennel: Edge of Gottiline
Location: Southern California
Edge of Gottiline specializes in Exotic Bullies that are short. In fact, their Exotic American Bullies physical characteristics like massive bone structure, compact wide-chest bodies, smashed heavy muzzles, and square blocky heads is more prominent compared to other Bullies. One of their dogs Bullseye who is black and white Micro Bully is a good example of the particular traits that you can see in Edge of Gottiline's dog line up.
Karate Kid
Owner:  Jack Nakamoto
Kennel: Nakamoto Bullies
Location: Southern California, USA
One look at the Exotic Bully Karate Kid and you know that the guy is aside from looking small and cute. With a square blocky head of size of 25" and a weight of 65 lbs Karate Kid is the typical specimen of Exotic Bullies that are small in size. As usual, you can see that Karate Kid's big bone structure, a thick muzzle that looks smashed and blue/white coloring wide chest short body.
In case, you're wondering what is the connection Karate Kid has with Mr. Miagi of Bully Camp Lines (the two are named after the main characters in the movie "Karate Kid") it's because Mr. Miagi is the sire of Karate Kid. The two even look identical to each other.
Freakshow
Owner: Patrick and Renee Garcia
Kennel: Bustin Out
Location: USA
It is a very strange giving an Exotic American Bully the name "Freakshow" since it doe notes some deformity in the dog, but strangely enough, this dog was intended to be "deformed" in physical appearance. Freakshow's physical appearance is not similar to other Exotic Bullies. He has a bent tail, flat feet, high rear parts and crooked legs both on the front and back.
Some find this strange look of Freakshow to be attractive, but the Exotic Bully's trait has its share of critics. These critics declare that the dog is flawed in design and some advocate neutering Freakshow just to stop more American Bully dogs like him. However, in the end, Freakshow's strange appearance can either attract dog owners or repel them. It all depends on the dog owner's personal taste.
Dax
Owner: Ed Sheperd
Kennel: Gottiline
Location: Southern California, USA
If there one American Bully that people consider to be the ideal Extreme pocket American Bully that Bully dog would be the famous Dax of Gottiline, who has made an impact on the image of the American Bully dog. Dax currently holds the title "Grand Champion."
Ed Shepherd, who is Dax's owner, is the original Gottiline and is an established breeder who has gained recognition worldwide for his top-quality Extreme Pocket Exotic Bullies. It is because of his efforts that Dax looks like the ideal Extreme pocket American Bully, and any offspring of Dax is sure to inherit his remarkable qualities.
Marcello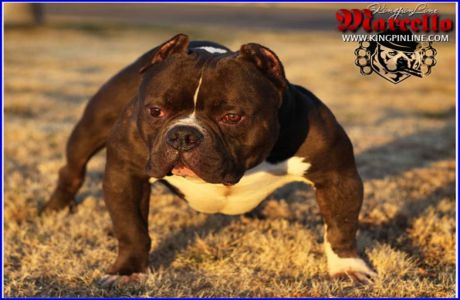 Owner: Jason and Denise Baldwin
Kennel: Flipside Pits
Location: Bossier City, Louisiana USA
Bomber Bullies considers Exotic Bullies that have good disposition temperament and the eagerness to please their owners to be the ideal Bully. In physical terms, the Bully is athletic, structurally sound and is at 13-15 inches tall. The American Bully Marcello embodies these ideals.
Marcello is one of the many Exotic Bullies that is considered by many dog fanciers around the world to be the best Bully dog studs. His looks are a good combination of G2 bred to Romeo dam. Marcello is the father of Bully Camp Line's Mr. Miagi and Mr. Revi, who is an ABKC Champion.
Primo
Owner: Ed Sheperd
Kennel: Gottiline
Location: Southern California, USA
Ed Sheperd's Gottiline is famous for its premier Exotic Bully stud Dax, and now the same Gottiline that produced Dax gives us another high-quality Bully stud named Primo.
Primo of Daxline is the quintessential Exotic Bully with big bone structures, compact body, wide-sized chest, thick muscles and square blocky heads along with a friendly disposition and affection Primo's looks is a good combination of his sire and his dam. His sire is no other than Mr. Miagi of Bully Camp Line and Lulu, who is American Bully of the Daxline.
Mr. Swaggo
Owner: Jorge Luis Soto
Kennel: Bully Camp Line
Location: California
Bully Camp Line's fame is due to its dedication and efforts to produce Exotic American Bully dogs whose quality is excellent. Bully Camp Line gives us a new Bully Dog Stud whose name is Mr. Swaggo.
Like Mr. Miagi of Bully Camp Line, Mr. Swaggo has a square-shaped blocky head, a small body with a broad chest, a thick muzzle that looks smashed and a bone structure that is very dense. In spite of its gruff and fierce appearance, Mr. Swaggo has a friendly temperament, playful disposition and an eagerness to please its owners.
Uso
Owner: John Niar
Kennel: Bahala Na Pits
Location: Salinas, California
Combining and breeding dogs from different Bully bloodlines often produce Bully puppies with unique combinations of their sire and dam. In some ways, it enhances the exotic look of the American Bully. Daxlines if known for its high-quality Exotic Bullies and John Niar of Bahala Na Pits decided that a Bully dog from Daxline would breed with a Dame from Acelines. The result of the breeding is the Exotic Bully Uso.
Uso is very muscular even by American Bully Standards. His body is broad; the nose is short in size and possesses short legs. Like every Bully dog, Uso is friendly, affectionate and good-natured in temperament.
Not that you know what Exotic American Bully dogs that are popular with dog fanciers and dog owners you can choose which one of the eleven Exotics Bullies that suits your personal taste in Bully dogs. Just remember one thing in mind: whatever Exotic Bully you choose, make sure to show it lots of love as well as the affection and treat it as if it were a part of your family. So what can you say about Exotic Bullies? Share your thoughts below. read our guide about the best affordable dog food for pit bulls.